Howdy, I'm Martin Ralya. Alongside my day job, I'm a tabletop gamer, an award-winning author and small-press publisher, and a mountain hiker.
I live in Seattle with my amazing wife, Alysia, our awesome daughter, Lark, and our nutty dog, Wicket, in an apartment full of books, games, and hiking gear.
MartinRalya.com is my online hub — an easy way to check out my published work, read my personal blog (Yore), contact me, or see what I'm up to. If you'd like to get in touch, feel free to email me.
Engine Publishing

In 2009, I started a small-press publishing company, Engine Publishing. We've sold over 28,000 copies of our books since our first release in June 2010. Our first five books are in the top 0.5% of over 40,000 products on the RPG industry's largest PDF retail site, DriveThruRPG. I've headed up teams of 10-25+ people for our books, and working with talented and creative folks has been a fabulous experience every time.
Our books are available in print and digital formats in the Engine Publishing store as well as elsewhere online, and are distributed to retail game stores worldwide by Studio 2 Publishing.
Tabletop RPG Blogging

I started gaming in 1987, and I've designed and run websites on and off since 1999, almost always with a focus on tabletop roleplaying games (RPGs). Spread across two blogs, from 2005-2016 I wrote more than 1,300 game mastering (GMing) articles, all of which are still available for free.
"fantastic blog for game masters, dungeon masters, and rpg fans" — Wil Wheaton

"I check Gnome Stew every day." — Monte Cook

"If you aren't reading Gnome Stew, you're missing out." — Wolfgang Baur
My first GMing blog was Treasure Tables, one of the earliest GMing blogs (2005-2007). I've run Gnome Stew since 2008, collaborating with a team of authors to produce the most widely read GMing blog on the planet, with over 2,000,000 visitors as of 2016. (See my Gnome Stew articles.)
Freelance Writing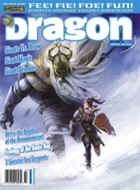 I was a freelance writer for the RPG industry from 2004 to 2009, with 25 published credits and roughly 90,000 words in print. Although my focus these days is on Engine Publishing, I'm always interested in freelance opportunities.
I love to write, and I'm experienced at writing both rules material and descriptive text, as well as editing, design, and development. I've worked in a variety of genres and for numerous different companies, including Paizo Publishing, Goodman Games, Tabletop Adventures, and Expeditious Retreat Press. I have never missed a deadline.
Awards
My work and the books I publish have won and been nominated for several RPG industry awards over the years, and I'm grateful that things I love doing have earned this kind of recognition.
Awards:
Silver ENnie Award for Best Blog — Gnome Stew (2015)
Gold ENnie Award for Best Blog — Gnome Stew (2014)
Gold ENnie Award for Best Website — Gnome Stew (2013)
Gold ENnie Award for Best Blog — Gnome Stew (2013)
RPG Site of the Year Award — Gnome Stew (2013)
Gold ENnie Award for Best Aid/Accessory — Masks: 1,000 Memorable NPCs for Any Roleplaying Game (2012)
Gold ENnie Award for Best Blog — Gnome Stew (2012)
Silver ENnie Award for Best Blog — Gnome Stew (2011)
Silver ENnie Award for Best Blog — Gnome Stew (2010)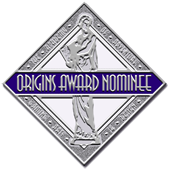 Nominations:
Golden Geek Award nominee for Best Supplement — Unframed: The Art of Improvisation for Game Masters (2015)
Golden Geek Award nominee for Best Artwork & Presentation — Unframed: The Art of Improvisation for Game Masters (2015)
ENnie Award nominee for Best Aid/Accessory — Odyssey: The Complete Game Master's Guide to Campaign Management (2014)
ENnie Award nominee for Fans' Favorite Publisher — Engine Publishing (2014)
Golden Geek Award nominee for Best Supplement — Odyssey: The Complete Game Master's Guide to Campaign Management (2014)
ENnie Award nominee for Best Writing — Never Unprepared: The Complete Game Master's Guide to Session Prep (2013)
ENnie Award nominee for Fans' Favorite Publisher — Engine Publishing (2013)
Origins Award nominee for Best Game-Related Publication — Never Unprepared: The Complete Game Master's Guide to Session Prep (2013)
ENnie Award nominee for Product of the Year — Masks: 1,000 Memorable NPCs for Any Roleplaying Game (2012)
Golden Geek Award Nominee for Best Supplement — Never Unprepared: The Complete Game Master's Guide to Session Prep (2012)
Golden Geek Award Nominee for Best Supplement — Masks: 1,000 Memorable NPCs for Any Roleplaying Game (2012)
RPG Site of the Year nominee — Gnome Stew (2012)
Golden Geek Award nominee for Best Supplement — Eureka: 501 Adventure Plots to Inspire Game Masters (2010)
ENnie Award nominee for Best Fan Site — Treasure Tables (2007)
ENnie Award nominee for Best Electronic Book — Bits of the Wilderness: Into the Open (2006)