Organizing all my RPG PDFs and deciding what was worth putting into Dropbox for easy tablet access has had a few surprise benefits.[1] One of them was seeing just how many games I'd be interested in running or playing at the moment — ballpark, around 60-70 (with varying degrees of interest, of course).
Among the things on that list, a handful stand out as games — or settings — I've yearned to run or play for years. I'm feeling introspective, so here are a few of them.
Birthright
Birthright is probably at the top of that list. I got into it around 2005 and slowly acquired the whole game line, and I think it's one of the most under-appreciated TSR settings. It's easy to dismiss as being vanilla fantasy, but it tends to twist its vanilla roots in surprising ways — and taken as a whole, it hangs together like a living, breathing world full of vividly realized powers with their own conflicting interests.
It also features one of the all-time best approaches to player-facing game material: Each player plays the ruler of a different kingdom, and each kingdom has its own slim, delightful book, written from the perspective of a trusted adviser to the new ruler.
Broken Rooms
Broken Rooms has been on the list since 2012 or so; I've never met anyone who's heard of it. Picture this: It's Earth, modern-day, but there are also 12 parallel Earths accessible via "broken rooms," places where they butt against one another — and the PCs can access those pathways. So far, not so new.
But those Earths are weird, and the further out from our version they are, the more fucked-up they get. And people being people, they've discovered that those other Earths have shit we need/want, and that only a select few folks even have access to it. What emerges is a parallel world-hopping sandbox of cutthroat factions and zero assumptions about what the PCs will do now that they're neck-deep in it. I love that.
Bloodstone Lands
I've spent years gaming in the Forgotten Realms, but never run a Bloodstone Lands campaign. The first edition BSL sourcebook is one of my favorite gaming books period, combining a wintry setting, a neighboring evil empire, and factional politics sitting on a knife edge — just waiting for the PCs to tip the balance as they see fit. It's short, tight, and beautifully executed; I think I've been hankering for this one since 1989, when it first came out.
Pendragon and Song of Ice and Fire
Pendragon has been on this list since around 2000, and A Song of Ice and Fire since around 2013 when our campaign back in Utah wrapped up. They're different in many ways, but they both occupy a similar headspace for me: seasonal play, a wide lens (generational play in Pendragon, where getting married so that you can play your kids is crucial, and the concerns of your house in SIFRP), strong social elements (including actual social combat in SIFRP, which I love), and deadly combat.
I like having a list like this, informal as it is. It centers me, and reminds me how much gaming I hopefully have to look forward to down the line.
[1] I've been sifting through my Google+ posts and adding some of them to Yore, and the ones tied to a specific moment in time — like this one, originally posted in December 2017 — I generally just publish on the original date. No one will see them pop up as "new" posts, but that's okay. This one felt different, though, because my want-to-play list still features these standouts. So I posted it today, despite it being a year old.
Tags: A Song of Ice and Fire, Birthright, Bloodstone Lands, Broken Rooms, campaign settings, Forgotten Realms, Pendragon, roleplaying games, RPGs
There are a lot of things to love about Twilight: 2000, but one of my favorites is its hook (one of the best hooks in RPG history): The PCs, all soldiers, are stuck in the middle of Poland after five years of global war, including exchanges of nuclear and biological weapons, and then, "As division headquarters was being overrun, the CO's last radio message was, 'You're on your own. Good luck.'"
From character creation (random stats balanced by time spent in combat) to coolness under fire, random encounters, and a deadly combat system that makes every firefight something to be wary of, the rules are delightfully old-school and spartan in their presentation. Combat is detailed, but my memory of playing T2K 15-20 years ago is that one firefight cements most of the basic rules nicely.
I want to run T2K as an alternate history sandbox, exactly as presented: In its version of reality, 17 years ago looks like 1984's take on what was then the future. "You're on your own. Good luck."
Tags: military, roleplaying games, RPGs, sandbox, science fiction, Twilight: 2000
This method for quickly mapping fantasy kingdoms over on Coins & Scrolls is really neat.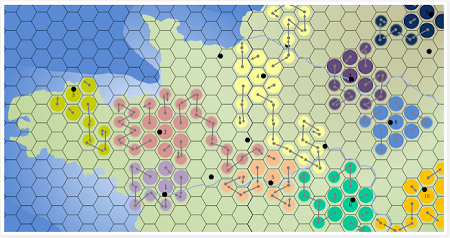 Start with a blank map, just coastlines. Add dots for major settlements, and color the hexes around them to identify the "core regions" of different counties/duchies. Then roll dice to expand those counties, determine undeveloped regions, and create enclaves.
The end result looks dandy, but — perhaps more importantly — this mapping methods looks like a lot of fun and seems like it would produce a gameable map.
Tags: campaign settings, Coins & Scrolls, fantasy, maps, old school, roleplaying games, RPGs
The DCC RPG Free RPG Day 2017 Quick Start is brilliant.
Apart from featuring one of my all-time favorite covers, by Doug Kovacs​​, it includes everything you need to make peasants for a funnel; a fabulous funnel, The Portal Under the Stars; levels 1-3 for all of the classes; and a slightly stripped-down rule set that means you can fit all this plus the rules the GM needs to run it in one 48-page booklet.
But! But. Why have rules for 1-3 and only a 0-level funnel? Because that's not all: It also includes a new 1st level module, Gnole House, by Michael Curtis​​. So your newly minted crawlers will have plenty to do.
The only thing that could make this better is if it was free. Oh wait, it is free!. (Post-2017 update: It was free on Free RPG Day 2017, now it's $2. Still worth it!)
The Quick Start is a master class in how to design, package, and present a deeply satisfying and highly functional introduction to an RPG. I can drop this in my bag for a con and be able to run DCC at the drop of a hat. If it gets someone jazzed about the game, I can give it to them. Splendid.
I also want to give a hat tip to Noble Knights Games, my FOLGS, for their one-cent promo program: For every $15 you spend, you can add a one-cent item to your order. That category includes Free RPG Day items, making it my favorite way to acquire them.
Tags: DCC RPG, DCC RPG Quick Start, Doug Kovacs, Dungeon Crawl Classics, Free RPG Day, Michael Curtis, Noble Knight Games, roleplaying games, RPGs
Hot damn is Monsterhearts 2 a good book. (It's also an amazing game in play, but right now I just want to talk about the book itself.)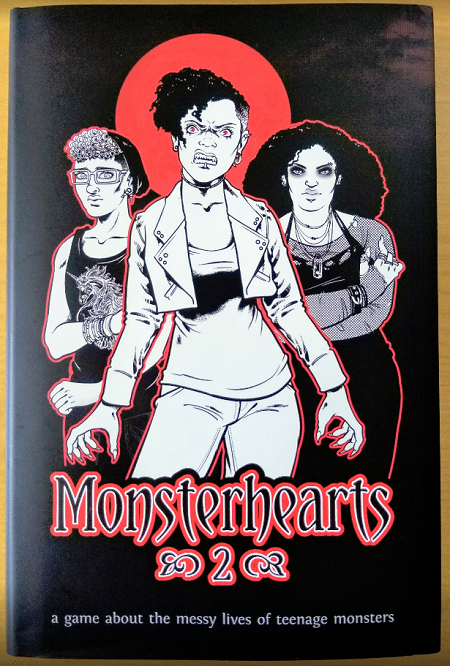 It's lean, without an ounce of cruft anywhere on its frame. It's devoid of blather. This is a bullshit-free presentation honed by years of actual play, design chops, and feedback from others. It's fucking beautiful.
It's also packed with advice delivered in the best way possible for an RPG: conversationally but directly, with its intended audiences in mind. I love design notes and anything that brings in all the stuff that exists on the edges of the actual text — like intent — and MH2 makes so much explicit so well that it just rocks.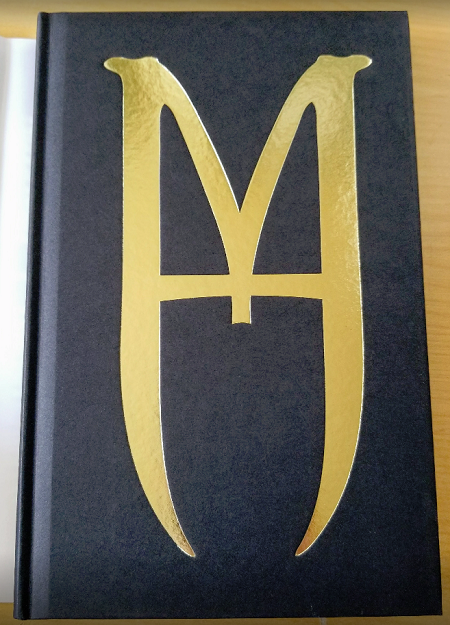 MH2 connects with me on many levels, some of them much deeper than most RPG texts. This is rare, and I appreciate it. But it's also a fun game that hits so many personal high notes for what I like in an RPG, and the book expresses those things clearly and without pretension.
As a physical object, the book is equally great. I love simple hardcovers with gilt, so I love this. I generally hate dust jackets on gaming books, but in this size, and executed this well, I love this one. (It makes a perfect bookmark.)
This is one of the best gaming books I've encountered, full stop. It's exactly and precisely what it wants and needs to be.
Huge props to Avery Alder.
Tags: Avery Alder, horror, Monsterhearts 2, PbtA, roleplaying games, RPGs, story games
I love solo RPGs and samurai drama, so I was excited to come across Emanuele Galletto's Seppuku: Fury of the Samurai.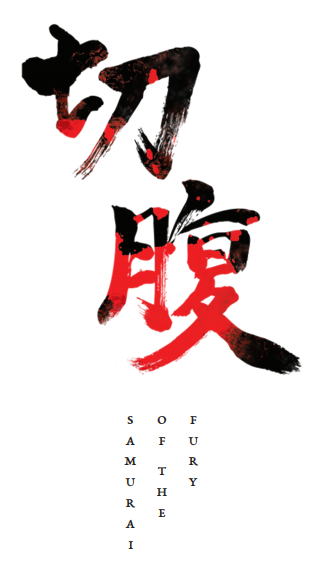 It's a short solo RPG (5-10 minutes, depending on whether you write anything apart from your death poem), but surprisingly melancholy and impactful.
The only peace my bold but headstrong samurai found was with his gay lover, Takeshi, who would have been my kaishakunin — affording me a final moment of solace — had I not blamed my lord for the rise to power of the vile Goro. Instead Goro was my second, and I regained my honor in death.
This was my death poem:
The blade is sheathed, now
Takeshi
The sparrow wages war against the wind
But Summer grows weary
And Spring follows Winter
Tags: Emanuele Galletto, roleplaying games, RPGs, Seppuku: Fury of the Samurai, solo play
Wally West in The Flash (paid link) #82, summing up my approach to GMing.[1]
maximum enthusiasm combined with zero prep
If you celebrate Thanksgiving, I hope yours is a good one. I'll be back in a few days!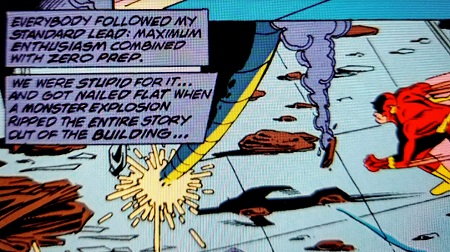 [1] It doesn't usually go like the next narration box . . .
Tags: game prep, GMing, roleplaying games, RPGs, The Flash, Wally West
I downloaded Levi Kornelsen's Skinchangers beta, which is free, and holy crap is the list of inspirations right up my apple cart: Werewolf: The Apocalypse and Neverwhere (paid link) meet Buffy (paid link) by way of Fate and Apocalypse World . . . yes, please!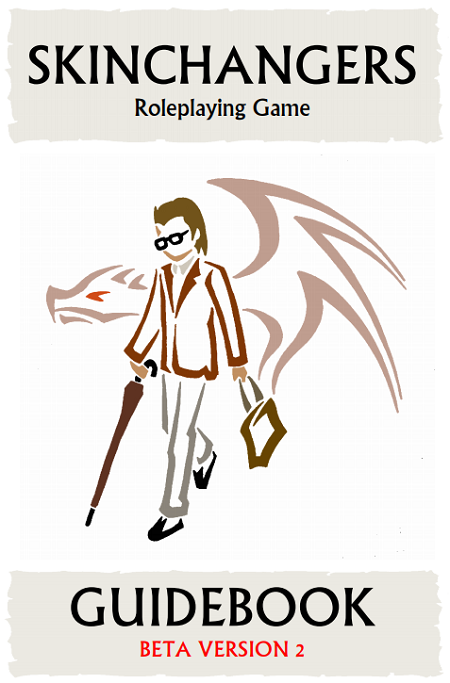 At first blush, it's incredibly clever — and I love the minimalist, yet evocative, artwork. And oh, this core mechanic; it's fantastic.
I'll probably butcher it here, but you roll a number of Fate dice equal to your ability, using "-" results to cancel dangers (associated with each action) and "+" results to boost the outcome in specific ways. Blanks do nothing, and how you undertake the action (cautiously, boldly, covertly, etc.) changes what results you get to reroll.
Here's the core concept from the intro:
"You have met a powerful animal spirit. When you did, you were transformed and charged with a duty to the natural world. Those who desecrate the world are your enemies; this includes both mundane and supernatural foes. It is the supernatural threats, however, that you are best equipped to face, as nobody else is. You will seek out desecrated sites, battle monsters, and track down cults that draw their power by despoiling life. In this task, you will be joined by other Skinchangers, and aided by natural spirits."
From concept to mechanics, this is exciting. I need to spend some more time with it.
Tags: Levi Kornelson, roleplaying games, RPGs, Skinchangers, story games
I thought I joined Google+ in 2012, but having just finished scrolling through my entire post history to identify posts I need to move to Yore, I see that I was wrong.
I'm still checking my stream there a couple times a day, and still posting, but having found the few dozen "should have been a blog post" posts I made over the years, and having now seen my first post after a long, long process of reviewing all of them, I feel done. Today is the day G+ officially ends for me, even if I keep visiting between now and the shutdown.
It's going to take me a little while to process that — seven and a half years is a long time! G+ has been a big part of my life, and I'm going to miss it.
Tags: blogging, Google Plus, social media
Space pirates!
I buy 99% of my RPGs only in PDF these days, but when a product as special as the Pirates of Drinax (paid link) (PDF)campaign for Mongoose Traveller (paid link) comes along, my heart goes pitter-patter and I have to make an exception.
It's a sandbox campaign with a fantastic hook: The ruler of once-great Drinax, now a stellar backwater between two great powers, gives the PCs an old ship and a letter of marque, and asks that they secure the allegiance of the nearby worlds.
But, you know, they're motherfucking space pirates: They can do whatever the hell they want, and the campaign supports it. There's a neat system for tracking (and changing) how every important planet feels about the PCs, with real consequences waiting in the wings.
Need a bit more structure? The core is 10 adventures that can be run more or less in any order, anywhere. Some are opportunities signalled by rumors, while others are driven by outside forces. All adjustable to your game, of course, with copious notes about how to do just that.
Plus all the great tools I expect in an old school space sandbox: NPCs with motivations and roleplaying tips, ships, planets, deck plans, a gorgeous poster map, tons of info about the Aslan (who are key players in the region) and more. Its roughly 600 pages of material.
From what I've read so far, this is a stellar campaign.
Tags: campaign settings, Mongoose Traveller, roleplaying games, RPGs, sandbox, science fiction, The Space Pirates of Drinax, Traveller