While reading Chris Kutalik's excellent blog, Hill Cantons, I found myself thinking, "Why the hell don't I own any of his books?" So I ordered three of them in print: Slumbering Ursine Dunes (paid link),  Fever-Dreaming Marlinko (paid link), and the Hill Cantons Compendium (paid link).  (While I was waiting for them to arrive, I also blogged about his killer series on dynamic sandboxes.)
After spending some time with them, I want to write a bit about Slumbering Ursine Dunes and Fever-Dreaming Marlinko.[1] Maybe this should be two posts, but I don't care. I'm in the Kutalik Zone[2], and I'm staying there. Onwards!
Slumbering Ursine Dunes
Here's a snippet from the introduction to set the tone:
Slumbering Ursine Dunes is known to the outside world for three things: the massive bulk of its red-sand beach dunes; the annual Yambor pilgrimage of soldier-bears; and Medved the hirsute godling who tenuously rules over its Weird-dominated reaches.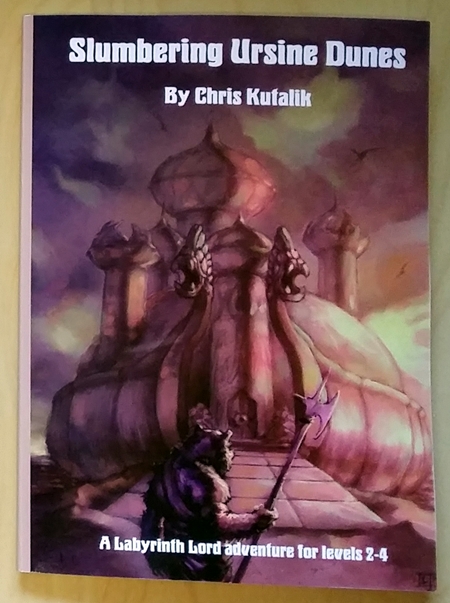 SUD is a small, short book, but its size is deceptive: There's a lot of stuff packed into its 64-odd pages. Like what? Like this (note: spoilers, albeit somewhat mild ones):
Pointcrawl: Chris notes that he originally ran SUD as a traditional hexcrawl, but realized that because of the way the dunes truncate the PCs' option set based on location, it makes a better pointcrawl. Seeing the pointcrawl concept in practice in SUD is neat just from a design standpoint. (If you've never heard of a pointcrawl, Chris also wrote a handy index to his entire series of pointcrawl posts.)
Sandbox adventure: There are factions, tons of locations, wandering monsters, rumors — all the ingredients of a saucy little sandbox. Even if you have no interest in running the dunes, this is a great toolkit for developing your own sandbox by way of Chris' example.
Two cool dungeons: The Golden Barge is a huge ship with a golden dome rising from its deck, while the Glittering Tower is a tall sandstone obelisk that's home to one of SUD's signature personalities, Medved. Both are nifty dungeons.
The Chaos Event Index: This is such a neat piece of tech. It's a subsystem to model the ebb and flow of weirdness in the Dunes based on the actions of the PCs and SUD's factions, from blood rain to comets to the arrival of bubbleships to a demi-god who arrives to tour the Dunes. It fits SUD perfectly, but it'd also be easy to re-skin and use elsewhere.
A box full of goodies. There are monsters (ghuls, grues, pelgranes, soldier bears, zombastodons, and more), a couple of spells, a couple classes, and some tables for random hirelings, all solid stuff.
Taken as a whole, Slumbering Ursine Dunes is a self-contained, peculiar, sometimes-gonzo sandbox area, all ready to go — you can drop SUD right into an ongoing campaign. It doesn't deluge you with useless information, but it doesn't stint on providing cool stuff, either.
But it's also a toolkit, a box of delights from which you can pick and choose just the bits that interest you. Either way, well worth the money.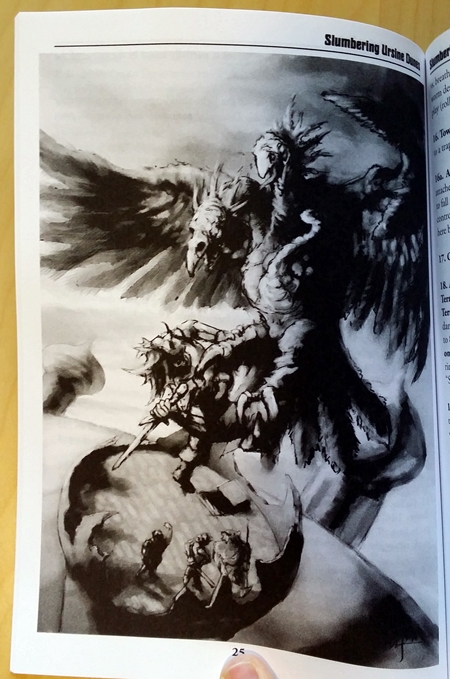 (Illustration by David Lewis Johnson. David also did many of the illustrations in Focal Point: The Complete Game Master's Guide to Running Extraordinary Sessions, which I published in 2015.)
Fever-Dreaming Marlinko
Set in the same world as SUD (but not requiring it in any way, or vice versa), Marlinko is "a more directly adventurable location than the traditional city setting book," which is good because most city books are kind of super-boring. Marlinko is designed for change-of-pace adventures, a session or two long, and for use as a hub. (Notably, a hub for exploring the Dunes.)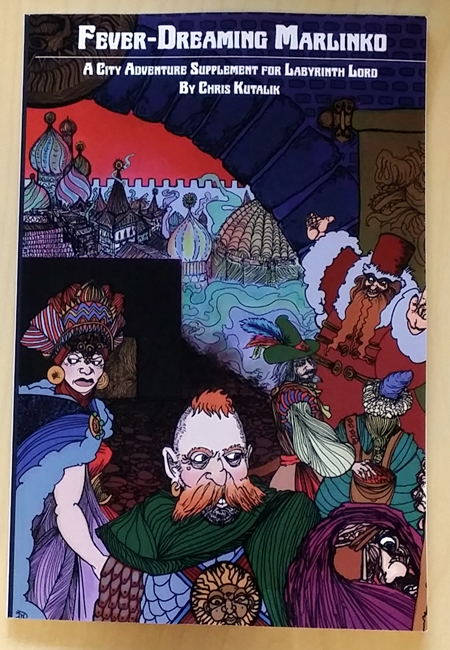 The beautiful back-cover map by Luka Rejec is a perfect introduction to the city of Marlinko:
Marlinko's four quarters (Contradas) are succinctly described, with a focus on conveying their flavor and providing interesting encounters. My favorite is the Golden Swine Contrada, a "benighted slum," which includes:
A catacombs excavated by robo-dwarves full of ossuary sculptures dedicated to Jesus — yes, Earth Jesus.
The hirelings' union. Send too many hirelings to their doom, and the party will find themselves blackslisted.
The Brothers of the Other Mother, a loathsome and dogmatic cult nonetheless useful to PCs because they can heal you.
Headquarters of the League of the Free-Handed, a criminal society that sticks up for the city's poor.
That quarter feels like two-parts Ankh-Morpork, where a union of hirelings and a combination thieves guild/mutual aid society would be right at home, one-part D&D (the Brothers), and one-part Hill Cantons weirdness (robo-dwarves and Jesus). Marlinko isn't Just Another Fantasy City.
Marlinko also offers two dungeons (one being the catacombs noted above), both excellent; a section of city news, which I love; a bit on buying/selling stuff; and a useful look at what happens when you commit crimes in Marlinko. But wait, there's more — my three favorite things in the book!
The Chaos Index, which is like the one found in SUD, but Marlkinko-specific. I particularly like the (non-exhaustive) list of things the PCs can do in Marlinko that will directly affect the Index.
Random carousing rules, divided up by city quarter. "You must admit that waking up caked in dried blood is an alarming experience." "Who is lowering that wicker basket of hand lotion down to you?" "Exactly whose mummy is this that lies in your bed."
Rules for tiger wrestling. It's as funny as it sounds, and defeating Pan Meow-Meow is worth a 1,000 gp bounty.
That last bit — of course the PCs will wrestle tigers for money! — is the genius of Fever-Dreaming Marlinko: This is a city book purpose-built for gaming, not fluff-wankery or the someone's shitty novel masquerading as gaming material. Everything in Marlinko is there in answer to the question "What will your players actually give a shit about here?"
It does what it says on the tin, and it's one of the best city books I own.
[1] The Hill Cantons Compendium is neat, too, but it's a modest tome compared to the other two — by design — and it's a PWYW PDF.
[2] It's right next to the Danger Zone.
Digging Yore? Check out my book!The Unlucky Isles
[
affiliate link
], the first system-neutral guidebook for my Godsbarrow fantasy campaign setting, is available in print and PDF.