Currently working on a few too many Boyz and Gretchin at once, so I've been taking breaks to do some assembly.
First up, a Killa Kan:
Mechanically, Killa Kan mobs don't have a leader, so perhaps it's more apt to say that Mukkit considers himself the leader.
I've heard these are terrible units, but damn this is an incredible kit. 100% of the parts are interchangeable, and they ooze character from every rivet. I was going for a sort of "Rarr! Mukkit stomp you!" pose, but wound up with more of a Macarena/posing for a tourist photo kind of deal…and I'm not even a little mad. Love this dude.
Alysia got me an Age of Sigmar Weirdnob Shaman for Christmas, so I spent a couple of pleasant hours today figuring out how to kitbash him into my Weirdboy.
On the AoS model, I test-fit the cape to see which of my arm swap ideas might work, and I trimmed off the smoke and shaved the spot under it flat. Everything else stayed.
I used the arm from the standalone Mek kit, which I snipped at the wrist; a standard from the Meganobz kit, which I stuck where the smoke used to be; two shoulder pads from the Boyz kit, which I used to camouflage the kludging I did around the smoke; and a jaw plate from the Nobz kit, which I used exactly as Gork (or is it Mork?) intended.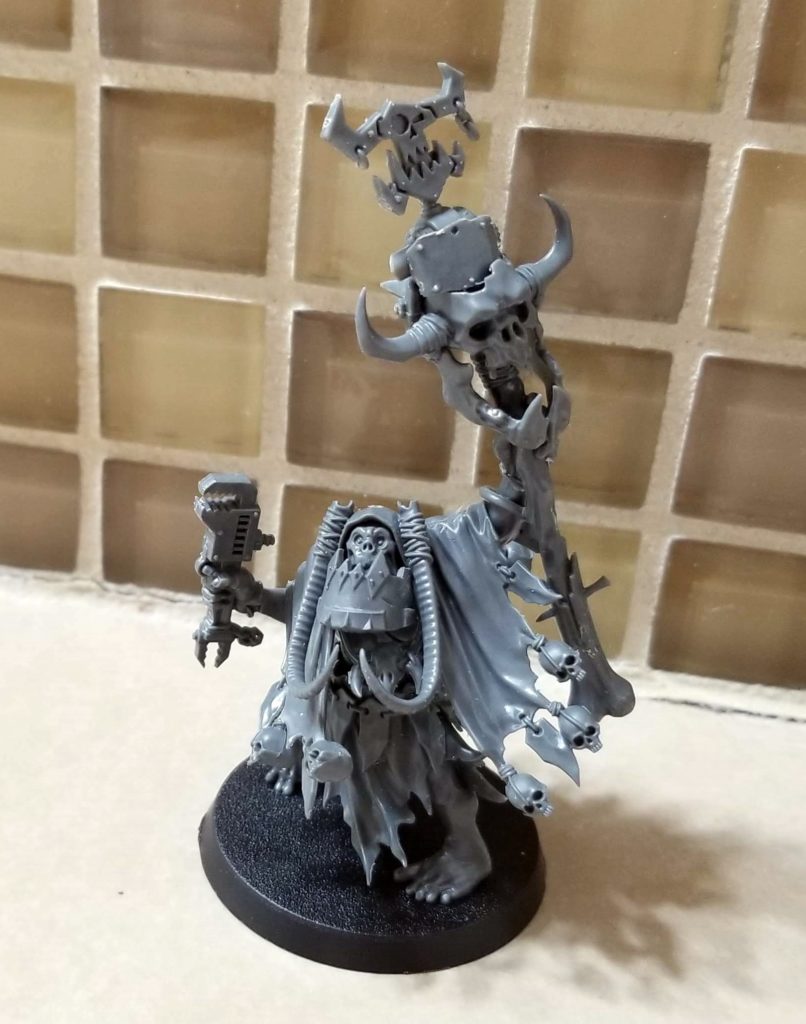 As befits a Deathskulls army in general and Moonkrumpa's Megalootas in particular, "Warpmek" Nakk is both a Weirdboy and a Mek (achieved by taking Da Fixer Upperz for him).
Since I'd destroyed the Mek kit's clamshell packaging to steal one of his arms, I decided to just slap him together as well.
Alysia also gave me a new paint storage solution, a nail polish rack that can swallow 100% of my current paint library. I believe it's this model on Amazon (not a paid link), and as the reviews show it's been battle-tested by fellow hobbyists. I can confirm that it does a bang-up job of holding Citadel paint pots.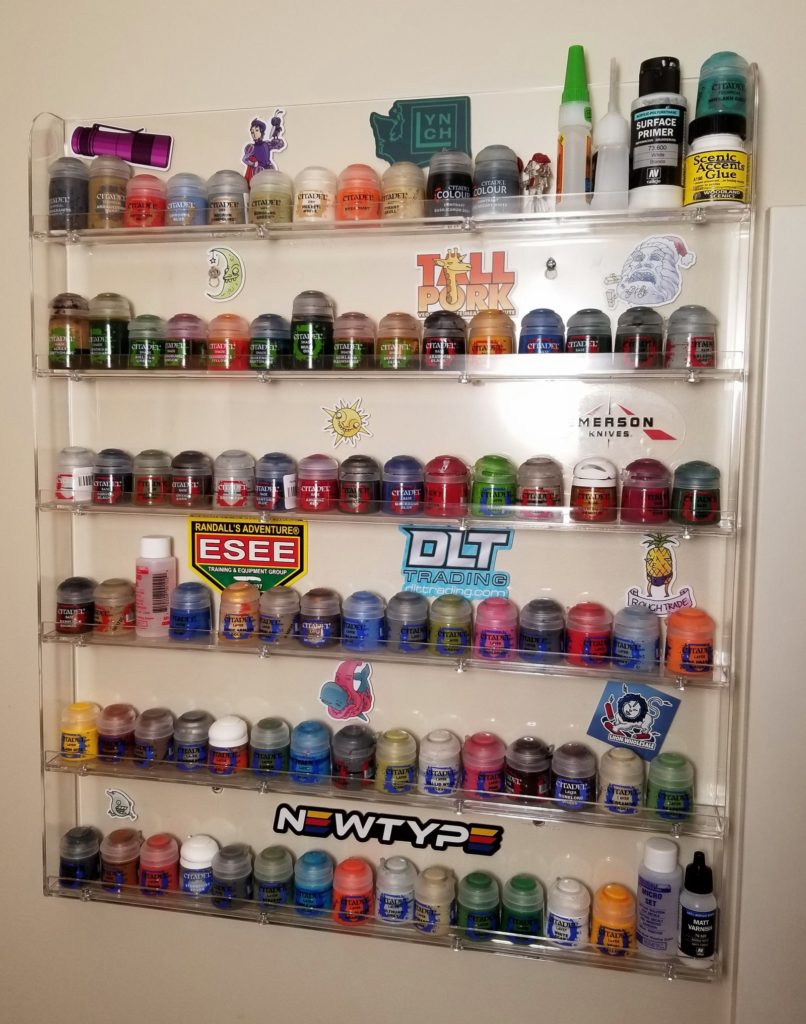 I've seen folks organize their paints by color, but I alphabetized mine by type instead. I mainly follow GW recipes, so this makes the most sense for my approach. The top row is Technical paint and some non-paints (glue, etc.). The second row starts with shades/washes on the left and then jumps into base paints, which run another full row and the first couple slots of a third. After that come all of my layer paints.
I've mounted it with room for a second one, which I'll need at some point. (I'm currently storing all my backup pots somewhere else.) I loved my previous paint storage solution, but my paint supply had outstripped its slots and I wanted to free up that corner of my desk.
Having started my paint collection back in February with the bare minimum I needed to do parade-ready Blood Angels, it feels funny to be actively using 85-90 paints now.
Happy holidays, merry Christmas, and I hope to be back in a few days with some finished Orks and Gretchin.
Digging Yore? Check out my book!The Unlucky Isles
[
affiliate link
], the first system-neutral guidebook for my Godsbarrow fantasy campaign setting, is available in print and PDF.