Now available: The Unlucky IslesThe Unlucky Isles
[
affiliate link
], the first system-neutral guidebook for my Godsbarrow fantasy campaign setting, is now on DriveThruRPG!
Howdy, I'm Martin Ralya (he/him). Alongside my day job, I'm an avid tabletop gamer (RPGs, board games, and miniatures), hiker, reader, lifelong comics fan, all-around geek, and award-winning RPG industry author and blogger. I also run a small-press RPG publishing company, Halfbeard Press.
I live in Seattle with my amazing wife, Alysia, our awesome kiddo, Lark, and our oddball dog, Wicket, in an apartment full of books and games. I came out publicly as bisexual in 2018.
MartinRalya.com is my online hub — an easy way to check out my published work, read my blog, Yore, and see what I'm up to. If you'd like to get in touch, drop me a line.
Tabletop RPGs
I've been gaming since 1987, running RPG-related websites since 1999, blogging about RPGs since 2005, and publishing gaming books since 2009. I was also an RPG industry freelancer from 2004-2018.
After running an oddball gaming site on the University of Michigan network (1999), attempting to catalog the feats from every D&D 3rd Edition product and index Dragon (3oni.com, started in 2000), and running a Forgotten Realms campaign site (3d6.org, beginning in 2003), I started one of the earliest GMing blogs, Treasure Tables, and posted daily from 2005-2007. (In 2006, TT was featured in Knights of the Dinner Table #113.)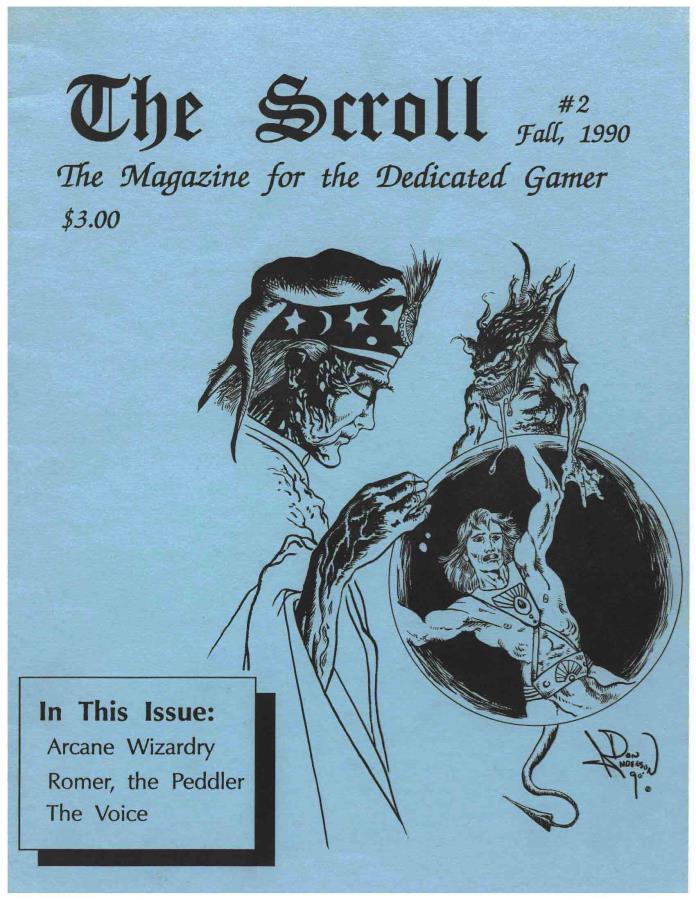 That was around the time I started getting serious about freelance writing, too, with most of my early gigs being for Expeditious Retreat Press and Tabletop Adventures — although I got my start in 1990, at age 13, with an article in The Scroll, a small-press RPG magazine published by Sage Lore Productions. I don't know if they knew I was a kid and I'm pretty sure my pay was a comp copy, but it was a fun and formative experience.
In 2008 I co-founded and ran Gnome Stew, where I collaborated with a team of authors to produce the most widely read GMing blog on the planet, with over 2,000,000 visitors as of 2016 (when my friend and longtime collaborator John Arcadian took over). Between those two blogs I've written over 1,300 free articles for GMs, all still available online.
"fantastic blog for game masters, dungeon masters, and rpg fans"

Wil Wheaton, about Gnome Stew
"I check Gnome Stew every day."

Monte Cook of Monte Cook Games
"If you aren't reading Gnome Stew, you're missing out."

Wolfgang Baur of Kobold Press
While working with the gnomes I founded Engine Publishing, a small-press RPG publishing company, in 2009. I led teams of 10-25 people and published six system-neutral GMing books, all of which are bestsellers on DriveThruRPG [paid link], with over 40,000 copies sold in PDF and print and in retail game stores around the world. I ran Engine until 2019, when I sold the company to my friends at Encoded Designs.
Halfbeard Press is my current RPG publishing venture, a small-press company focused on putting out books for my Godsbarrow fantasy campaign setting. Halfbeard Press products are available on DriveThruRPG [affiliate link].
My current blog, Yore, started up in 2012 and has been covered in Knights of the Dinner Table (issue #253, 2018; and #283, 2021), which featured Hexmancer, my DCC RPG hexcrawl binder, and my DCC RPG wilderness encounter tables. I damn near quit blogging in 2019, a year that felt like an endless parade of bad actors and toxic personalities in the RPG industry and hobby as a whole — but I love blogging, so 2019 turned into a break rather than the end.
Hiking and Peakbagging
I love camping with my family, backpacking, and hiking — especially up mountains. I track my lifetime summits and ascents on Peakbagger. I did more peakbagging when we lived in Utah; I really need to get back to it!
My highest summit to date is Utah's Mount Timpanogos (11,749 feet, and topped only by skydiving from 13,500 feet).
RPG industry awards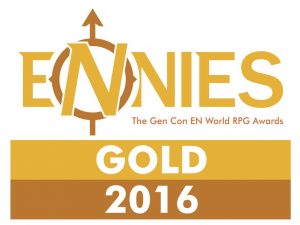 My work and the books I published have won and been nominated for several RPG industry awards over the years. Many thanks to everyone who nominated, voted for, and supported my work!
Gold ENnie Award for Best Website — Gnome Stew (2016)
Silver ENnie Award for Best Blog — Gnome Stew (2015)
Gold ENnie Award for Best Blog — Gnome Stew (2014)
Gold ENnie Award for Best Website — Gnome Stew (2013)
Gold ENnie Award for Best Blog — Gnome Stew (2013)
RPG Site of the Year Award — Gnome Stew (2013)
Gold ENnie Award for Best Aid/Accessory — Masks: 1,000 Memorable NPCs for Any Roleplaying Game (2012)
Gold ENnie Award for Best Blog — Gnome Stew (2012)
Silver ENnie Award for Best Blog — Gnome Stew (2011)
Silver ENnie Award for Best Blog — Gnome Stew (2010)
Nominations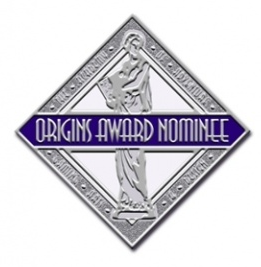 ENnie Award nominee for Best RPG Related Product — Focal Point: The Complete Game Master's Guide to Running Extraordinary Sessions (2016)
ENnie Award nominee for Fan Favorite Publisher — Engine Publishing (2016)
Golden Geek Award nominee for Best Supplement — Unframed: The Art of Improvisation for Game Masters (2015)
Golden Geek Award nominee for Best Artwork & Presentation — Unframed: The Art of Improvisation for Game Masters (2015)
ENnie Award nominee for Best Aid/Accessory — Odyssey: The Complete Game Master's Guide to Campaign Management (2014)
ENnie Award nominee for Fans' Favorite Publisher — Engine Publishing (2014)
Golden Geek Award nominee for Best Supplement — Odyssey: The Complete Game Master's Guide to Campaign Management (2014)
ENnie Award nominee for Best Writing — Never Unprepared: The Complete Game Master's Guide to Session Prep (2013)
ENnie Award nominee for Fans' Favorite Publisher — Engine Publishing (2013)
Origins Award nominee for Best Game-Related Publication — Never Unprepared: The Complete Game Master's Guide to Session Prep (2013)
ENnie Award nominee for Product of the Year — Masks: 1,000 Memorable NPCs for Any Roleplaying Game (2012)
Golden Geek Award Nominee for Best Supplement — Never Unprepared: The Complete Game Master's Guide to Session Prep (2012)
Golden Geek Award Nominee for Best Supplement — Masks: 1,000 Memorable NPCs for Any Roleplaying Game (2012)
RPG Site of the Year nominee — Gnome Stew (2012)
Golden Geek Award nominee for Best Supplement — Eureka: 501 Adventure Plots to Inspire Game Masters (2010)
ENnie Award nominee for Best Fan Site — Treasure Tables (2007)
ENnie Award nominee for Best Electronic Book — Bits of the Wilderness: Into the Open (2006)