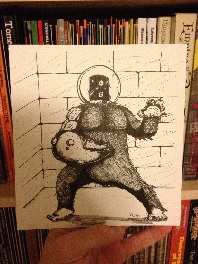 I often see posts asking for Lulu RPG recommendations, and Lulu's search functionality is pretty lacking, so rather than type mine up every time I wrote this post for easy reference. It's up to several dozen recommendations, mostly old school products and story games, and I keep it more or less up to date with new purchases (latest update: May 29, 2018).
If you just want one recommendation, you should buy ASE1: Anomalous Subsurface Environment, which I liked so much that I bought Brian Thomas' original art for the sasquatron (seen above, as yet unframed). The sasquatron, a robo-yeti with a crab claw, is just the tip of ASE's iceberg of gonzo awesomeness.
Lulu runs coupons so regularly that I never order without Googling "Lulu coupon code" first. Coupon discounts come out of Lulu's end, not the publisher's end.
Notes about the list
Some of the links below are to specific versions (like softcover or standard paper), so you might want to check for other versions.
If I loved something and want to have little game babies with it, I *ed it. (To be clear, I like everything on this list.) If you're curious what I think about a book in more detail, I eventually rate and comment on every gaming book I own: Here are my RPGGeek ratings.
Looking for tabletop RPG products on Lulu? Try these!
Here are a whole mess of gaming books I've bought on Lulu that I would recommend, in alphabetical order with links:
I apologize to your wallet in advance. Happy gaming!
[1] Super Mission Force is a skirmish miniatures game, but it supports campaign play, features characters with skills useful outside of combat, and deliberately straddles a the fuzzy line that separates RPGs from wargames, so I included it here.
Digging Yore? Check out my book!The Unlucky Isles
[
affiliate link
], the first system-neutral guidebook for my Godsbarrow fantasy campaign setting, is available in print and PDF.