My first game of Frostgrave (paid link) is tonight, so over the weekend I spent some time setting up a sample city — "my" Frostgrave. I've done proofs of concept before (most of which resulted in buying more terrain), but this is the first version I really like.
I spent a lot of time researching terrain and looking at other folks' takes on Frostgrave, and I often wished they'd break things down a bit more. This post is my answer to that wish: Along with pictures of the finished city, I'll share my goals and list everything that went into my version of Frostgrave.
(Here's a larger version of this top-down view.)
Goals
Here's what I had in mind when buying and setting up my city of Frostgrave:
Don't paint or build anything. I don't really enjoy painting minis, and I have no interest in painting or making terrain.
Make it look as good as I can. I tried to get the most bang for my buck with every terrain element.
It should be crowded. Per the rules, line of sight should never exceed 24″ (and should usually be a lot less). It's a knife fight in a phone booth, not a battle in an open field. I've seen some otherwise gorgeous setups that have lots of wide-open spaces in them, and to me that isn't Frostgrave.
Incorporate elevation. Everything in Frostgrave can be scaled by default, and elevation is fun.
Make it feel real. Real ruins are cluttered (and some Frostgrave tables looks too clean and tidy to me), so I added clutter. Real cities are rarely just one color, so my Frostgrave isn't mono-colored either. A city full of undead servants and crazy wizards, like Frostgrave before the big freeze, would have a death motif, so I added one. It would also be a weird place, so I tried to make it feel weird.
Keep it portable. Except for the battle mat, it all fits in a plastic storage box.
The other parts of the equation are miniatures and storage, which I've written about on Yore in the lead-up to this post:
My Frostgrave
I took photos of the city from all four sides, and then took a few "in-the-streets"-style shots to round things out. Weird factoid: I don't own a table large enough for Frostgrave (although our coffee table is close), hence the carpet.
From all four sides
First view (larger version):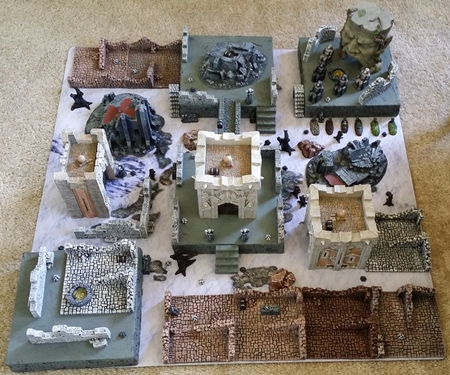 Second view (larger version):
Third view (larger version):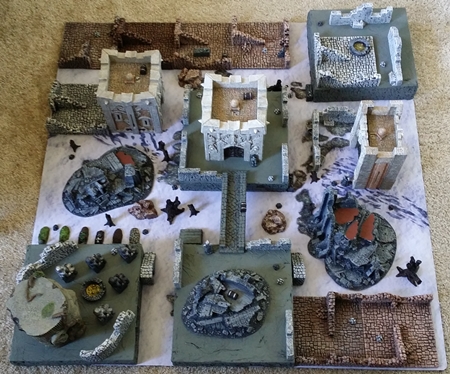 Fourth view (larger version):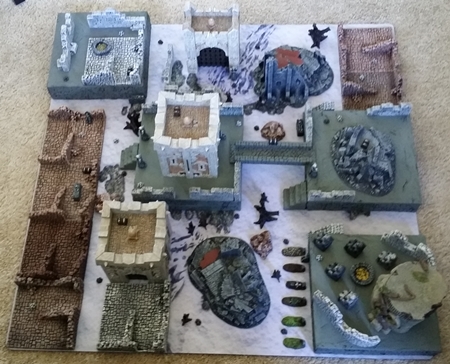 Street views
Street view one (larger version):
Street view two (larger version):
Street view three (larger version):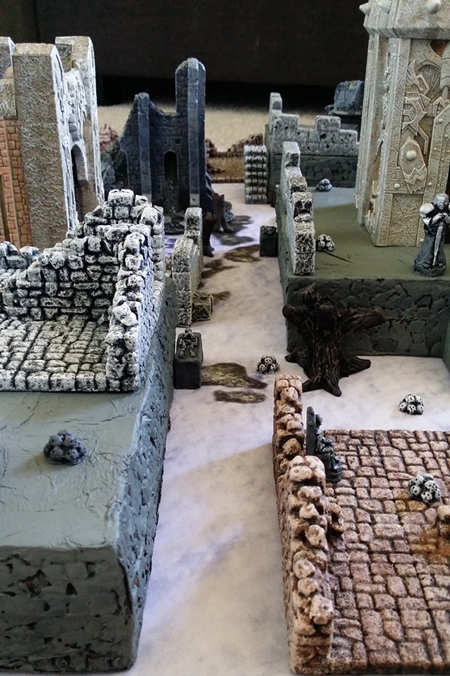 Street view four (larger version):
Looking at the photos, I can see a spot or two where I've got a sight-line over 24″, but I have plenty of stuff to drop in or move around to eliminate that. I assume it's easier to police LOS during setup with two people looking at it, too.
Maybe it'll feel different in play, but just messing around with it I'm happy with how my Frostgrave turned out. It's crowded and death-y, with lots of elevation, and there's plenty of variety to the terrain.
Terrain elements
Hold onto your hat! Here's everything you see in the pictures above:
I've had a lot of fun writing about Frostgrave over the past few weeks, and I can't wait to actually play it!
Hopefully this breakdown was helpful to you. Thanks for reading!
Digging Yore? Check out my book!The Unlucky Isles
[
affiliate link
], the first system-neutral guidebook for my Godsbarrow fantasy campaign setting, is available in print and PDF.