My copy of the Planescape Campaign Setting (paid link) arrived this past weekend, and I had a chance to spend some time looking through it. My first impression is that Planescape packs a punch.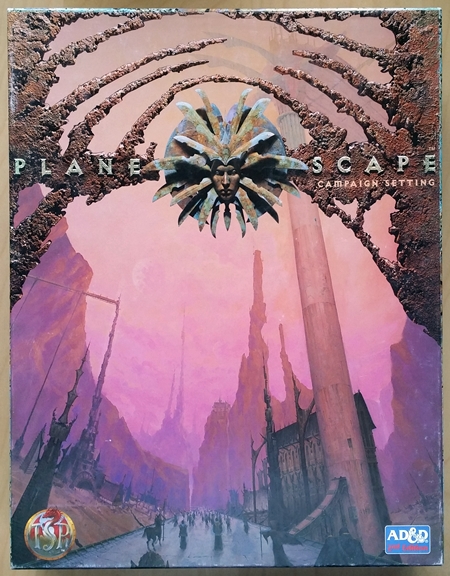 What's inside?
The guts are classic 1990s TSR: four saddle-stitched books, four poster maps/thingies, and — somewhat unusually — a GM's screen.
The books are A Player's Guide to the Planes, which is actually the introduction to to the setting for players and GMs; A DM Guide to the Planes, which is what it says on the tin; Sigil and Beyond, which is the introductory book writ large and aimed at GMs; and Monstrous Supplement, which covers iconic planar critters.
I love this approach. At 32 pages, the intro guide isn't a burden — and it's a great introduction to what makes the setting tick. (Birthright [paid link], another of my favorite TSR settings, takes this a step further: There's a player-facing booklet for every major kingdom. You rule Medoere? Here's the Medoere book. It's marvelous.)
The other books are just as good, but do different things. I haven't read much of them yet.
DiTerlizzi and Cook
Planescape has one designer, David Cook, and one interior artist, Tony DiTerlizzi. DiTerlizzi's art is lovely and distinctive, and conveys the tone of the setting like no one else could. No surprise from the designer of the Basic D&D Expert Set (paid link; half of one of my favorite editions of D&D), Cook's writing is clear, direct, and also fantastic at conveying tone.
One interior illustrator, one designer. Talk about unity of vision and purpose! And it shows. Planescape feels like one of those movies where you just can't imagine anyone else in Role X: I get the strong impression Planescape without this specific creative team wouldn't work nearly as well.
Here's a taste of Tony:
And some Cook, clear and useful as ever:
It all comes together in a layout that's both spare and evocative. When you have a great designer and illustrator on tap, layout needs to support without overshadowing. Dee Barnett and and Dawn Murin do standout work in this department: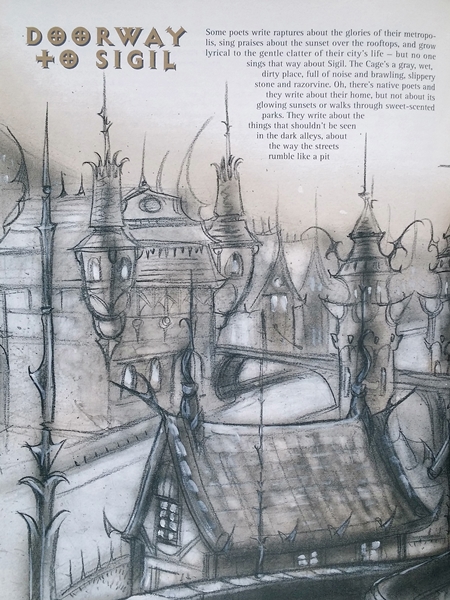 There's the love-it-or-hate-it planar cant to contend with, yes, but so far that's not bothering me at all. I'm enjoying reading these books.
Sigil. Oh man, Sigil.
Sigil is awesome! It's a big part of what attracted me to this setting.
From Sigil and Beyond:
Imagine a tire — no hubcap or wheel rim — lying on its side. Sigil would be built on the inside of the tire. All the streets and buildings would fill the curved interior. Meanwhile, on the outside, there's nothing, see?
And that city-filled tire? It hovers above the top of an infinitely tall spire at the center of the Outlands, and the only way in or out is through portals — magical doorways to other planes, worlds, and everything in between.
From what I've seen of it so far, Sigil is one of the coolest fantasy cities ever created.
Planescape says nein
I've been thinking about running Planescape as a gold-for-XP sandbox, which I knew ran a bit counter to its nature. That's part of the appeal.
So one of the first sections I flipped to was "What's the Point?" in Sigil and Beyond, which covers campaign themes and goals. I can't recall another example of a gaming book saying "Don't do that" to the exact idea I had in mind:
Part of me bristles, part of me agrees, and the rest of me is still turning Planescape over and seeing what clicks.
I see Cook's point. I've heard Planescape described as TSR's answer to their biggest rival in the 1990s, White Wolf, and the glove pretty much fits: evocative, boundary-pushing setting; factions that disagree about the nature of reality, and to which every PC likely belongs; intraparty conflict; marvelous artwork used well; etc. In that light, I'm not sure a gold-for-XP would work.
But a different sort of sandbox? Absolutely. Sigil is made for sandbox play. Everything I've read about it so far screams SANDBOX ME.
Whatever I wind up doing with it, Planescape (paid link) is shaping up to be one of my favorite TSR settings. I see what all the fuss is about, and I dig it.
Digging Yore? Check out my book!The Unlucky Isles
[
affiliate link
], the first system-neutral guidebook for my Godsbarrow fantasy campaign setting, is available in print and PDF.