I just started reading William Hope Hodgson's 1912 weird fiction work The Night Land (paid link ; also available as a free ebook). I'm interested in it in large part because the setting sounds fabulous — and rather well-suited to gaming.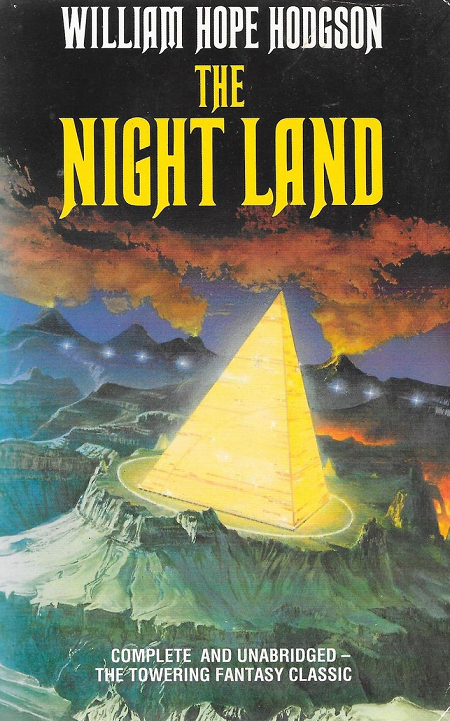 I say "sounds" because I'm not that far into the book yet. It's a strange animal: It's almost 600 pages long, there's no dialogue (and, based on reading about the book, there won't be any later on, either), and the prose isn't conducive to quick reading.
What piqued my interest was the snippets on Wikipedia, and tell me this doesn't seem like it'd make a great setting:
The Sun has gone out and the Earth is lit only by the glow of residual vulcanism. The last few millions of the human race are gathered together in a gigantic metal pyramid, nearly eight miles high – the Last Redoubt, under siege from unknown forces and Powers outside in the dark. These are held back by a shield known as the "air clog", powered from a subterranean energy source called the "Earth Current". For millennia, vast living shapes—the Watchers—have waited in the darkness near the pyramid. It is thought they are waiting for the inevitable time when the Circle's power finally weakens and dies. Other living things have been seen in the darkness beyond, some of unknown origins, and others that may once have been human.
Something about this reminds me of James MacGeorge's Black Sun Deathcrawl, which is part of what made me want to dig deeper.
The Redoubt is basically a city-dungeon (composed of over 1,300 individual cities), or a Shadowrun arcology on a grand scale — eight miles tall, and five miles wide at the base. I have no idea how feasible it would be to try to model the whole Redoubt as a dungeon in-game, but I'd love to see it done.
As for the Watchers, check out this gallery of Stephen Fabian's Night Lands artwork. It's great imagination-fuel, even if you ignore the Night Lands aspect entirely.
I don't know if I'll finish The Night Land, as it's competing with a million less-dense things I could be reading, but I'm looking forward to getting to the weird bits.
Digging Yore? Check out my book!The Unlucky Isles
[
affiliate link
], the first system-neutral guidebook for my Godsbarrow fantasy campaign setting, is available in print and PDF.