Over on G+, Karl Keesler posted about how he rebases his HeroClix minis (and sometimes adds base textures and highlighting, too), and damn if that's not a great idea. Here's Karl's intro:
"I am always trying to find cheap ways to make my role playing game tables look cool. I often take modern looking Heroclix or Horroclix minis and cut the big bulky bases off and stick them on 25mm Armskeeper bases. They look better and I can use them on maps with 1″ squares in them You can buy these bases in packs of 80 or more. They are relatively cheap."
The Clix base is big and clunky, whereas nice uniform 25mm black bases are smaller, more streamlined, and take up less space. If you're already not using the Clix base for HeroClix, why have it at all?
From repairing one of the minis that came in the bulk HeroClix lot I bought recently, I can confirm that even the ones whose little feet are attached directly to the Clix wheel (as opposed to being on a sort of micro-base atop the wheel) can be glued right back on, so gluing them to another base should be no big deal.
I glued Wrecker back onto his base with two dots of Krazy Glue, and he looks good as new: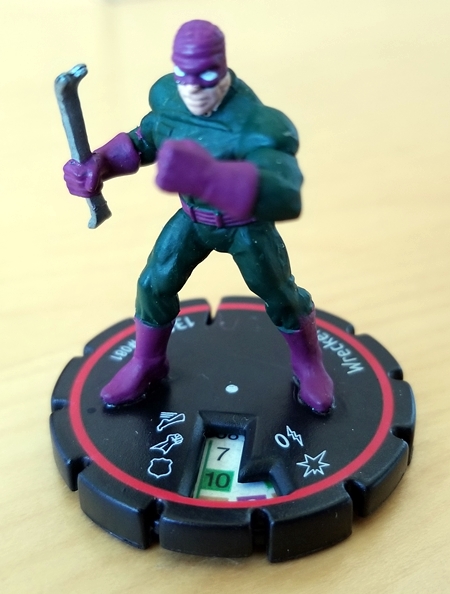 Even if you skip Karl's next steps — adding a texture and/or paint job to the new base, and then touching up the mini itself with highlights or other simple techniques — just swapping the bases looks like a dandy upgrade.
Tags: HeroClix, Karl Keesler, miniatures, superheroes
I recently stumbled across Scott Pyle's Super Mission Force, read up on it — it's a low-complexity superhero miniatures game that uses power suites to make character creation simple, and it supports campaign play — and thought, "That sounds totally rad! Except I don't have any miniatures for it . . ."
Enter HeroClix, which have been around for years, and which are readily available in bulk lots — perfect for someone who doesn't care about them as HeroClix[1], just as miniatures. SMF is specifically designed to work with whatever minis you have on hand (just like Frostgrave, which I love).
The best I could do for bulk minis, with some duplicates and likely a few broken ones in the mix, was $0.50/figure on Ebay. Or so I thought, until I remembered that CoolStuffInc — a fantastic online game store I've shopped at for years — stocks loose/single miniatures.
Their HeroClix selection includes batches of 100 assorted HeroClix for $15, with the note, "May contain duplicates." (They also have batches of 100 different HeroClix for $28, but those were sold out and in any case were pricier than I'd like.) I rolled the dice and bought four packs.
Zero minis enter, 400 minis leave
Here's the first 100, which turned out to be the lot with the fewest duplicates of my four (dupes and broken are in front):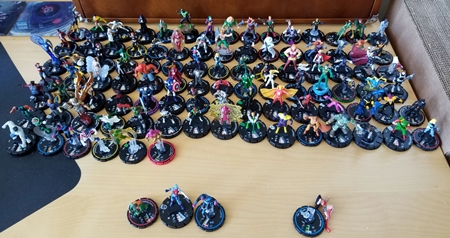 Those plus the second hundred (growing horde of dupes off to the left):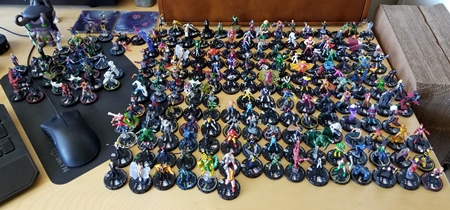 The final 200: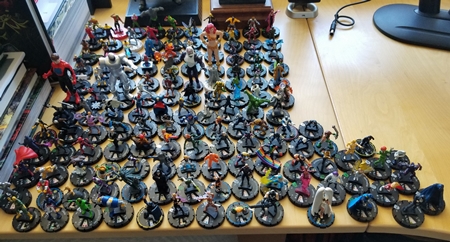 The breakdown
Here's how my 400 HeroClix shook out:
332 unique miniatures
68 doubles (and multiples, etc.)
3 broken figures, all easily repaired with glue
At $60 for all 400, that's $0.15/figure, or $0.18/unique figure — much better than the best I could find anywhere else.[2] And duplicates aren't a bad thing: Superheroes fight forces of goons, squads of robots, evil crime families, and the like all the time, after all.
The variety across my 332 unique HeroClix is staggering. A wide range of skin tones, genders (male, female, genderless, ambiguous, etc.), ethnicities, species, roles, and heroes/villains are represented in my lot. Also included are a dozen or so minis on flying bases, some mundane non-super folks, and a handful of giant-sized figures.
Compared to the other prepainted minis I'm used to, WotC's old D&D Miniatures line, the paint jobs on HeroClix range from awful to pretty good, with the occasional excellent one — but I knew that going in. HeroClix get the job done, and what they lack in quality they make up for in variety. I don't know of a better way to acquire this many prepainted figures, with this much variety, this cheaply.
Some of the fancier and more interesting-looking ones actually look pretty awesome, too. Here are a few favorites: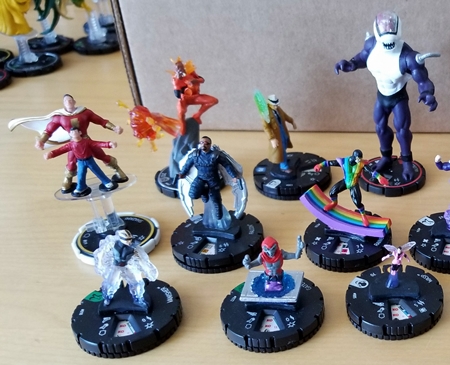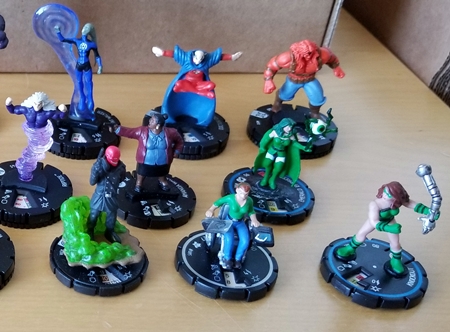 I also threw in a random assortment of $2 HeroClix maps for good measure.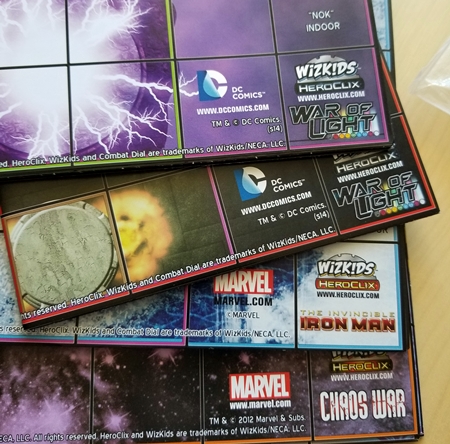 Overall, I'm beyond thrilled with how this worked out. When Super Mission Force arrives, I've got a deep catalog of potential miniatures to match damn near any character concept we can come up with. I also bought a superhero RPG by the same author, 3d6 Supers!, that looks it will work well with miniatures.[3] I've loved superhero RPGs since I was a kid — I'm sure there will be plenty of chances to put these to use.
If you need a walloping great bunch of inexpensive superhero minis, this is a splendid option.
[1] I've played HeroClix and it's neat, but it's not my jam. And the older I get, the harder it is to read the tiny icons on the bases.
[2] Compared to CSI's $28/100 different, which shakes out to $0.28/figure, this is the clear winner.
[3] I don't always love using minis in supers games — Marvel Heroic Roleplaying, for example, is superb as a theater-of-the-mind game — but some supers games lend themselves to that approach.
Tags: 3d6 Supers!, DC, HeroClix, Marvel, miniatures, Scott Pyle, Super Mission Force, superheroes
I love getting reading recommendations, but my to-read shelves are such an embarrassment, particularly when it comes to comics, that I don't always take them. But after a visit to Outsider Comics and Geek Boutique (which rocks!), I took one: Rat Queens.
I heard about RQ when it launched, but had too much on my plate to give it a look. I'm sorry I waited so long, because it's excellent.
Written by Kurtis J. Wiebe and illustrated, at least initially, by Roc Upchurch (he was kicked off the series after being arrested for domestic abuse, but apparently he's coming back), Rat Queens is in many ways a raunchy love letter to D&D and fantasy tropes.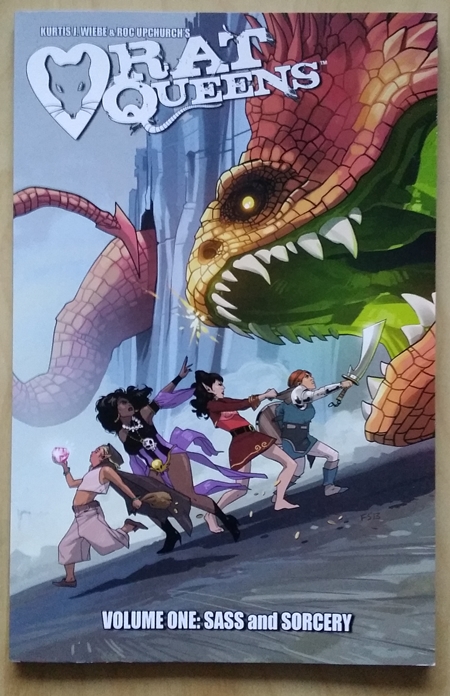 (Cover by Fiona Staples.)
It's feminist and funny and inclusive and bloody and surprising, and I love it. The back-cover blurb from the first trade sums it up nicely:
They're a pack of booze guzzling, death dealing battle maidens-for-hire and they're in the business of killing all the gods' creatures for profit.
I'm Team Hannah, the foul-mouthed elven mage: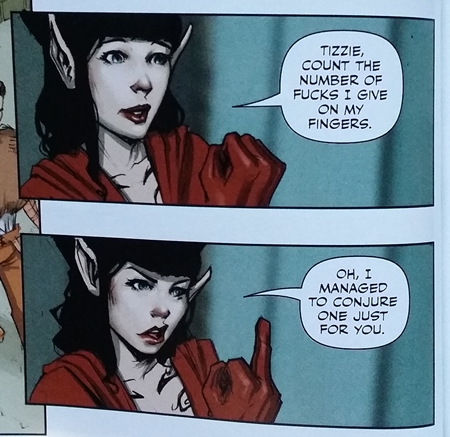 . . . but I dig all of the main characters: Violet, the hipster dwarven fighter who was shaving off her beard before it was cool; Dee, the atheist cleric who was raised in what's basically a Cthulhu cult; and Betty, the smidgen (think halfling) drug-cooking thief. They do a lot of the things an average old-school D&D party might do — start fights, cause trouble, and murder their way across the countryside — but they also right wrongs and try to help people. It's a good mix.
Maybe the best recommendation I can give is this one: I've been on a manga tear for the past few months, to the point that I found myself accidentally reading Rat Queens right-to-left several times, and Rat Queens is the first American comic out of a stellar lineup of potential candidates to break that streak.[1] It's splendid, and I can't wait for the second trade.
[1] It also broke my 3.5-month streak of not blogging. I figured something would — I've been busy doing other stuff, not avoiding blogging per se — but I didn't expect it to be Rat Queens.
Tags: comics, fantasy, Fiona Staples, Kurtis J. Wiebe, Rat Queens, Roc Upchurch