As a kid, I used to spend hours poring over any sort of "superheroes A-Z" content I could find. I had some that came in issues of comics, and the long-running Marvel-phile column in Dragon, and probably other sources I've forgotten about.
When I started playing TSR's Marvel Super Heroes, I traced hero silhouettes from those articles (Captain Britain was a favorite) and used them as the basis for drawing all of my characters.
Fast forward from the late '80s/early '90s to now, and I'm kicking myself because it wasn't until a few days ago that it occurred to me that of course this is still a thing, and it's probably gotten even easier to acquire big volumes of it.
It has! Enter the Marvel Encyclopedia, which — although it's a bit squirrely about its author credits — is at least partly written by Matt Forbeck, and which is utterly fabulous.
This book is titanic. It's a coffee table book, hardcover, and over 400 pages. Full color, of course. (It had a dust jacket, too, which I find less than useless on books this size.) And it's $22 shipped with Prime.
It covers more than 1,200 characters, both heroes and villains, with origins, pictures, background info, and other fun tidbits. It also covers crossover events, famous hero/villain groups, and more. It's exactly the kind of big, splashy, high-production-values book I'd expect from DK and Marvel.
This is the kind of non-gaming RPG sourcebook that I love. Need on-the-spot inspiration for an NPC? Flip through this beast. Stuck for hero ideas for your next character? Lose yourself in over 1,200 of them. Can't remember who Obscure Hero X is? They're probably in here.
This book is so cool.
Tags: books, comic books, comics, Marvel, Marvel Super Heroes, Matt Forbeck, superheroes
Thanks to the inimitable Alex Schroeder, I followed a link to this excellent 2005 essay by Michael Andre-Driussi: Deciphering the Text Foundations of Traveller.
Here's Driussi's thesis:
"The creators of CT wanted the anarchic, amoral, and violent adventure of fantasy role playing translated into a science fiction setting. They also wanted a kind of science fiction that used more "hard SF" than even Niven's work. They categorically rejected New Wave SF, which made them allied to the Old Wave, except that GDW wanted a gritty, noir setting (where the Old Wave is characterized as upbeat and moral)."
Traveller as noir is something I'd never considered, but it makes perfect sense. There's a lot more to unpack, even in just that excerpt — the whole essay is a damned fine read.
Here's another concise snippet:
"What the creators of CT were after was science fiction adventure, featuring freelance "adventurers" (with all the connotations of gold hunters, mercenaries, and trail blazers that this term implies) who could live or die in the course of pick-up games."
One of the sources Driussi cites is the Dumarest Saga, by E.C. Tubb (which I'd never heard of, but boy does it sound like it'd fit right into Appendix N). Here's the skinny:
"E. C. Tubb's Dumarest of Terra series (1967 onward) portrays its titular hero as a far future Odysseus trying to find his way home across a galaxy that has forgotten Earth completely. Each novel is slim and action-packed: Earl Dumarest arrives penniless at a new planet where he must use his wits and his reflexes, not only to survive but also to make enough money for passage to the next planet. From this series, already 17 books long in 1977, CT got such details as: low passage (a deadly hibernation system); mesh armor; the drugs fast, slow, medical slow, and combat (i.e., two-thirds of the drugs in CT); the weapon "blade"" and perhaps the psionics."
I could quote this puppy all day. It's so good!
Driussi's essay gave me a new perspective on, and a deeper understanding of, Classic Traveller. It's fascinating to see what shaped the nature and quirks of Traveller's premise and presentation.
Tags: Alex Schroeder, books, Classic Traveller, Dumarest Saga, E.C. Tubb, Michael Andre-Driussi, RPGs, science fiction, Traveller
Nick Abadzis' and Hilary Sycamore's Laika is meditative, thorough, and heartbreaking.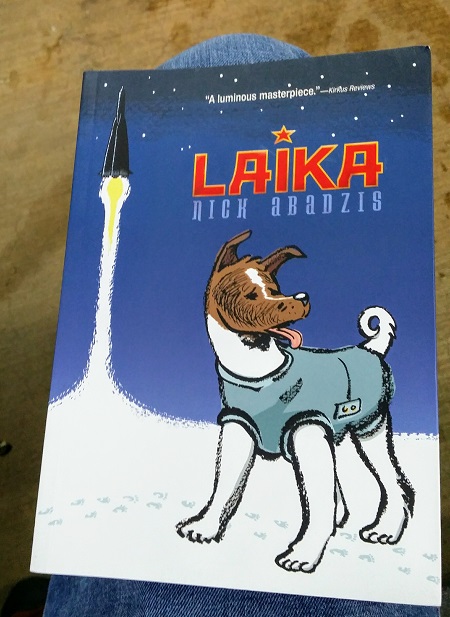 Everything I knew about Laika — the first orbital space traveler, a stray dog trained and conditioned for her one-way mission — before reading this book came from her Wikipedia entry and small exhibits about her at aerospace museums. I now know a lot more about her, and how extraordinary she was.
Laika is as good as two of my other favorite biographical comics, Box Brown's Andre the Giant: Life and Legend and Derf Backderf's My Friend Dahmer. Both are sad reads (and the latter is challenging in other ways, too), and both enriched my knowledge of their subjects.
Where Laika takes liberties — fully disclosed at the outset — they ring true to me. Dogs have an inner life; they think and feel, love and fear; they're sentient beings. Considering what Laika's inner life was like, which is beautifully expressed in the comic, is one of the things about the book that resonates most with me — and has continued to resonate months after I finished it.
Reaing Laika made me glad my first dog, Charlie, died in my arms, surrounded by people who loved him, and it makes me want to go home and pet Wicket.
Tags: biographies, Box Brown, comics, Derf Backderf, Hilary Sycamore, Laika, Nick Abadzis