After running an Urban Shadows campaign for a year, I have a few takeaways to share.
One of my starting points with any RPG is "Does it do what it says on the tin?" Urban Shadows very much does what it says on the tin, and it's a fantastic game.
1. After our group character creation session, I spent 1-2 hours turning the hooks, antagonists, and threads the players created into Threats, and I made debt tracker sheets and consolidated move lists for my GM folder.
That was the extent of my prep for the entire campaign.
2. Before each session, I thought about what had happened in the previous session, what the antagonists were up to (all noted on their clocks), and what the PCs had planned for the next session.
Occasionally, I wrote myself a sentence or two of notes so I wouldn't forget stuff.
3. During the game, I took notes as often as possible without interrupting the flow of play. My group alternates weekly games, so with a two-week gap between sessions (and a shoddy memory!) notes are essential for me.
4. I also created an NPC Rolodex using a 3×5 index cards and a card box. Everyone important enough to name got a card color-coded for their faction with a quick description, notes, and a Drive.
This became unwieldy, and I may need a better solution when we go back to the game.
5. Likewise for my debt trackers. I left a half-page of room for each faction and they were totally full within a couple months. I should have had at least a full page, probably double-sided, per faction, and they should have been lined sheets.
6. Out of five regular players, three loved corruption, one avoided it like the plague, and one was somewhere in the middle. We retired two PCs around the one-year mark due to corruption, with a third just a point or two away from retirement.
7. My table included a mix of PbtA veterans, newbies, and folks in between. One thing I can confidently say that everyone loved about the system was how failures are handled. The whole table paused, excitement in the air, anytime a failure came up.
8. Using only player-created hooks, and logical outgrowths from those hooks, as toys in the sandbox produced an overwhelming amount of threads to keep track of. I regard this as a feature, not a bug; the Threats provided clear calls to action to mitigate option paralysis.
9. With 1/4 Threats fully resolved and another 1/4 on the ropes, we still have 2/4 of the original Threats in play after a year. This created a logical pause point to take a break from the game, and it should make picking it up again easier.
This is one of my favorite campaigns that I've run, and it's a perfect fit for my preferred zero-prep sandbox style of play. Highly recommended!
I'm happy to answer questions about this campaign or Urban Shadows in general — just fire away in the comments!
Tags: campaigns, modern, PbtA, roleplaying games, RPGs, sandbox, story games, urban fantasy, Urban Shadows
In the wake of yesterday's accusations of harassment, abuse, and sexual assault made by Mandy Morbid and others against game designer Zak S, it's time to stop separating the art from the artist. I believe and stand with Mandy, Jennifer, and Hannah.
Zak S has been a bad actor in the RPG community for too long. It's time to refuse to publish or promote his work, or to engage with him in the RPG community — and to do the same with other bad actors in our hobby.
The art/artist argument
I've often found that argument, that one should separate creative works from their creators, to be compelling. I've made it myself, and in the past I've made it about Zak S. (More on that in a moment.) For example, I love H.P. Lovecraft's fiction, but the dude was a virulent racist. He's been dead for over 80 years, and in my judgment enjoying his work while denouncing its problematic aspects is fine: He doesn't profit from that.
I've struggled with how to apply that to living artists, though. Some calls have been easy: When Orson Scott Card began using his fame to promote bigotry towards LGBTQIA+ people, no amount of past enjoyment of Ender's Game would convince me to spend money on or recommend his work again.
Others have been more difficult, and for too long Zak S was in that category. Based on interactions I had with him on G+, and on how I watched him interacting with others, it didn't take me long to figure out that he was an asshole. But where Card is a clear bad actor, Zak S just seemed like an asshole — and liking an asshole's work didn't strike me as being problematic. I bought Zak's books, and I linked to and promoted his work because I found his work interesting.
In the past couple years, I stopped doing that. I saw too much evidence that he was toxic, like RPGPundit, and stopped buying his books or promoting his work. I made sure to block him in every community where I spent time, and thought that ignoring him would be enough.
Ignoring bad actors isn't enough
But out of sight, out of mind is not enough.
It's not enough to separate the art from the artist. Like I said up top, it's time to stop publishing and promoting work by bad actors in the RPG hobby, and to refuse to engage with them in our community.
I'm taking what The Gauntlet said about Zak S and the issue of support, both past and present, to heart:
If you have supported or defended Zak S in the past, you need to step up. The Ken Hites and White Wolfs and LotFPs of the world need to take this opportunity to disavow Zak S.
Zak S already hadn't gotten my money or support for some time, but I went back through my posts here on Yore and removed all references or links to his work. I also logged back into Gnome Stew to edit or remove my past posts linking to Zak's work, only to find that the Stew had already proactively removed them (thank you!). Were G+ not dying in six weeks, I'd scrub those posts as well.
As of this writing, the r/osr subreddit has roundly denounced Zak S and banned him from posting. Well-known folks in the OSR community have spoken out about him, including Patrick Stuart, scrap princess, and Rob Monroe. A flood of folks who supported a recent Zak S Kickstarter have asked for refunds, or for their names to be removed from the backer list. The RPGnet thread about the accusations is full of folks who are mad as hell.
Update Feb. 12: Ken Hite has denounced Zak and donated his payment for work on Demon City to charity, and OneBookShelf (DriveThruRPG/RPGNow!) has posted an official response to the situation on their blog. This includes blocking future products featuring Zak S and donating the company's share of revenue from existing titles to charity. (There's a longer explanation for why existing titles remain.)
Don't waste money on shitbags
There are many, many, many designers, authors, artists, and other creative folks producing awesome stuff who aren't bad actors and aren't toxic to the RPG community. Those are the folks we should be supporting.
Tags: bad actors, Mandy Morbid, old school, OSR, Patrick Stuart, Rob Monroe, roleplaying games, RPG community, RPGnet, RPGs, scrap princess, The Gauntlet, Zak S
I spent a good chunk of today installing, configuring, and populating YoreWiki.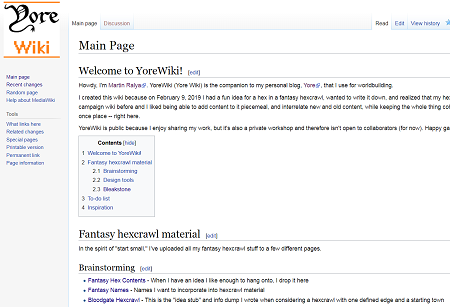 For now, YoreWiki is my info dumping ground for Bleakstone and other fantasy hexcrawl material. I realized that my false starts and brainstorming files and "master" documents were scattered across multiple folders and Yore draft posts, which made it impossible to find anything and exerted a measure of anti-creativity inertia that I found troubling.
My hope is that YoreWiki will give me an outlet to organize, interrelate, and add to my content for Bleakstone — ideally without feeling like work.
It's already given me a chance to unearth, organize (in some cases!), and share a ton of stuff I've already created that was just gathering virtual dust and of no use to anyone — myself included. Now those ideas have a home.
Tags: Bleakstone, old school, roleplaying games, RPGs, YoreWiki
With the impending shutdown of Google+ — my primary (and generally only) social network and outlet for gaming chit-chat since 2012 — I've been slowly making my way through stuff I posted there which, in hindsight, I should just have posted here on Yore.
Some posts stood alone, and should just have been Yore posts all along. I moved those over on their original publication date or on whatever day I happened to be working on them, whichever made the most sense.
But after doing that I was left with a little collection of posts that I like best in digest format — a sort of snapshot of some of what I cared about, tabletop RPG-wise, over the past seven years. It's as erratic and unfocused as my overall post history on G+, so it feels pretty apropos.
Here they are in chronological order, lightly edited for clarity and to provide context.
February 7, 2012
High school wasn't very helpful in figuring out who I wanted to be (better at sorting out who I wasn't) but it was great for figuring out what kind of gamer I was going to spend the next 10-15 years being.
The past few years have made me reassess all sorts of things about how I game and want to game, but the past week or so — a full-bore nosedive into OSR games, hex crawl design, research, and the minutiae of D&D editions — has been mind-blowing and, I strongly suspect, formative.
I'm really curious to see where this leads.
March 22, 2012
This superb definition of hit points over on THE LAND OF NOD would probably have improved most of my D&D games in the past 20 years.
"Hit points don't represent anything solid or real or concrete in and of themselves. Rather, they are part of a complex calculation that boils down to this: "What are the chances that the next moment of mortal peril you experience will be your last." That mortal peril might be a sword fight, a poison needle, a trap door … anything that might kill you. Most often, hit points relate to combat."
August 16, 2012
All three Engine Publishing books on Studio 2 Publishing's shelves at Gen Con (booth 419). That really never gets old!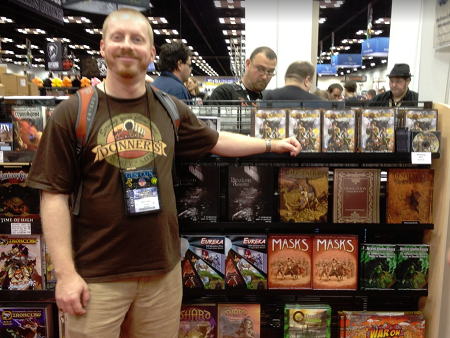 January 17, 2013
I would love to replace my amethyst Armory dice set someday. The dice at the bottom are all that remain; the rest were chased under couches by cats and lost at friends' houses while gaming as a kid.
Above them are the closest I've been able to get: an orchid Koplow set. They're really, really close.
And at the top are my very first gaming dice, the d10 and d20 from Lords of Creation (from the very box they're sitting on). I inked them with modeling paint and sprayed them with matte sealant, which was a pretty terrible idea.
Feb 13, 2013
I started collecting the FR series in 1990 or 1991; I have a vivid memory of reading FR9: The Bloodstone Lands — still my favorite in the series — in the auditorium as a freshman in high school. The arrival of FR8: Cities of Mystery today, more than 20 years later, completes my set of FR1-FR16.
For my money, this is one of the best series of gaming books ever produced, and these little volumes have been a source of inspiration to me for nearly as long as I've been a gamer. It feels funny to have them all.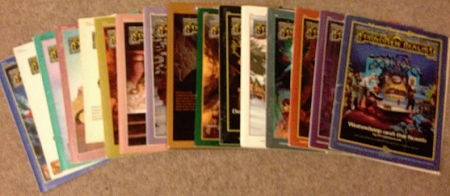 August 25, 2013
After four years, Engine Publishing has a warehouse!
It's still the office closet, but instead of working out of stacks of boxes (containing books) and moving huge "cheese wheels" of bubble wrap every time I need to ship a book, I can just do it. I have no idea why I waited this long!
December 15, 2013
I just found this while working on the basement. I think I made these in 2006 or 2007 (certainly no later, as I stopped running TT in 2007).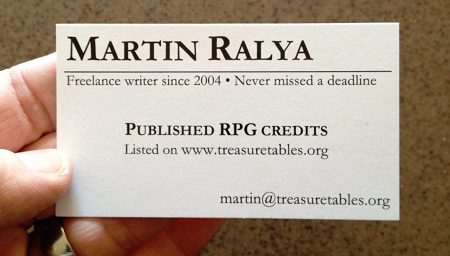 That's probably the last time I had a business card, come to think of it. I always get less use out of them than I think I will, as much as I like having them.
January 8, 2014
With a hat tip to Brendan S for the idea, here's a rough breakdown of my 2013 gaming purchases by the categories that sort of made sense to me as I went through them.
There are probably lots of ways I could have done this better, but hopefully I'll escape the notice of the RPGSTPD (RPG Stats Tracking Police Department) long enough for you to observe my dorkitude.
January 11, 2014
Glory holes on cover: zero.
Expectations NOT MET, Judges Guild.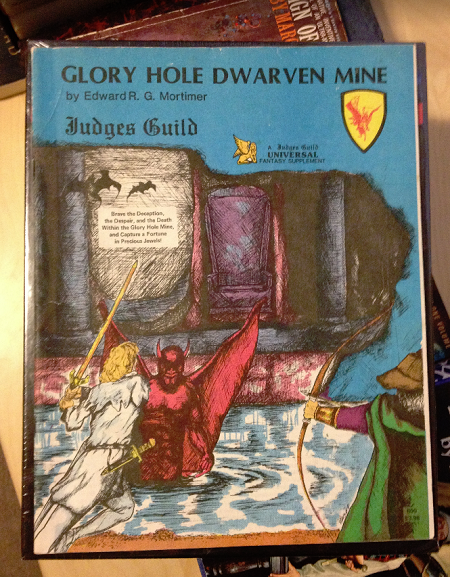 March 6, 2014
I grew up shopping at The Compleat Strategist in NYC, first at the one on 57th and then at the one on 33rd. Much of my early formative gaming originated from one of those stores.
My friend Stephan just sent me this picture: Engine Publishing's two most recent books, Odyssey and Never Unprepared, on the shelf at the 33rd street Compleat.
That right there is blowing my mind.
March 6, 2014
Space marine terminator: "Brother Leopold, I found a flat spot on my armor!"
Brother Leopold: "This space hulk will keep — let's bedazzle the shit out of that flat spot. For the emperor!"
Me: "Fuck you, I'm painting that red."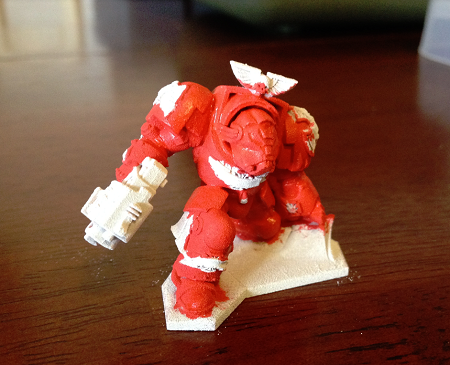 Five years after buying Space Hulk, I've finally started painting my marines. As you may have guessed, miniatures aren't really my wheelhouse.
March 10, 2014
Lords of Creation (1983, designed by Tom Moldvay) was my introduction to gaming in 1987. I never owned its three modules as a kid, but they were all surprisingly cheap so I closed out the line on eBay/Amazon.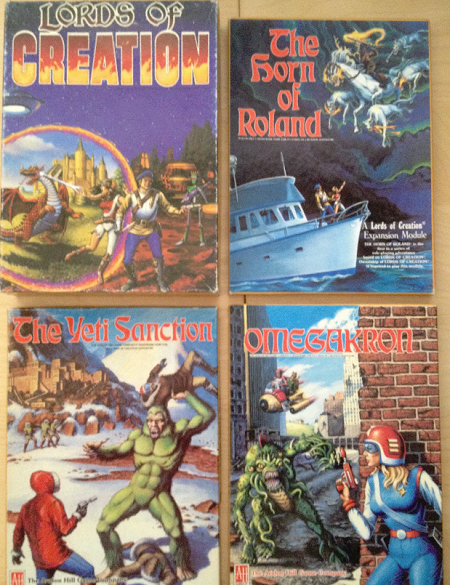 Revel in those covers! They're totally fucking glorious. Plus, the "-akron" in Omegakron is Akron, Ohio and The Yeti Sanction is (as Brad Murray pointed out) a parody of The Eiger Sanction; this isn't a game that takes itself too seriously.
April 27, 2014
Behold! For I am all of Spelljammer, and I am totally fucking awesome (and underrated).
I've loved Spelljammer since I first picked up the boxed set in 1989 or 1990 and moved my campaign there (as I did every time a new setting came out), and as of this weekend I finally closed out the line.
May 19, 2014
It's 1989. A pimply-faced, floppy-haired Martin, age 12 or 13, was introduced to D&D a few months ago.
He's standing in The Compleat Strategist on 57th Street in NYC, picking out dice to go with his AD&D 2e PHB, DMG, MC, and Time of the Dragon.
He picks these.
I knew if I was patient I'd eventually find the exact pack my first dice came in. I still have a few of the actual dice; some were stolen by cats or lost under friends' couches. It's like stepping into a time machine!
July 12, 2014
I first heard of Living Steel around the time I started gaming, when I was in my early teens. I picked up the boxed set and hardcover rulebook in college, back in Michigan (mid-1990s), and have been slowly acquiring the other supplements ever since.
Today I closed out the line.
It's so not my kind of game mechanically, but the hook and the vibe and the guts of it are fabulous. I'd love to play it as written and using a lighter system someday.
July 31, 2014
I stumbled into collecting U.S. editions of Call of Cthulhu back in high school and have been slowly doing so ever since. It's one of my favorite RPGs, and has been for over 20 years. I also enjoy the irony that until the forthcoming 7th edition its rules have remained basically unchanged for 30 years, making it one of relatively few games where there's no compelling reason to own multiple editions.
Today I added an edition I thought I'd never see, the 25th anniversary edition (white hardcover), and thought that deserved a quick picture. Right to left, top to bottom: 1st, 2nd, 3rd, UK 3rd (also available here, so I mostly count it); 4th, 5th, 5.1; 5.5, 5.6, 20th anniversary, 6th softcover; 6th hardcover, 25th anniversary, 30th anniversary.
To my knowledge, I'm only missing two editions, and my odds of acquiring them seem poor: the designer's edition of 2e, of which only 200 copies were made, and the "more limited" 20th anniversary edition (gold Elder Sign on the cover).
September 13, 2014
My desk, where I do Engine Publishing and Gnome Stew work, in the state it's in about 50% of the time. The other 50% of the time there aren't any piles on the end.
The piles are books I'm reading, need to shelve, need to review, or otherwise am currently using in some form.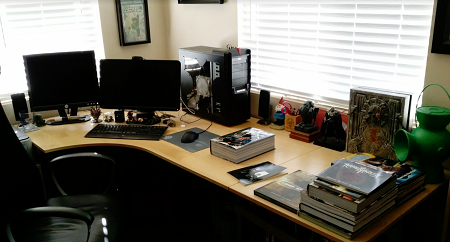 November 17, 2015
From this excellent post about sales stats for RPG retailer BlackDiamondGames.com:
"Also, because I know you guys like lists, here are our top 10 titles with the extremely high 17-40 turn rates:

1. D&D Next: Dungeon Master's Screen
2. D&D Next RPG: Dungeon Masters Guide
3. Pathfinder RPG: Strategy Guide
4. Unframed: The Art of Improvisation for Game Masters"
Wait wait wait. What?! One of these things is not like the others.
Closing remarks
On balance, I greatly enjoyed my time on Google+. It had a huge impact on my gaming, from meeting my current Seattle group to learning about all sorts of cool products to making friends to changing my gaming philosophy over time.
But having gone cold turkey a month or so ago, when my gaming group stopped using G+ to schedule our sessions, there's a flipside: I've found that I don't miss checking G+ nearly as much as I thought I would.
That gnawing feeling of a social network needing to be checked, maintained, curated, and managed, and of needing to deal with the small percentage of assholes I encountered there (who consume an outsized amount of time and energy) — I don't miss that at all.
Nonetheless, though: On balance, G+ was seven years largely well spent, and I'll miss the connections and gaming choices it helped me to make. I'm taking a social network break, maybe for good, but I'll still be posting here and I'm quietly active on RPGnet and RPGGeek.
Tags: Call of Cthulhu, D&D, dice, Dungeons & Dragons, Engine Publishing, Forgotten Realms, Glory Hole Dwarven Mine, Gnome Stew, Google Plus, hit points, Judges Guild, Living Steel, Lords of Creation, miniatures, roleplaying games, RPGs, Space Hulk, Spelljammer, The Armory, THE LAND OF NOD
Epidiah Ravachol posted about the Bullwinkle and Rocky RPG the other day (note: in 2014, when I first posted this on Google+), making the point (assuming I'm smart enough to have understood him correctly) that you can design the most cutting-edge game in the world but if you produce it in a context no one cares about, no one will care.
Bullwinkle and Rocky, published by TSR in 1988, is nuts. It looks like a story game before there were story games, and it's packed with interesting stuff: spinners instead of dice, hand puppets, three versions of the game, cards as story prompts, and more. It's pretty amazing how different this game is from most RPGs produced in 1988.
I never got into Bullwinkle. I didn't watch it as a kid and it holds next to zero interest for me now. But this game is totally nifty.
And because, circling back, I'd guess it went over like a lead balloon, you can still find a copy in shrink for not much money despite it being 26 years old.
Tags: Bullwinkle and Rocky RPG, Epidiah Ravachol, roleplaying games, RPGs, story games, TSR
Back when we lived in Utah, we went to Salt Lake Comic Con every year. Our 2014 trip included two of my favorite moments with my daughter, Lark. These were originally posted on different days on Google+, but I'm pulling them into one post here (since G+ is going the way of the dodo).
April 18, 2014
I expect my Parent of the Year award any day now.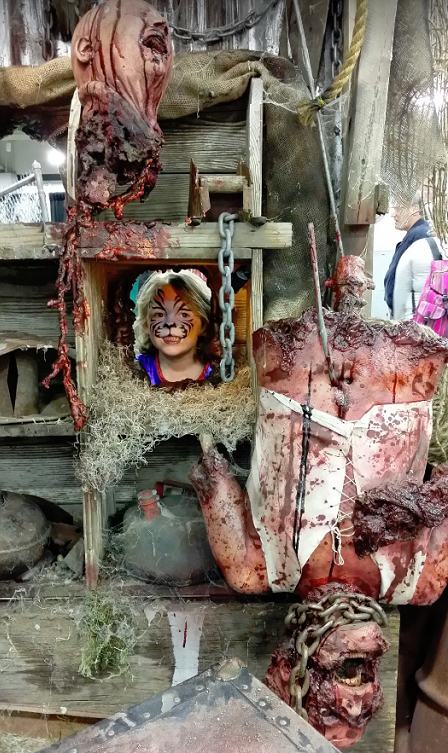 April 19, 2014
Comic Con day two (for us; day three of the con). One of the things I love about cons is the surprises — I didn't expect we'd get to wear a snake.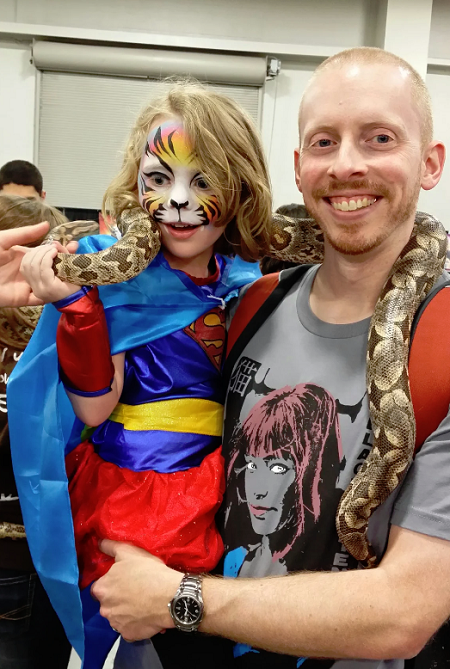 While packing for our move to Seattle in 2015, I came across some comics and RPG stuff I created in the 1980s and early 1990s. I posted about them on G+ back in 2015, but with the impending shutdown I thought I'd rescue them to share on Yore.
Comics
At age 10, I was photocopying my handmade comics and selling subscriptions to my friends.
I don't recall Blackbelt Assault Aardvarks: The Atomic Aristocrats making it to issue two. Nor Sam the Turtle Avenger, come to think of it.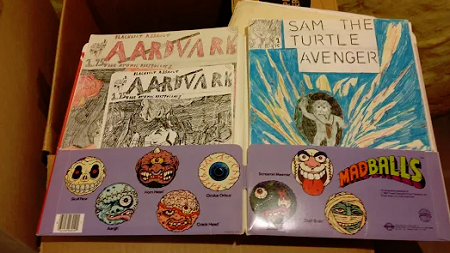 High Adventure
In retrospect, 100% of what teenage me wrote in this introduction to a never-published fantasy heartbreaker I designed with a friend (we were fixing AD&D 2e, man!) was not true.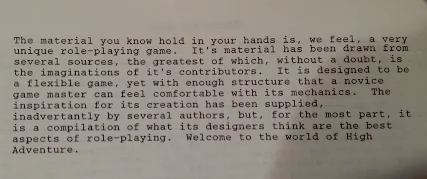 Bushido
Bushido, the coolest superhero in the universe, from a FASERIP Marvel campaign in the early '90s.
I'm 96% sure the silhouette on the left was traced from a Captain Britain datafile in Dragon Magazine. I used it for my whole (sausage fest of a) superteam.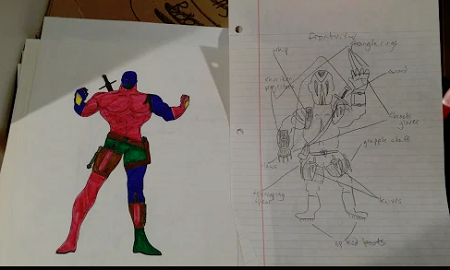 Sage Lore Productions
Playtesting for long-defunct Sage Lore Productions, age 13. This was actually a pretty cool DM's kit.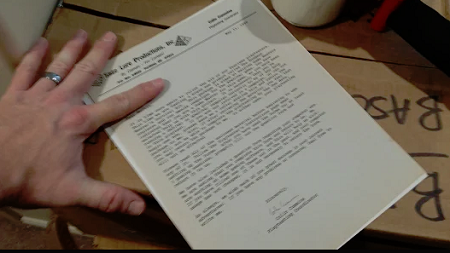 Blood for the Blood God
Sixth grade. I have a vivid memory of drawing this during a free period at school.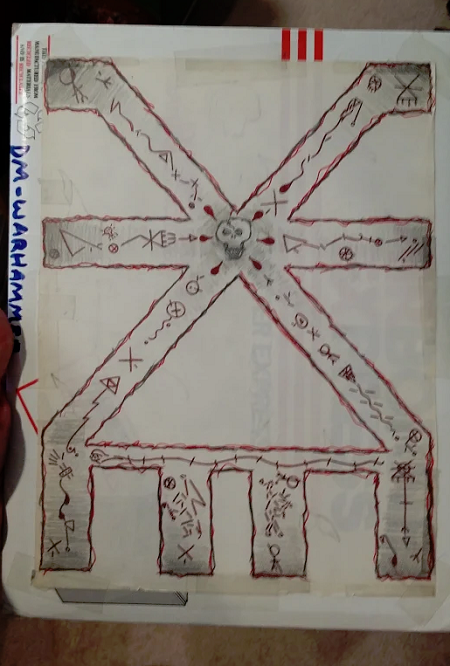 I really need to scan some of this stuff and turn it into PDFs at some point.
Tags: Blackbelt Assault Aardvarks: The Atomic Aristocrats, Bushido, comics, FASERIP, High Adventure, Khorne, Marvel Superheroes, playtesting, roleplaying games, RPGs, Sage Lore Productions, Sam the Turtle Avenger
From a fantastic NPR piece about Apollo 11 astronauts writing on the walls of Columbia:
In both pen and pencil, the astronauts scribbled down flight plans, a series of numbers and notations from mission control, and a calendar. Each day of the Apollo 11 mission is crossed out except for the final day, July 24, when Columbia returned to Earth.
Most sci-fi spaceships are too antiseptic. One of the things I love about Serenity, from Firefly (paid link), is Kaylee's paintings on the galley walls. Too few SF ships feel real in the way that those little flowers make Serenity feel real.
Tags: Firefly, NASA, roleplaying games, RPGs, science finction, spaceships
Steve Rogers, PR disaster is amazing.
Context from the intro:
""Wait," says Sam, "you had a publicist?"
"For my first five months at S.H.I.E.L.D," says Steve. "Then she quit. Uh, decisively.""
The rubber meets the road:
"The problem was his mouth.
First there was that brief period of time before the rabble-rousing got off the ground, where his main hobby seemed to be pissing off important people. Eva learned to dread the approach of elderly senators and statesmen, the way they shook Steve's hand and leaned into his space to mutter, conspiratorially, "The country's not like it used to be, is it?" It was like the ticking of a bomb that only Eva could hear.
"You're right," said Steve, the third time it happened, "nobody dies of the flu and I can't get arrested for marrying a black person.""
I love Captain America, and this is right on the money. (I can even picture Chris Evans speaking these lines!)
Tags: Captain America, comics, idiopathicsmile, politics, Steve Rogers