I picked up this TaoTronics LED desk lamp (paid link) to brighten up my painting space and extend my "painting day."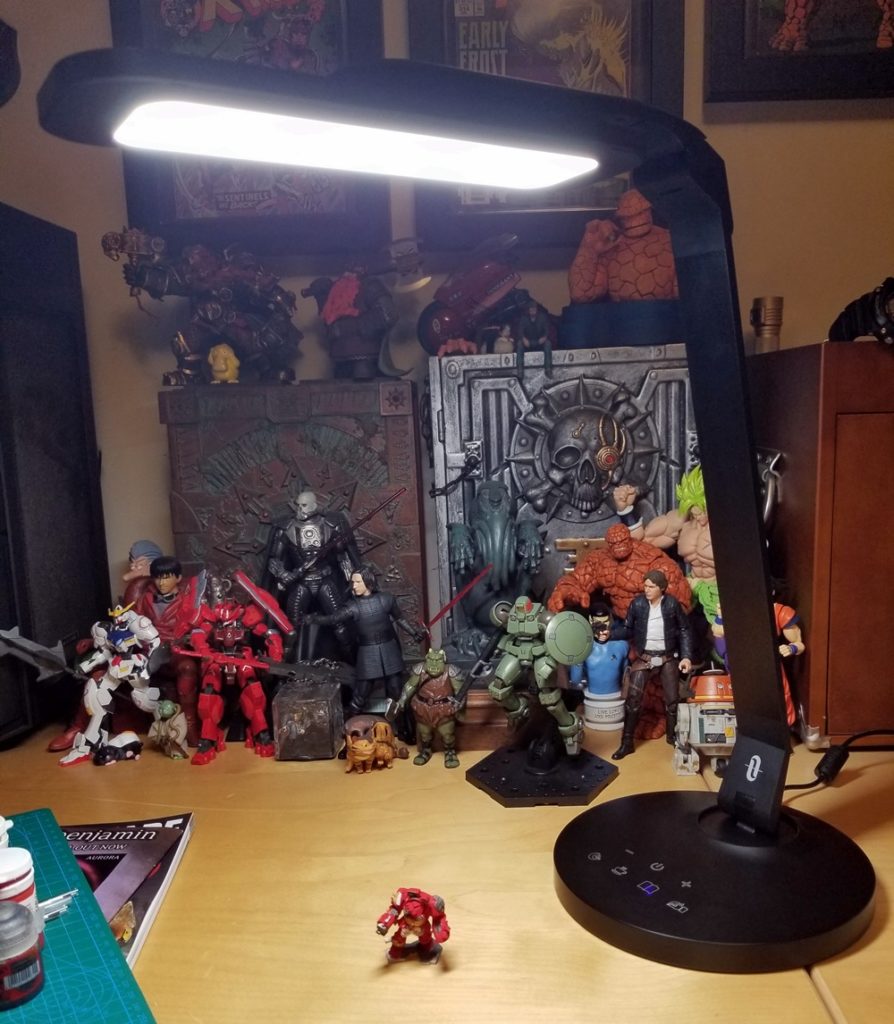 I looked at both cheaper and more expensive options, but landed here — on the cheaper end of the middle, at $44 — for a few reasons.
Compact form factor — my desk is already too crowded
Dimmer
Multiple color temperatures, not just cool white
Three points of articulation: tilts at the base, tilts at the bend, and the head rotates from side to side
Touch controls, which sounded cool
Mode memory
Aesthetically pleasing (not a top concern, but still)
Shown above is my default setting, medium brightness (the top is about 450 lumens, which isn't a lot but is actually quite bright for a task light) and neutral white color temperature.
I wish the color temperatures were spelled out a bit better, but "night" is warm, "coffee" is warm shading into neutral, "reading" is neutral white, and "writing" is cool white. To my eye the reading setting has the best color rendition, which is what I'm after for miniatures.
The lamp includes a cord and wall wart, and there's a single USB port on the back of the base. The next model up (paid link) includes wireless phone charging for about $6 more, if that's something you need.
I opted against a magnifier lamp for now because I'm not convinced I need one (holding minis close to my face does the trick, so far) and most of the ones with a good magnifier and selectable or neutral white color temperature were quite expensive. I figure by the time my painting skills could really benefit from magnification, I'll have learned more about what sort of lighting works best for me and will be able to make a more informed choice.
It's a lamp (paid link)! With it I can paint better, for longer each day (and have been). I like it. You might like it as well.
Digging Yore? Check out my book!The Unlucky Isles
[
affiliate link
], the first system-neutral guidebook for my Godsbarrow fantasy campaign setting, is available in print and PDF.