I started building this squad of Allarus Custodians — the first three of 10 Terminators in my draft army list — last night, and finished it up this afternoon: Kanumba, Cathalan, and Adomako.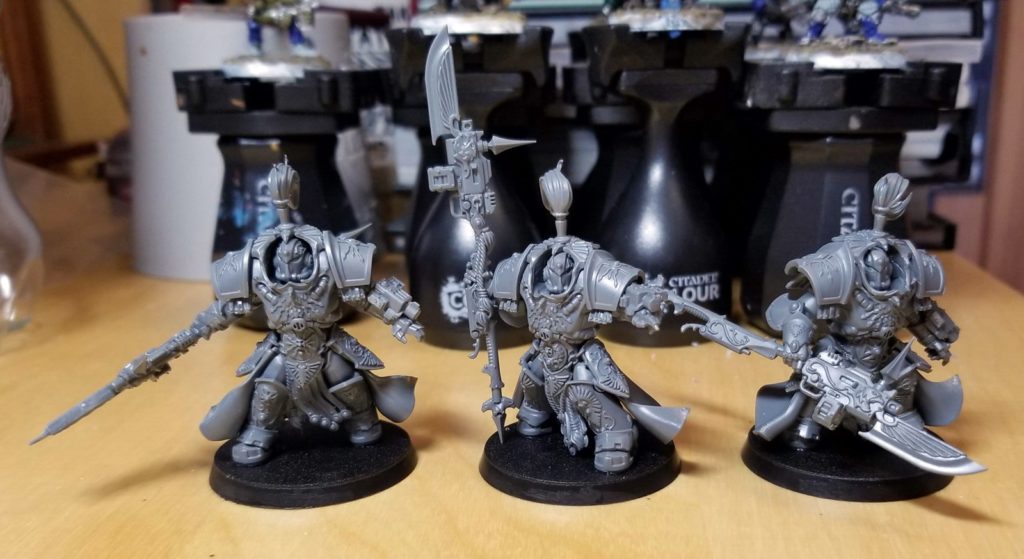 As with my first squad, I stole the Shield-Captain's build for one of them — Adomako — because I love the stance and how tall the model is with its upright spear. I've also got a pretty good sense now, after two Custodes kits, for how I can twiddle some of the monopose elements and do a bit of mixing and matching in order to keep them all distinct from one another.
I looked to Africa for two of their names: Ghana for Adomako, and Tanzania for Kanumba. The third, Cathalan, is an Old Irish name — a variation on Cathaláin.
While these kits have the awesome "turtle shell" vibe that defines Terminators (for me, at least), and huge presence, I think I still prefer the Custodian Guard models by a narrow margin. They're still pretty boss kits, though — and I'm not sad I'll be building more of them.
Digging Yore? Check out my book!The Unlucky Isles
[
affiliate link
], the first system-neutral guidebook for my Godsbarrow fantasy campaign setting, is available in print and PDF.