Painting Terminators — which have been my favorite aspect of the Warhammer 40k universe since I was 12 — for Space Hulk piqued my interest in painting more 40k minis. I read the free rules first to test the waters, and I like what I see in 8th Edition. But like I said in that linked post, it's the painting side of the hobby that's drawing me back — paint for sure, play maybe.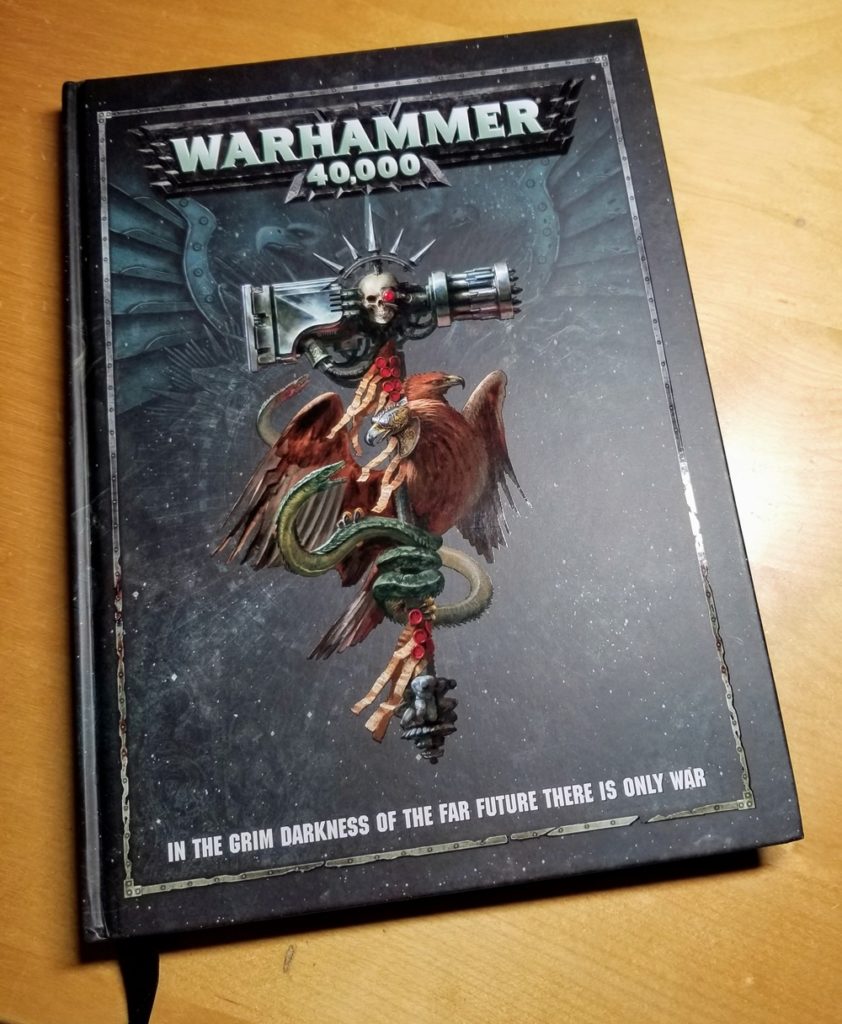 There are a couple of local stores (Mox Boarding House, GW Lynnwood) that look like they could be avenues of play for me down the road, but the joy of falling in love with an army and building and painting minis for it is what's grabbing me right now.
I've also started watching battle reports for the factions that interest me. So far MOARHAMMER is my favorite channel, conveying a sense of what it was like to be there in a fun way with crisp editing, a friendly vibe, and — unlike several others I've tried! — excellent camera work that doesn't give me motion sickness. This Adeptus Custodes v. Black Legion BR was my intro to them, and it's a fun watch.
I'm enjoying reacquainting myself with this universe and game — and holy shit is there a lot of lore available in wiki format (which of course didn't exist in the early '90s). I visited this Blood Angels page and figured it'd be a couple screens of text at most. Oh, how wrong I was.
Which is cool, because it's making deep dives into faction lore pretty easy to do without investing in like 18 books. Good times!
(The title of this post is based on a 40k joke: It's not called Warhammer 40,000 because it's set in the 41st millennium, but because that's how much it costs to play. I don't know the joke's origin, but I love it.)
Out now: The Unlucky IslesThe Unlucky Isles
[
affiliate link
], the first system-neutral guidebook for my Godsbarrow fantasy campaign setting, is now on DriveThruRPG.