My online group just wrapped up our second playtesting session of Brad J. Murray's upcoming space-fantasy RPG Elysium Flare, and I wanted to talk a little bit about it. The current public playtest draft is v4, available for free on Brad's Patreon.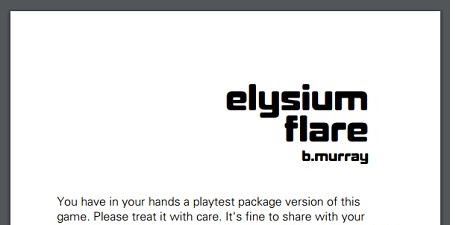 Background
For context: Our sessions are short, and we're talkative; so far, we've made three characters, their ship, and the association (organization) to which they belong. I'm the GM.
System-wise, Elysium Flare is Fate-based (paid link), but lighter than both Fate Core and FAE (and much lighter than, say, Fate 3.0). It also adds new elements, and so far the ones we've had contact with look like subtle changes but are actually quite impactful. More on that in a moment.
What's awesome about Elysium Flare?
The setting is what drew me to the game, and I think it's what hooked the other two players in my group as well. Broadly, it's space-fantasy: there are starships, alien species, mystical arts, and psychic powers, and no one worries too much about why things work the way they do. On the soft/hard SF spectrum, it's extremely soft.
But it's the little things that make it sing.
Delightful species
For starters, this is a game where the playable species are sentient gas, robot, bear-person, bug, starfish, "grey," and plain ol' human. I waged a fierce internal battle between playing a gas (Orpheani) or a bear (Aukami), and wound up playing a starfish (Aarun) because they're amazing too.
Physics galore
Into that mix, add one of the game's tweaks to Fate: three kinds of physics. In addition to the physics we're used to, faith and arcana operate as a separate set of physics (mystical), and psychic powers under a third (psychic); these also map to stress tracks, so for example robots (fabs) are solidly grounded in the natural, and have no tracks for psychic and mystical — they're vulnerable to those types of physics. That looks like a little thing at first, but it turns out to be a really fantastic piece of game tech.
That allows for tremendous variety in characters, skills, stunts, ships, and throughout the setting. For example, our trio (the GM makes a character too, as a handy NPC and to facilitate Fate's interconnected PC backstories) flies around in The Shrine, a literal ship-temple that once belonged to a fallen species; its engines are some sort of mystical power source, but the guns we bolted on run on natural physics.
Working for the man
The same is true of associations, the larger organizations to which the PCs are assumed to belong. By the point when these enter into the character creation process, my group had already settled on being scruffy space scoundrels operating alone; it felt dissonant to map that to a broader association. But after we created our ship, we revisited the idea and neatly slotted ourselves into an association of greedy antiquarians who needed a plausibly deniable "black ops" arm for acquiring artifacts.
That was in no way what we expected we'd be doing when we first sat down to make characters, and Elysium Flare is brilliant at facilitating those kinds of surprises. The way associations work is part of that: From a list of terms like criminal, military, commercial, and ancient, you choose three — any three. One is your remit, which has a complication aspect associated with it, and is also a skill; the other two are skills.
We chose academic for our remit: the greedy antiquarians. For skills, we picked criminal (we're the shady arm, after all) and administrative, because — another surprise — we wound up creating white-collar space criminals, the sort more likely to roll up with forged codes that claim we already own the thing we're there to steal. (We're not Indy, we're Belloq.)
One surprise after another
Elysium Flare is freewheeling in its approach (and charmingly conversational in its tone), and that carries through to every step of character creation. We made three wildly different nutjob characters, and somehow wedded them to one another, then to a ship, then to a purpose, then to an organization — and nowhere along the way could we have predicted where they'd wind up. I love that!
Before the next session I'll use the system creation rules to gin up a star system, and for in-character play I'll just poke their association's complication and start in media res, with the crew of The Shrine rolling up on a world where there's something they want to steal. I can't wait.
There are some rough edges in the rules, as I expect from a game currently undergoing playtesting — but I've watched Brad iterate through several drafts now, and every time things get smoother.
If Elysium Flare piques your interest, check out the v4 playtest draft and see what you think of the game.
Digging Yore? Check out my book!The Unlucky Isles
[
affiliate link
], the first system-neutral guidebook for my Godsbarrow fantasy campaign setting, is available in print and PDF.