"I'll get to play with these" has been a powerful motivator since I got rolling in 2020, and I've always speculated that "I played and I like/didn't like X, I need to paint some Y for my next game" would be similarly powerful.
Kill Team has produced that cycle for me, except instead of X being my team and Y being something new for my team, Y is just more teams. Every time I play, especially when I'm "curating" the whole experience in home games (providing the board, terrain, minis, rules, etc.), I want more options available.
That cycle has now kicked into gear with my Blood Angels, my largest and oldest 40k army. I've played two short games, enough to get an idea of what I like in play and what I wish I could field, and now that I've got a larger game — 1,000 points! — on the calendar for this week, I'm scrambling to paint three minis so I can field them right away.
I want a sixth Infiltrator to form a complete kill team (joining the five I already have painted), and he and a seventh have the wargear I didn't model on my Infiltrator squad because it wasn't free in 8th or 9th and I needed the points. Now that it's free, and I've seen that Infiltrators are fun to play, the helix gauntlet and comms array should come in handy.
I had to kitbash the helix gauntlet, which doesn't come in the kit. Google turned up a great idea on Funnyjunk, of all places: use the comms array guy's arm, shave down a couple of grenades for the medical lights, and add a needle. I had an extra comms arm; I trimmed off an Infiltrator backpack antenna for the needle.
I've also shied away from fielding my Death Company lads because of their mechanics: They're not as good without a Chaplain, but they have jump packs and my Chaplain, Arrius, does not. So it's time to paint a jump-chap, and hey I have this resin guy just hanging around…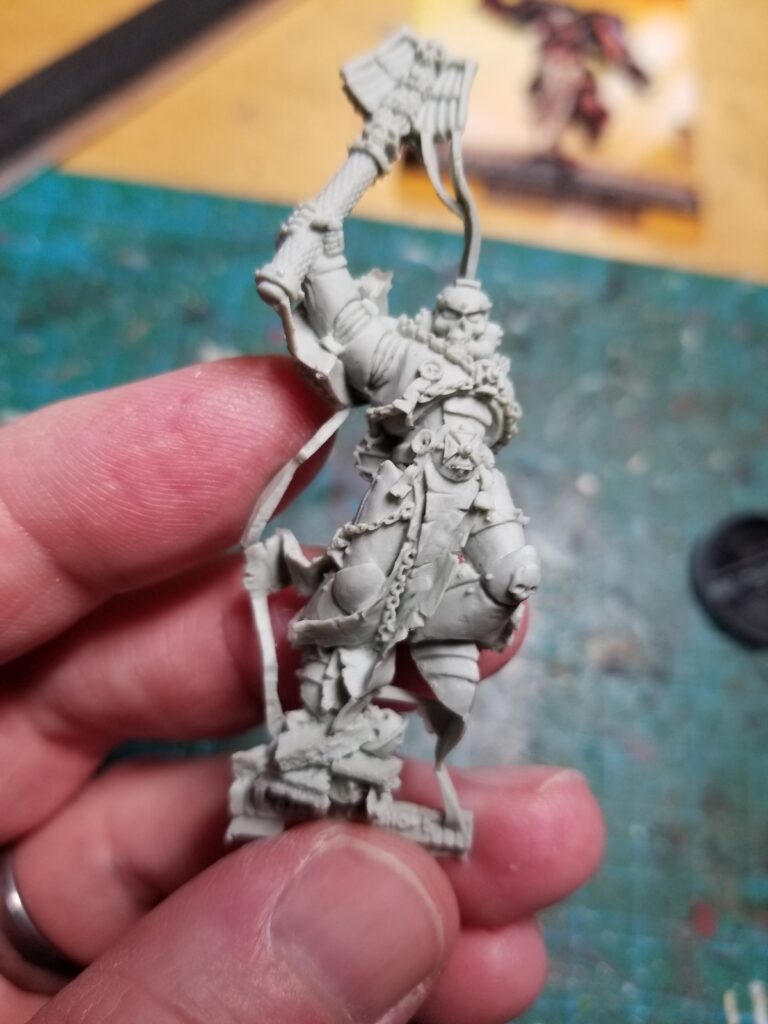 Chaplain with jump pack color guide
Same base as my other Blood Angels, of course, and as always these recipes are based on the GW studio recipes with some tweaks. Nothing is drybrushed unless noted.
Armor: Abaddon Black > Eshin Grey > Dawnstone
Metal: Leadbelcher > Nuln Oil all-over wash> Stormhost Silver
Armor gaskets and helmet tubing: Mechanicus Standard Grey > Nuln Oil all-over wash > Dawnstone
Gold: Retributor Armour > Reikland Fleshshade all-over wash > Auric Armour Gold > Liberator Gold
Skull mask: Celestra Grey > Drakenhof Nightshade all-over wash > Ulthuan Grey > White Scar
Eyes: Moot Green > Agrax Earthshade pin wash > Moot Green
Purity seal wax: Screamer Pink > Carroburg Crimson all-over wash > Pink Horror > Emperor's Children
Parchment: Rakarth Flesh > Agrax Earthshade all-over wash > Pallid Wych Flesh > White Scar

Then scribble on it freehand in very fine Abaddon Black

Crozius handle: Khorne Red > Agrax Earthshade all-over wash > Wazdakka Red > 50/50 blend of Wazdakka Red/Kislev Flesh
Knee pad, shoulder pad, bolt pistol housing: Mephiston Red > Agrax Earthshade pin wash > Evil Sunz Scarlet > Fire Dragon Bright
Jump pack jets: Caledor Sky > Drakenhof Nightshade all-over wash > Temple Guard Blue > Baharroth Blue
It's been ages since I painted a purity seal, and I've forgotten what color I used to scribble the freehand "writing" on the parchments. This time I wrote it down!
Out now: The Unlucky IslesThe Unlucky Isles
[
affiliate link
], the first system-neutral guidebook for my Godsbarrow fantasy campaign setting, is now on DriveThruRPG.