On Saturday, I wanted to work on another character. As chance would have it I was just about to paint the black elements on my Sternguard, so I fired up my Chaplain, Arrius, and figured I'd paint everything but black — his dominant color — so he'd be in sync with the veterans.
I love this mini, and while I found resin to be a pain in the ass my guess during the assembly process was correct: That pain faded once I started painting him. It's such a great sculpt!
I was feeling a bit down, and also a bit out of it, on Saturday — so much so that I completely forgot I always paint bases first. Nothing on his legs would make it risky to drybrush around them, so I wrapped up his non-black colors and switched gears.
As I gain confidence as a painter, I'm also going off-book more often. I love his studio paint scheme, but that's not a Blood Angel. (I mean, intentionally so; he's a "generic Chaplain" by design.) I gave him a Blood Angels backpack, but he needed a bit more to tie him into the chapter; I figured a red knee pad with a chapter symbol would do the trick. He also has black armor, which means black suit gaskets aren't going to read well — not to mention a mix of red elements that need definition and separation.
Which means it's color guide time!
Chaplain color guide
Black: Abaddon Black > Eshin Grey > Dawnstone
Bone and parchment: Rakarth Flesh > Agrax Earthshade > Pallid Wych Flesh > White Scar
Metal and piping: Leadbelcher > Nuln Oil > Stormhost Silver
Armor gaskets: Mechanicus Standard Grey > Nuln Oil > Dawnstone
Leather and piping: Screamer Pink > Carroburg Crimson (skipped on gems) > Pink Horror > Emperor's Children
Gold: Retributor Armour > Reikland Fleshshade > Auric Armour Gold > Liberator Gold
Eyes and tubing: Moot Green > Agrax Earthshade > Moot Green
Book cover: Khorne Red > Agrax Earthshade > Wazdakka Red > 50/50 blend of Wazdakka Red/Kislev Flesh
Knee pad, gems, purity seal wax: Mephiston Red > Agrax Earthshade > Evil Sunz Scarlet > Fire Dragon Bright
Other hobby work swirling about
I also looked at my painting queue for May and decided I wanted to make my stretch goal the Sanguinary Guard — as planned — but that doing Dante and the Sanguinary Ancient (with his massive banner) might be too much of a stretch. Still, having primed Dante, I figured I'd take him through basing.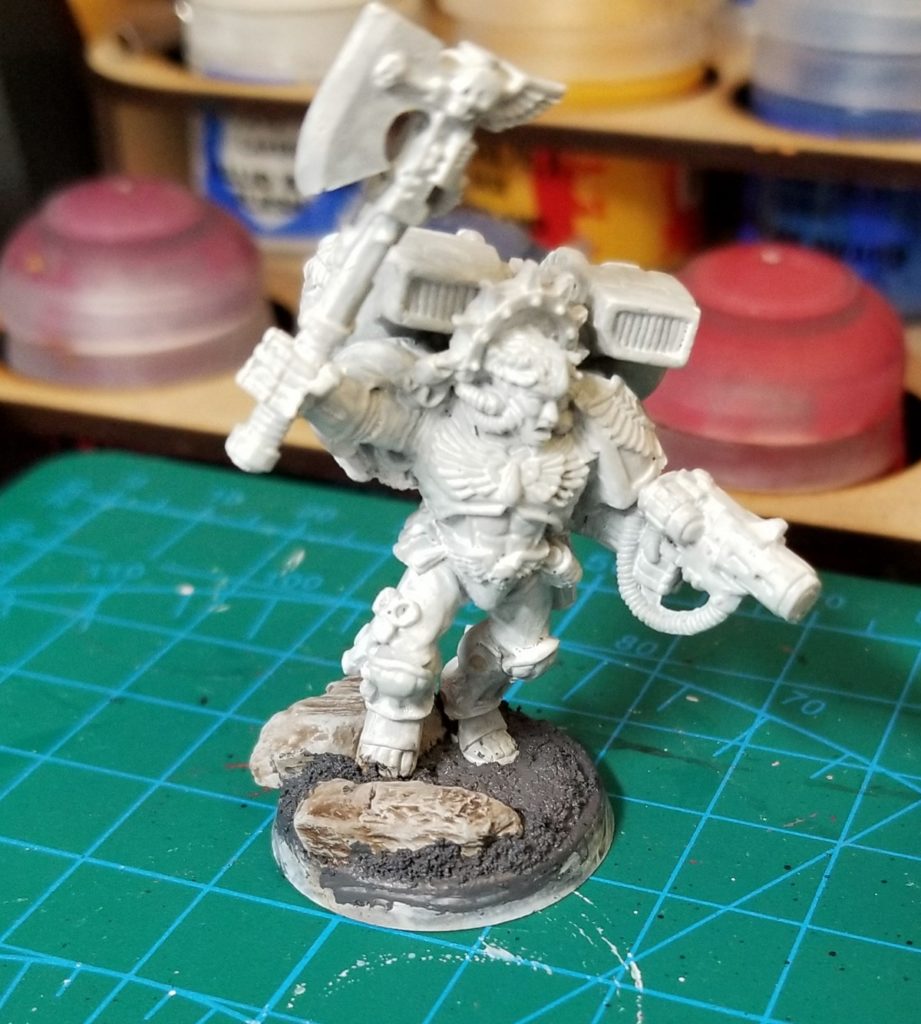 …And get the Guard and Abaoz through basing as well, so I'd be covered no matter what.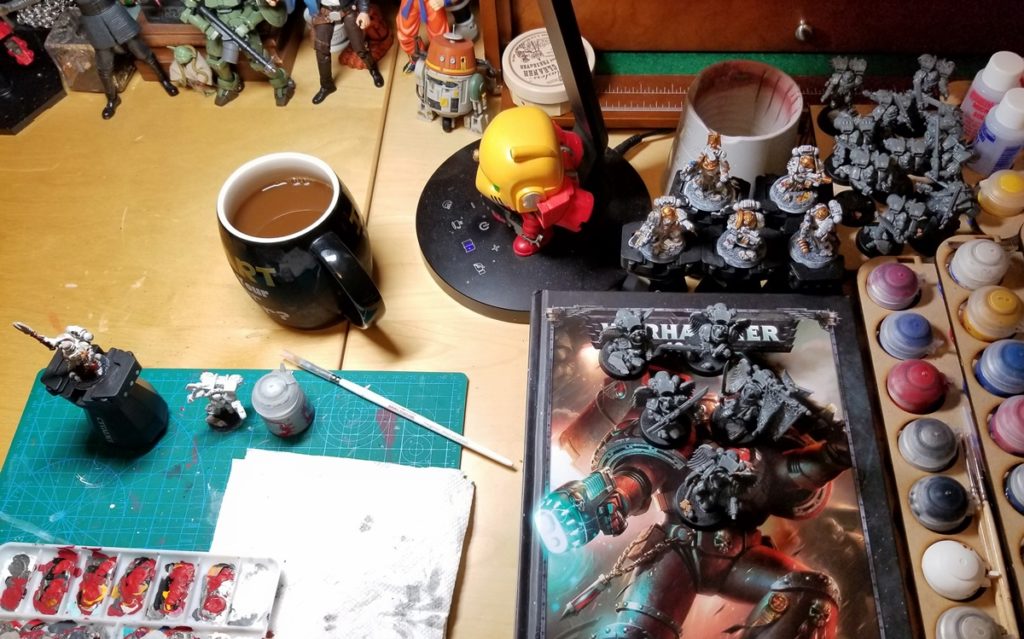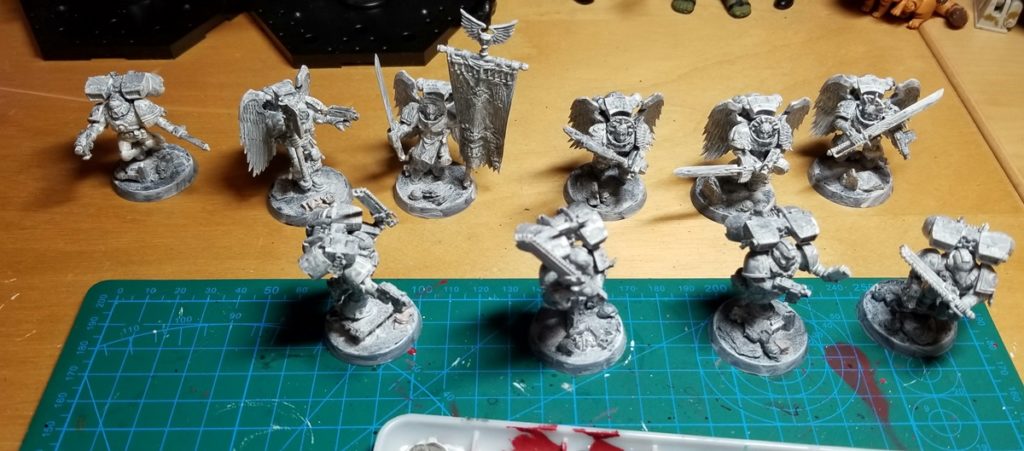 I put in less hobby time than I thought I would this weekend, doing more other stuff instead, but kept my hobby streak up — Monday was day 93! — and laid the groundwork for what comes after my Sternguard.
Wrapping up the Chaplain and Squad Amedeo should definitely be doable before the end of May, and really going beyond that — 1x Rhino, 11x Marines — was a stretch anyway. But I won't discount the possibility that a couple of banner painting nights sneak in, say, all of Squad Remiel by May 31, either. It happened last month, after all!
Digging Yore? Check out my book!The Unlucky Isles
[
affiliate link
], the first system-neutral guidebook for my Godsbarrow fantasy campaign setting, is available in print and PDF.