With Squad Dolos finally painted, it's time to get my Sternguard, Squad Amedeo (1st Company, 3rd Squad), up on the painting handles! As always, I've completed their bases already (except for varnish and tufts, of course), and I've dabbed a bit of paint on them whenever I had extra on my palette.
One of the things I love about Blood Angels heraldry is that they use helmet color to indicate battlefield role — yellow for fast attack, blue for heavy support, gold for veterans, etc. — which looks great, provides variety, and is just sort of neat. (I also love that, in addition to regarding the Codex Astartes as a set of loose guidelines, they also break their own rules — like having Terminators eschew gold helmets for plain old red.) So when I built my initial army list I tried to squeeze in all of the special colors.
The battle-brothers of Squad Amedeo are my first foray into colorful hats. I love painting gold! And they're going to drip with so much gold.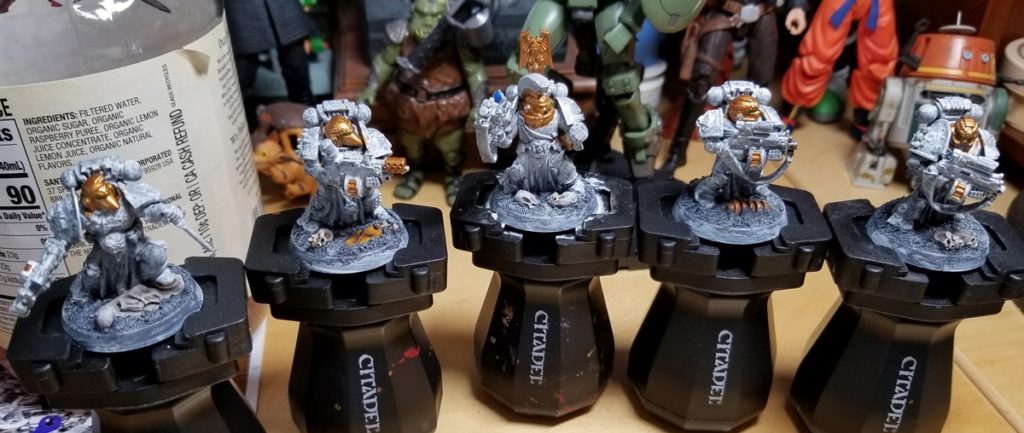 So, so much gold.
Although one thing I learned from painting Squad Ultio was that it's also fun to lean away from gold, even when it's my first instinct. Mix in some white, some silver, and some black where I might otherwise have put gold — and give each model a loose little theme based on those color choices. So while Squad Amedeo is going to get its fashion sense from the imperious, bling-loving Sergeant Amedeo, there will be some other colors in the mix as well.
I'm also diverging a bit more than usual from the studio paint scheme, as I'm not sure how to do the gold fabric (nor whether I'd like it), white on red doesn't feel right for them, and I've probably used rather a bit more gold overall.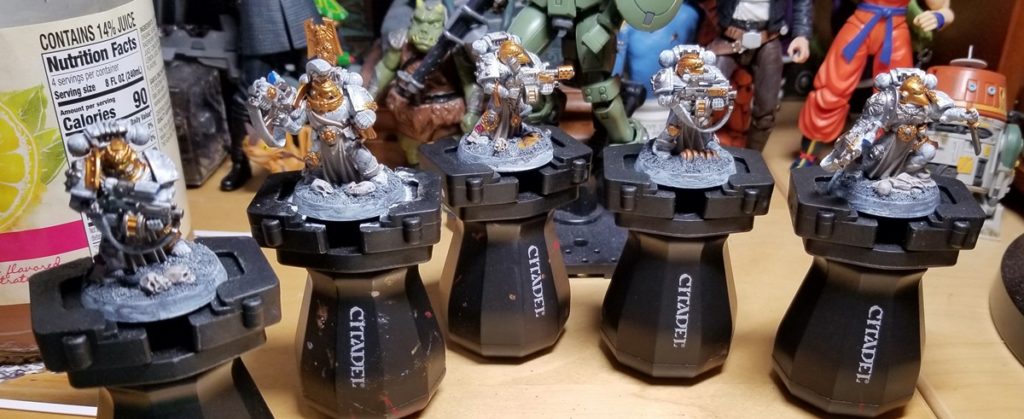 This was one of my favorite squads to assemble, and so far they're an absolute joy to paint. They're detailed without being fussy, with nice separations between their elements, and I just love them. I made great progress last night, laying down base coats in every color except Mephiston Red, Abaddon Black, and whatever I go with for their incidental wires and whatnot.
Digging Yore? Check out my book!The Unlucky Isles
[
affiliate link
], the first system-neutral guidebook for my Godsbarrow fantasy campaign setting, is available in print and PDF.