More RPGs and supplements should be coil-bound, or offer a coil-bound version. Coil-bound books lay flat and stay open, making them a joy to use at the gaming table.
Away from the table, I prefer perfect-bound (traditional softcover) or hardcover for reading, and hardcover for bigger table-use books (large-diameter coils suck, and a big hardcover will generally stay open pretty well). For modules, I prefer saddle-stitched binding, which lays flat but can also be held by the base of the spine to keep my players from seeing any spoilers (assuming a relatively short module, of course).
But for table use, for most books, coil binding is king.
Here's my coil-bound copy of Savage Worlds (paid link), which sits next to me at every session. It gets far more use than my second copy, which is just a regular softcover.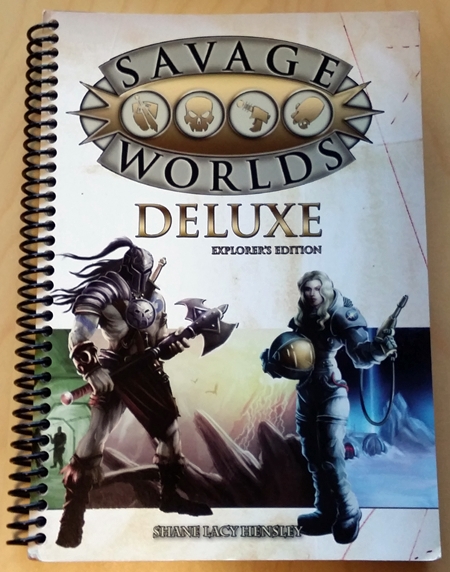 Note that SW doesn't come coil-bound, but for just a few bucks any office store with a printing/binding section will chop off the spine and coil-bind a book for you. Given that the core book for SW retails for under $9 shipped on Amazon, even coil-bound it's cheaper than most gaming books.
I didn't come up with this genius idea: Kurt Schneider, Gnome Stew emeritus and all around awesome dude, showed me his coil-bound SW rulebook a few years ago at Gen Con. I'm grateful to Kurt for turning me on to the beauty of coil binding.
One of the only publishers I'm aware of who consistently offers alternate binding options, including coil, is Chris Gonnerman. Check out his Lulu spotlight for Basic Fantasy RPG, and you'll see coil and saddle-stiched versions of the books for which those bindings make sense. It's awesome.
If you've never tried a coil-bound gaming book, give it a shot.
Digging Yore? Check out my book!The Unlucky Isles
[
affiliate link
], the first system-neutral guidebook for my Godsbarrow fantasy campaign setting, is available in print and PDF.