I'm no expert, but I've done a good amount of painting over the past two months, and tried a bunch of different brushes, and I figured it was time to write a post about brushes.
When I got back into painting minis in February of this year, I already had a small stash of brushes: a single Armory set I've had for years. They've been abused at least as much as they've been used, because I had no idea how to use or take care of them.
This set has been relegated to Jobs That Ruin Brushes — which is fine! There are plenty of those: priming, varnishing, decals, and bodging paint out of the jar and onto my palette. There's nothing wrong with them, and if I'd taken care of them they'd still be solid brushes.
The one exception is the big guy in front, an Armory Series 10 Size 1 brush. This is my most-used brush by far, as it's the one I use to get paint out of my pots and onto my palette — which happens dozens of times per miniature — and, since it's then used to thin the same paint, as my primary base-coating brush for large areas. Paint is expensive; I hate to waste it. The bristles have the perfect amount of spring to them, it holds just the right amount of paint, and it's not so large as to be clumsy. I love this brush.
Expanding the toolkit
Back when I started in on my Space Hulk set, and then a couple more times on visits to my local hobby shop, I started fleshing out my brush collection. For some reason the idea that I could buy really, really tiny brushes, and brushes with fine tips, had never crossed my mind before.
I just sort of thought most miniature brushes looked like this: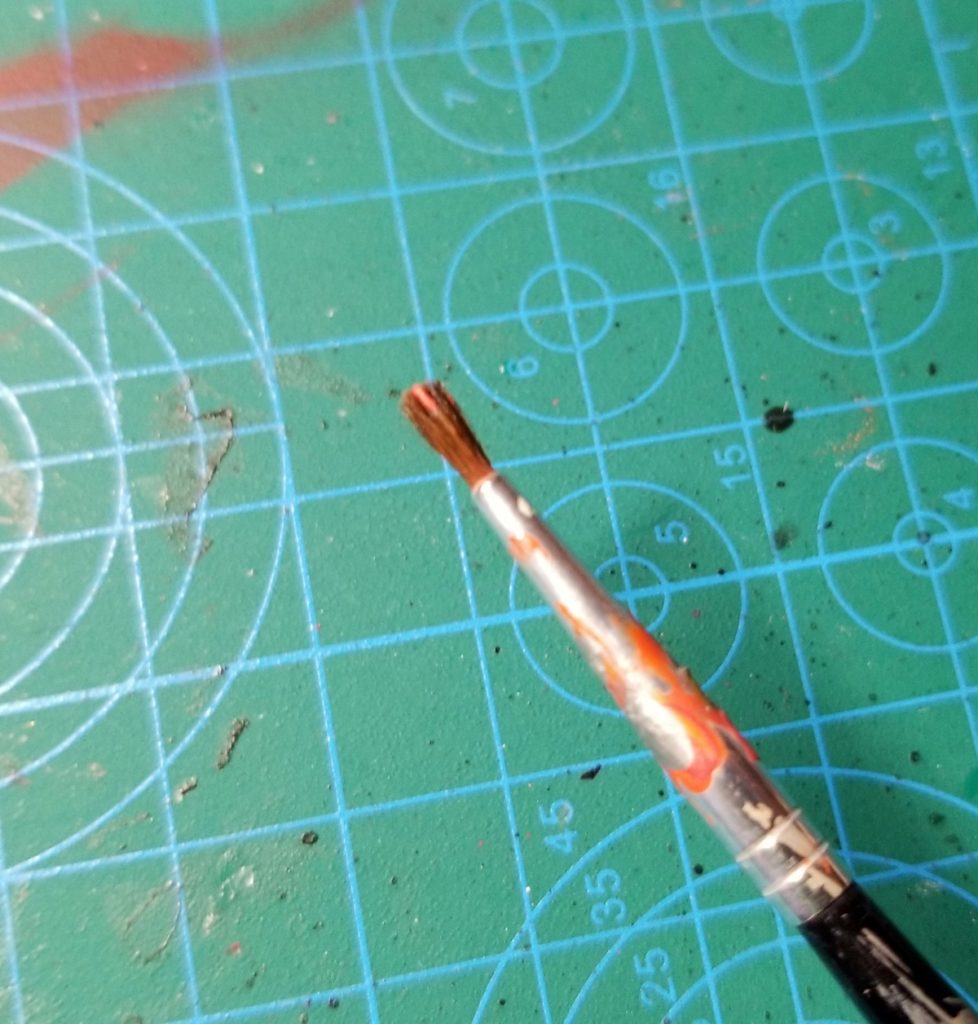 I know, I know. I just used the one set of brushes I had; I didn't like painting; I had trouble with details. It's so obvious in retrospect!
So: new brushes. Fine-tipped brushes! I stuck with Army Painter and Citadel brushes, since I've always been happy with the quality of their stuff.
These two, Army Painter's Wargamer: Detail and Wargamer: Character brushes are two of my favorites. The Detail is my go-to brush for layers and highlights. The triangular handles are totally awesome, and I wish every brush came with them.
I have brushes stashed all over my painting area, and when I took that photo I left one Army Painter brush out: my drybrush.
This wedge-shaped brush, which has stiff, slanted bristles, has really upped my drybrushing game. Highly recommended.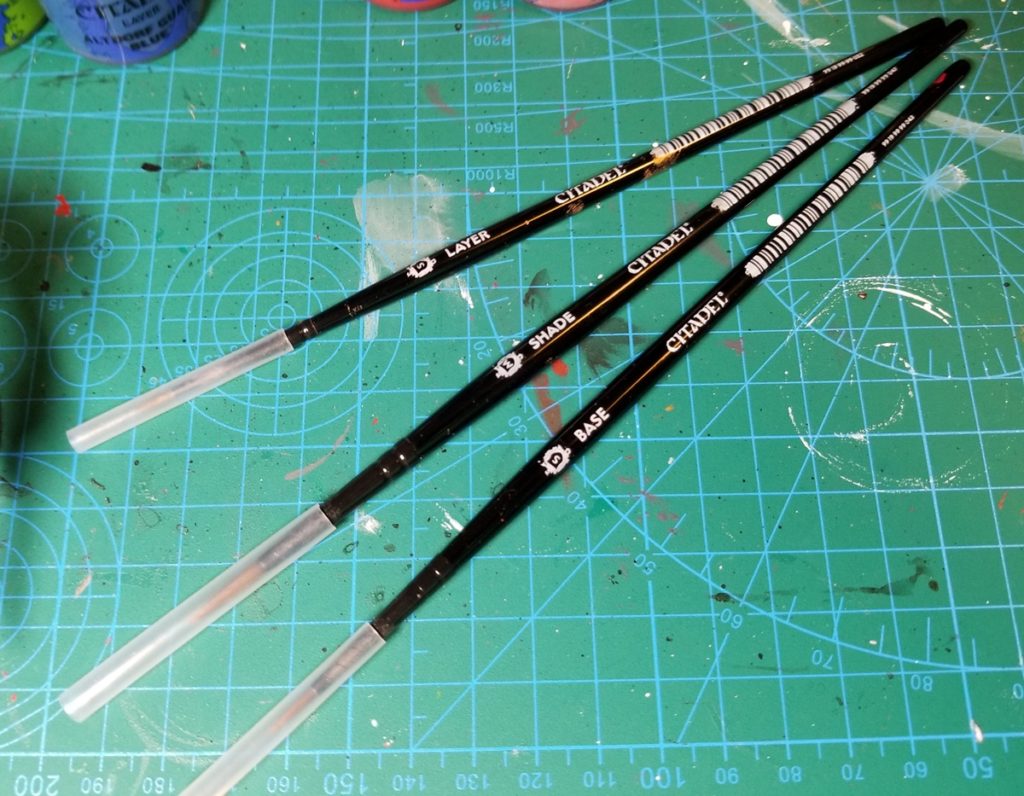 These three from Citadel have also been serving me well. The Medium Shade brush is perfect for the all-over wash/shade I use; if I wanted to shade only tiny portions at a time, I'd need a smaller brush. The Small Base and Small Layer I use exactly as intended. and they're both solid.
Pro tip: don't brush your teeth with them
I also got a tip from a fellow painter, and read some tips in different places, that helped me a lot as I was starting to build up a supply of brushes:
Don't dry them tip-up, as water can sink into the ferrules and ruin them. From what I've read you can store them tip-up once they're dry, but for simplicity's sake I just store them horizontally all the time.
Rinse thoroughly with warm (but not hot) water.
Change your painting water regularly. I've come to like using Citadel's excellent water cup in part because it's small; its size reminds me to swap out my water often.
Never let brushes sit with paint on the bristles.
Don't dip the brush straight into the paint pot. Instead, use a crappy brush reserved for this job to transfer paint to your palette, and then thin the paint a bit with that same brush.
Thin your paints! I just use a dab of water or two, depending on the size of the blob of paint I'm thinning (and whether I'm planning a second coat).
Don't use your best brushes on metallic paints. I can't avoid doing this sometimes, but I try to minimize it.
I didn't read some of those tips until after I'd ruined — or at least shortened the useful lifespan of — several $6 brushes, but since I've gotten diligent about following all of them my brushes last much longer.
Cheap brushes do come in handy
I also picked up a set of ZEM brushes on Amazon because they were cheap — about 1/6 of the cost of a comparable Army Painter or Citadel brush. Their tips curled within a few minutes, and will never go back to normal.
But, like keeping brushes on hand for "garbage jobs," these too have a purpose: jamming small amount of paints into cracks (which ruins the tip) and deliberately painting around stuff by using the curled tip as a feature rather than a bug.
Weirdly, the tiny guy in the front, a ZEM Golden Synthetic Round Size 10/0, hasn't curled yet. This little guy is perfect for scrolls and banners, and perhaps it's this limited use that has helped preserve him. It's a great little brush for a dollar.
But still, these are in no way a replacement or go-to set for actual detail work.
Animal hair, synthetics, and taking the plunge
Once lockdown hit and I couldn't go browse brushes, I decided to fill out some of the gaps in my set online. This was quite the rabbit hole — doubly so because I had no idea that many brushes, especially good ones, are made with animal hair.
I avoid products made from animals wherever possible; many of the brushes in this post are made from animal hair. I'll be holding onto them, just like I'm still wearing the last pair of leather shoes I bought, but I don't want to buy any more non-synthetic brushes. So my search became one for a range of brushes that were both 1) good and 2) synthetic, and those two things apparently do not always go together.
Much digging later, I landed on the Princeton Velvetouch line, and my brushes came in the mail yesterday. Shipping was slow and everything is so uncertain right now that I figured I'd go all-in on one order and hope for the best.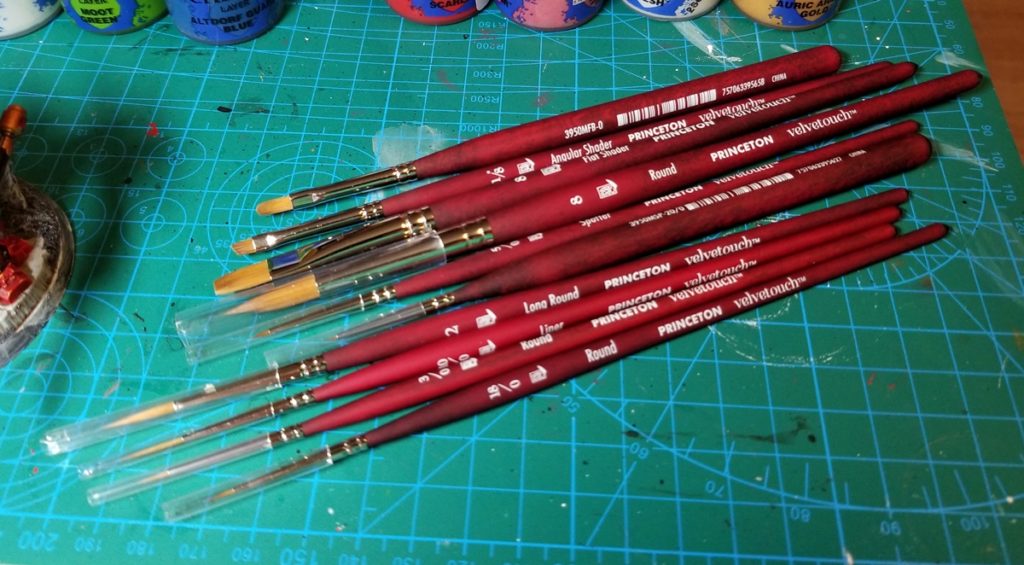 These tend to be about 50% to 80% of what a comparable Army Painter or Citadel brush would cost, so not expensive but not cheap either. The 10 brushes I bought were $45 total. The reviews were good, the handles feel nice (that's the "velvet" in Velvetouch; they're soft and slightly grippy), and unlike a lot of other well-rated synthetic brushes they come in sizes small enough for use on miniatures.
The ad copy makes a pretty good pitch, too: "The NextGen synthetic filament in Velvetouch brushes is the result of seven years of research and development by Naohide Takamoto, a fifth-generation brushmaker and the grandson of the inventor of Taklon, the first artist-grade synthetic brush fiber." Will it hold up? I guess I'll find out.
I also snagged a tub of brush-cleaning soap, having learned that periodic cleaning with soap will help preserve their lifespan and reduce curling.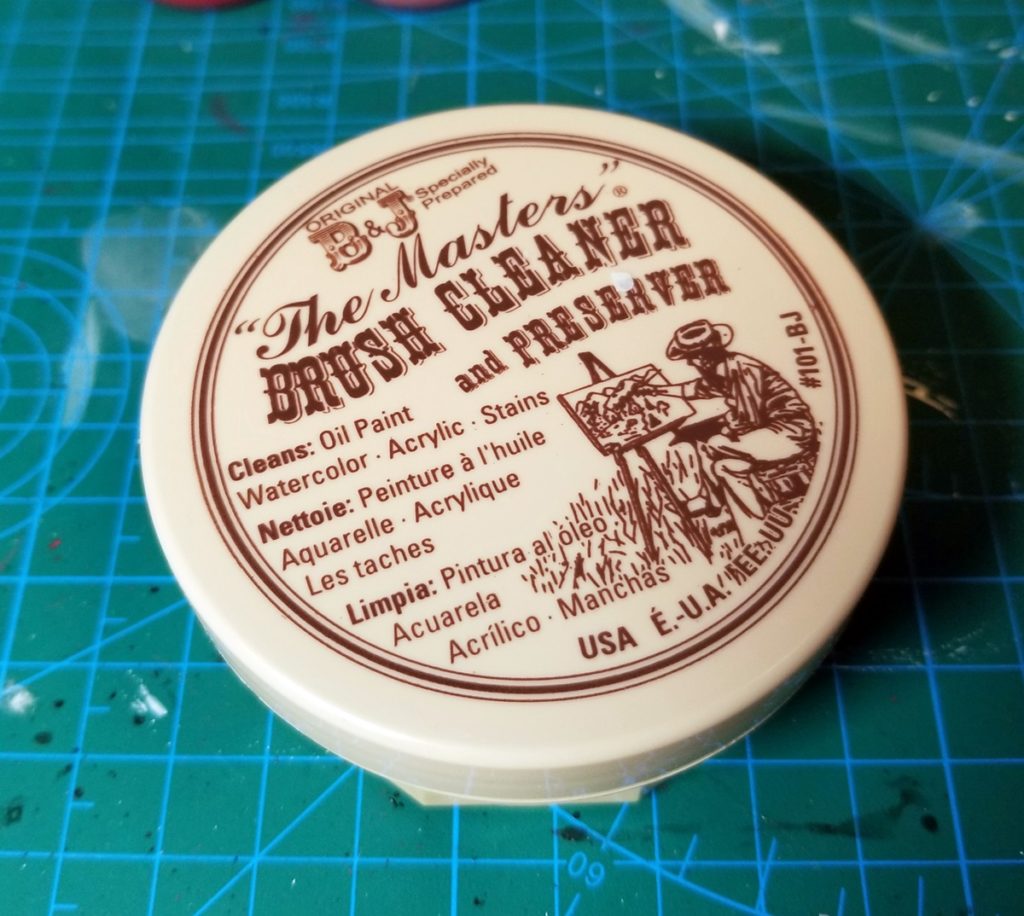 I'm going to be a sad panda if these Velvetouch brushes are terrible. Stay tuned!
Out now: The Unlucky IslesThe Unlucky Isles
[
affiliate link
], the first system-neutral guidebook for my Godsbarrow fantasy campaign setting, is now on DriveThruRPG.