Tonight I got to do something really fun: I attended the livestream of MST3K's season 13 premiere, Santo in the Treasure of Dracula, as part of their soft launch of the new Gizmoplex. This screening for Kickstarter backers was the first time I've ever watched an MST3K livestream, and it was a hoot.
I rarely get to watch MST3K with anyone else. My wife and kiddo aren't into MST3K, and outside of a few episodes during college — when I was introduced to the show — I've mainly watched it as a solo experience. Being "there" with thousands of other MSTies and feeling that connection was awesome.
The episode was superb (as was the movie itself; here's my Letterboxd review), and after some technical difficulties the rest of the stream went great.
But the breakout star of this whole launch experience was the white dot. (Or egg. Or ellipse. But dot really does sound best.)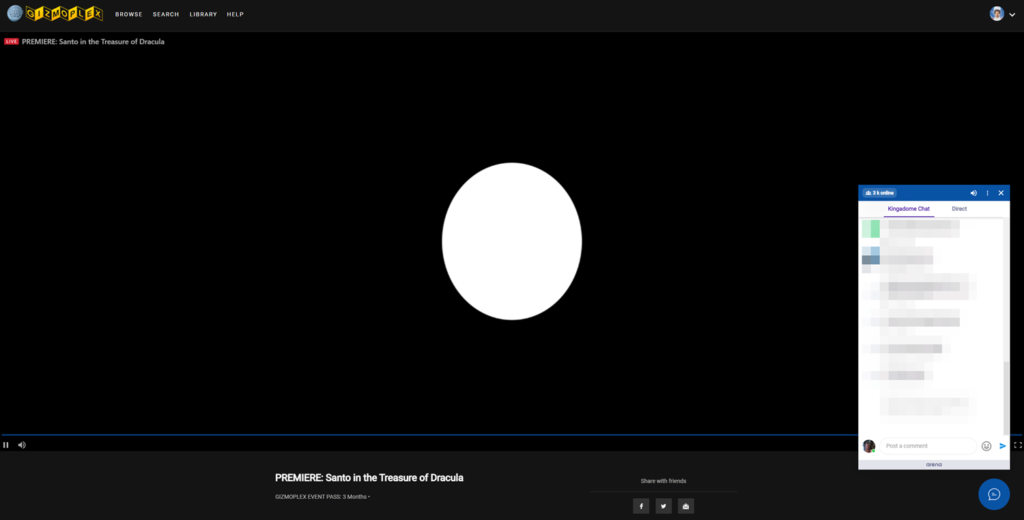 While they were fixing the projector, several thousand MSTies spent a lot of time looking at the white dot. The livestream chat — already about as legible as a page from a novel taped to a whirring drill bit — was on fire with dot references, and that stayed true throughout the episode and on into the post-episode chat.
The most-voted viewer question was about whether the dot would be returning in future episodes. I sincerely hope it will.
DOT IS LOVE. DOT IS LIFE.
Digging Yore? Check out my book!The Unlucky Isles
[
affiliate link
], the first system-neutral guidebook for my Godsbarrow fantasy campaign setting, is available in print and PDF.