I finished my first Adeptus Custodes squad tonight, adding Halfden and Konstantyn to my first custard lad, Inkaef, to form a full unit of Custodian Guards with Sentinel Blades and Storm Shields.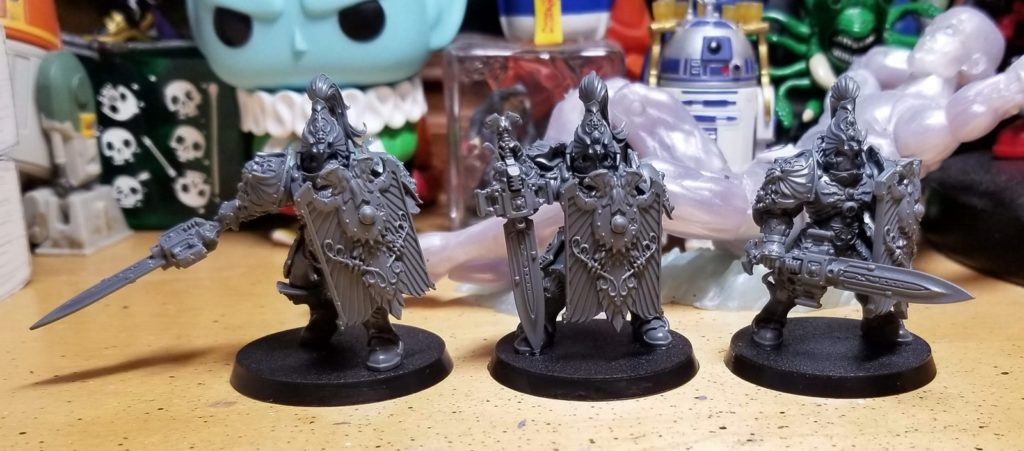 In 9th Edition, this unit is 234 points. Three troops in my Deathskulls Ork army would be . . . 24 points.
Playing around with points, I think I'm probably only going to get three sword-and-board Guards — so I picked my three favorite poses, stealing the Shield-Captain's build for Halfden (center) and swapping out the pre-molded Misericordia hand for a Storm Shield.
The Guards have my favorite helmets in this army, so when it's time to replace Trajann's bare head with a helmeted one, I think I'll be tracking down one of these — or maybe I'll have a spare, if I stick with 9 Guards (since two boxes is 10).
So far my naming scheme for Custodes is "whatever sounds fun, and has a basis in Earth history." Halfden is a riff on an old Norse name, Halfdan; Konstantyn is a one-letter shift from a 12th century Russian monarch, Konstantin. They're an unusual force, largely flat on an organizational level, and they don't have squad leaders or a monocultural origin. I like that their names reflect that.
Out now: The Unlucky IslesThe Unlucky Isles
[
affiliate link
], the first system-neutral guidebook for my Godsbarrow fantasy campaign setting, is now on DriveThruRPG.