My working concept for my Blood Angels army is the Faceless Strike Force, with 100% of the models in helmets. I wanted Space Marine Scouts in my army, which posed a small problem: the Scout kits only come with bare heads.
Some Googling turned up two easy options for alternate scout heads: Skitarii Rangers and Militarum Tempestus Scions. The latter looked a bit too "WWII Germany" to me, and the Skitarii had the added benefit of being hooded — a perfect match for my Scout snipers and their camouflage cloaks. A quick trip to Ebay later and I had a bag of Skitarii Rangers heads to convert my Space Marine Scouts with sniper rifles (paid link).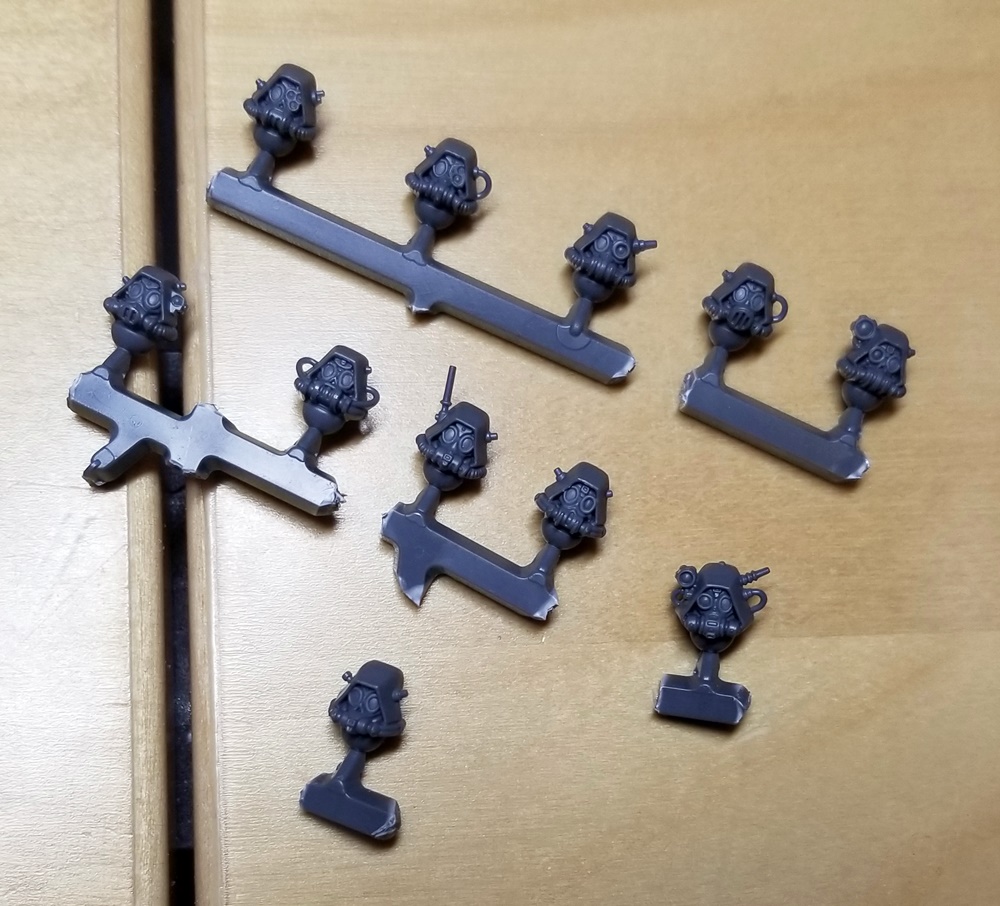 I talked a bit about the limited uniqueness and posability of the Primaris Infiltrators here on Yore, but these Scouts take that to a whole old level: exactly one bottom half, one top half, and one gun for each model. How will the heretics know they're Blood Angels if they aren't dual-wielding 16′ banners and wearing an entire craft store's worth of bling?!
On the flipside, these are badass models. That's why I bought them.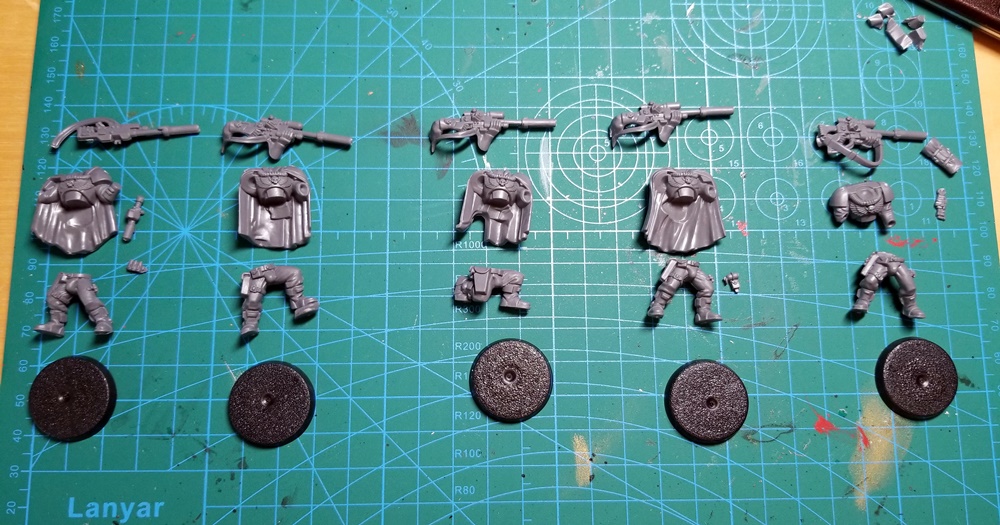 In the photo above I've sandwiched a Skitarii Ranger head between two Scout heads. The bottom looks the same, but the Scout heads are designed to sit in a shallow divot on each model; the Skitarii heads sit too high and have "flanges" sticking out of the neck recess.
After test-fitting a couple of Skitarii heads, I decided to build the models and then choose heads based on their poses. On the guys looking down their scopes, the larger respirators get in the way; they need the more svelte heads. Like this guy:
All of them needed a bit of trimming, some more than others. I experimented with using a file, but quickly switched to my hobby knife and stuck with that approach. Shave a bit off, test-fit the head; shave a bit more, test-fit again; and so on until it looked right.
This was my first-ever conversion project, and even though it's quite light as conversions go it still took some work. On a couple of these Scouts, I spent as long trimming the head to fit as I did building the rest of the mini — and the more fragile Ranger heads, with the tall antennae, were too delicate for me (I nearly broke one).
If you're looking for it, you can see the curve of the bottom of this one's neck nub. But with paint and a wash to fill in the shadows, I think it'll look solid on the tabletop.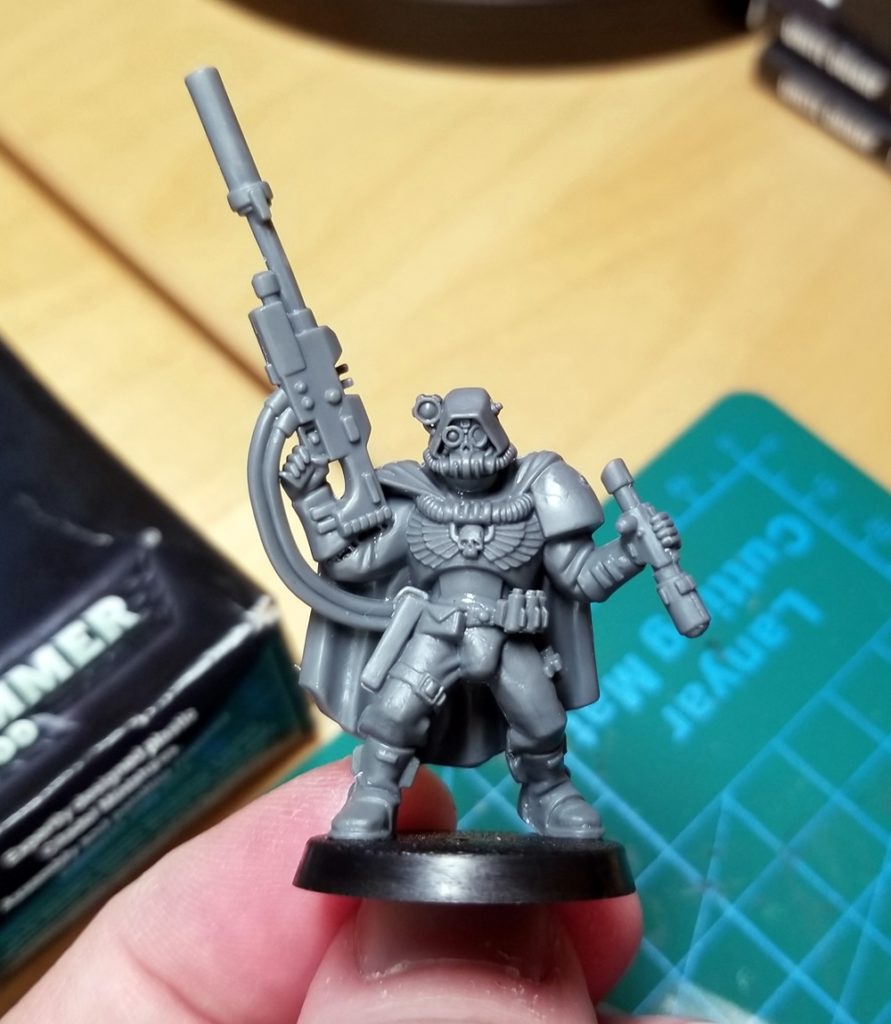 I like that this conversion doesn't look "off" — the heads are the right size, they don't give the minis giraffe necks, and while they're taller than the normal Scout heads they're not that much taller. They're still in proportion with standard Space Marines.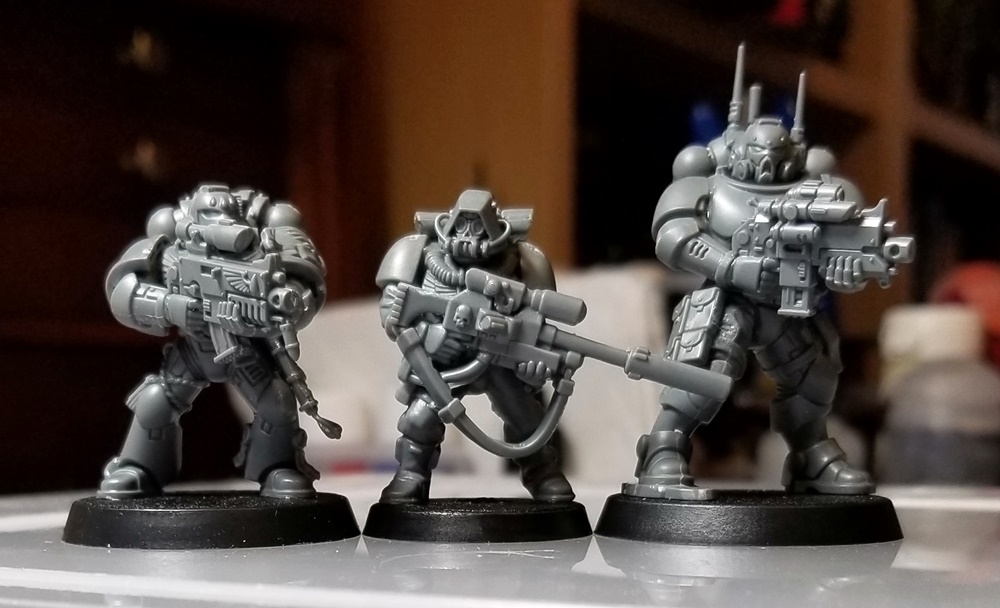 Another squad down! The Scout models are super-simple, mono-pose, and a bit heavy on the mold lines — but once built, they're nicely differentiated from each other. A mini carrying a rifle as long as he is tall is always going to look pretty cool.
I dig how the Skitarii Ranger heads look on them. They're a bit creepy, which I like, with almost a Jawa vibe, and the hoods go well with their camouflage cloaks — and should go even better once I paint them in the same camo color scheme. They're a fun addition to my Blood Angels force.
Out now: The Unlucky IslesThe Unlucky Isles
[
affiliate link
], the first system-neutral guidebook for my Godsbarrow fantasy campaign setting, is now on DriveThruRPG.