I wrote about getting a bunch of Princeton Velvetouch brushes back in April of this year, and have been painting with those brushes (and my hodgepodge of others) for the past four months, or about 1,400 points of Blood Angels.[1] I just ordered a second batch of them from BLICK, which is itself an endorsement. I like these brushes a lot.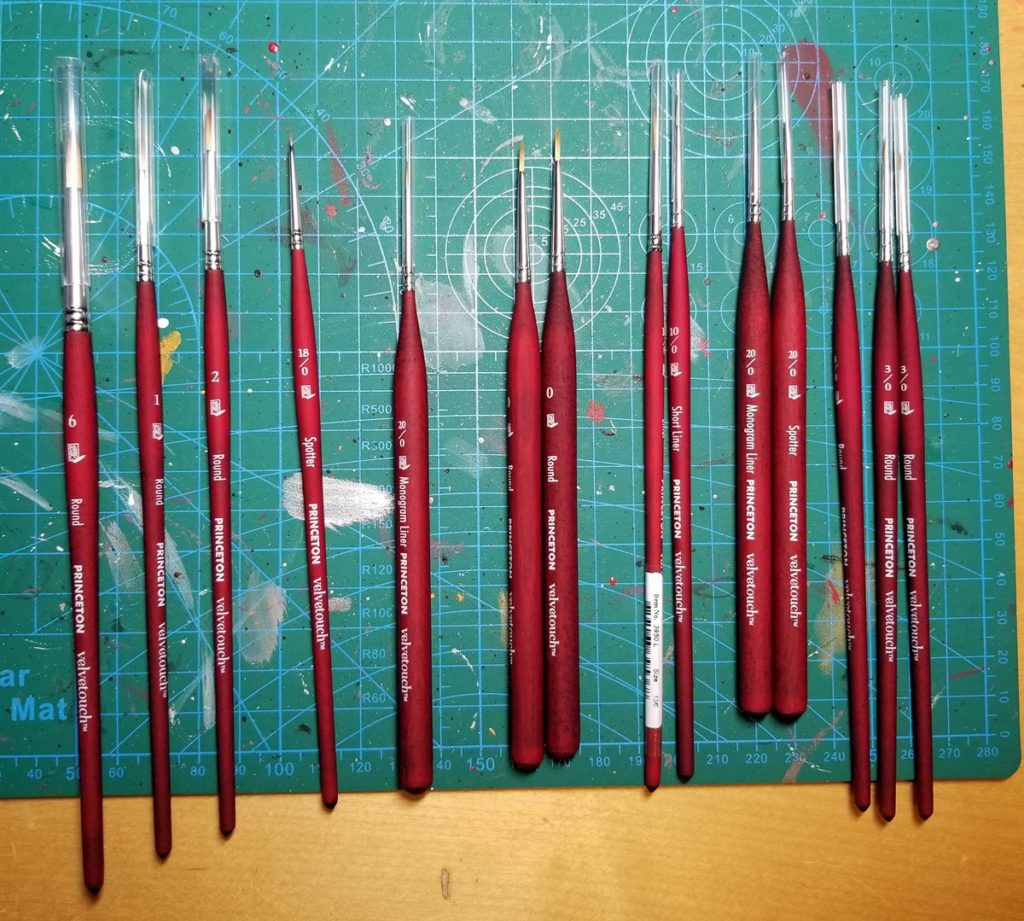 My two most-used sizes are 10/0 and 3/0, and both of those finally gave up the ghost about 2-3 weeks ago, with splayed/curled tips no longer able to to detail work — so let's call their front-line service life about three months. (Now they become drybrushes, get dipped into metallic paints, etc.) That's not nearly as long as my non-synthetic brushes, but that's a trade-off I'm fine with.
Before their tips inevitably curl or splay (despite daily washing with brush soap), these brushes paint just as well as my natural brushes. When my natural brushes wear out, I'll replace them with their Princeton Velvetouch analogs.
Lots of other synthetic brush lines have a couple brushes small enough for minis but are primarily geared for other types of painting. One thing I love about this line is that they cover all of the sizes and shapes I've ever wanted for miniatures, from ultra-fine to relatively massive, including the chisel-shaped tips I like for drybrushing.
So: Princeton Velvetouch brushes are excellent, and in my experience especially good as synthetic brushes go.
[1] I started a daily "work on miniatures" streak on February 22, 2020, when I dug out my Space Hulk Terminators and started painting again. It didn't start as a streak; I was just painting every day because I was excited about it. But I bumped into the idea on Twitter and have had success with using Seinfeld chains for motivation in the past, so it turned into one. Today is day 192.
Digging Yore? Check out my book!The Unlucky Isles
[
affiliate link
], the first system-neutral guidebook for my Godsbarrow fantasy campaign setting, is available in print and PDF.