In 2020, I became a miniature-painter. Prior to February, I was a guy who sometimes painted miniatures and generally didn't especially enjoy it. But this year I painted more minis than I had in my 30+ years of sporadic painting prior to 2020 — almost twice as many, in fact. So I'm still a beginner, in many (many!) ways, but not quite as a green as I was before.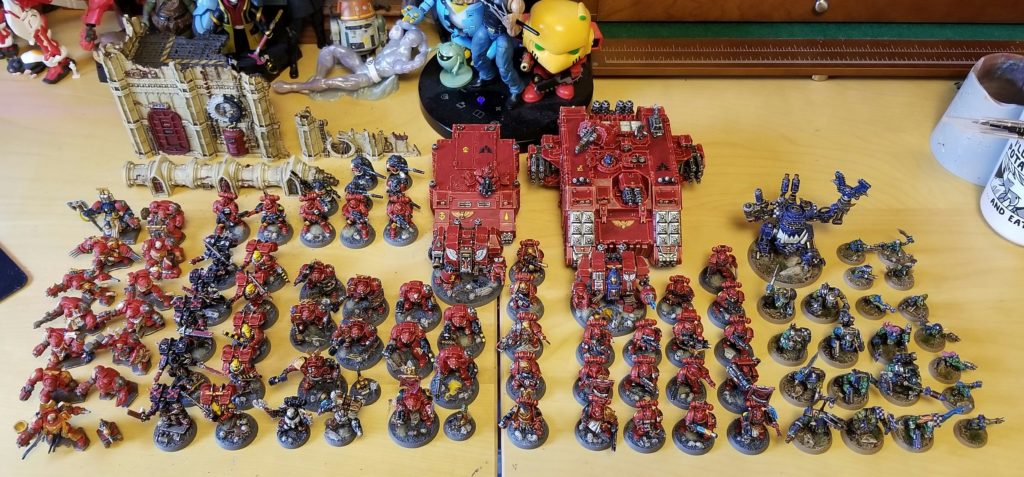 Before I get into stats and silly stuff I kept track of, though, I want to pause to write about the pandemic.
Yore isn't a news or current events blog (there are many better places to go for that sort of info and content), so I haven't really blogged about the Covid-19 pandemic. This is one of my refuges, and I hope that perhaps it's been one of yours.
The toll this virus has taken is staggering: over 340,000 dead in the US alone. More than 418,000 Americans died in World War II; that we're likely to match that total before herd immunity is reached, and with so many of these deaths being preventable, is heartbreaking.
If you've lost someone this year, my heart goes out to you. I can't imagine what that must be like, in the midst of all of this. If you've lost your job, your peace of mind, or any measure of stability, I am so sorry for that loss. Whoever you are, reading this right now, I hope things improve for you and yours.
Miniatures by the numbers
In 2020 I finished painting the following models (I'm not counting assembled, primed, or partially painted minis — just varnished and ready for play):
Blood Angels (56):

35 classic Space Marines
10 Terminators
5 Primaris Space Marines
1 Land Raider
1 Rhino
2 Dreadnoughts

Deathskulls Orks, Moonkrumpa's Megalootas (22):

10 Ork Boyz
1 Nob
10 Gretchin
1 Killa Kan

Space Hulk (15):

12 Terminators
3 objectives

Terrain (4):

1 medium/large Manufactorum piece
3 small Manufactorum pieces

Grand total: 97 miniatures
A full quarter of my output was in December, when I set a personal record: 26 miniatures in one month. I know that's small potatoes for dedicated hobbyists, but it's a lot for me!
My overall favorite miniature that I painted in 2020 is also my last one of the year: Mukkit, my first Killa Kan. It's not just recency bias, either; I poured everything I've learned about painting into this guy.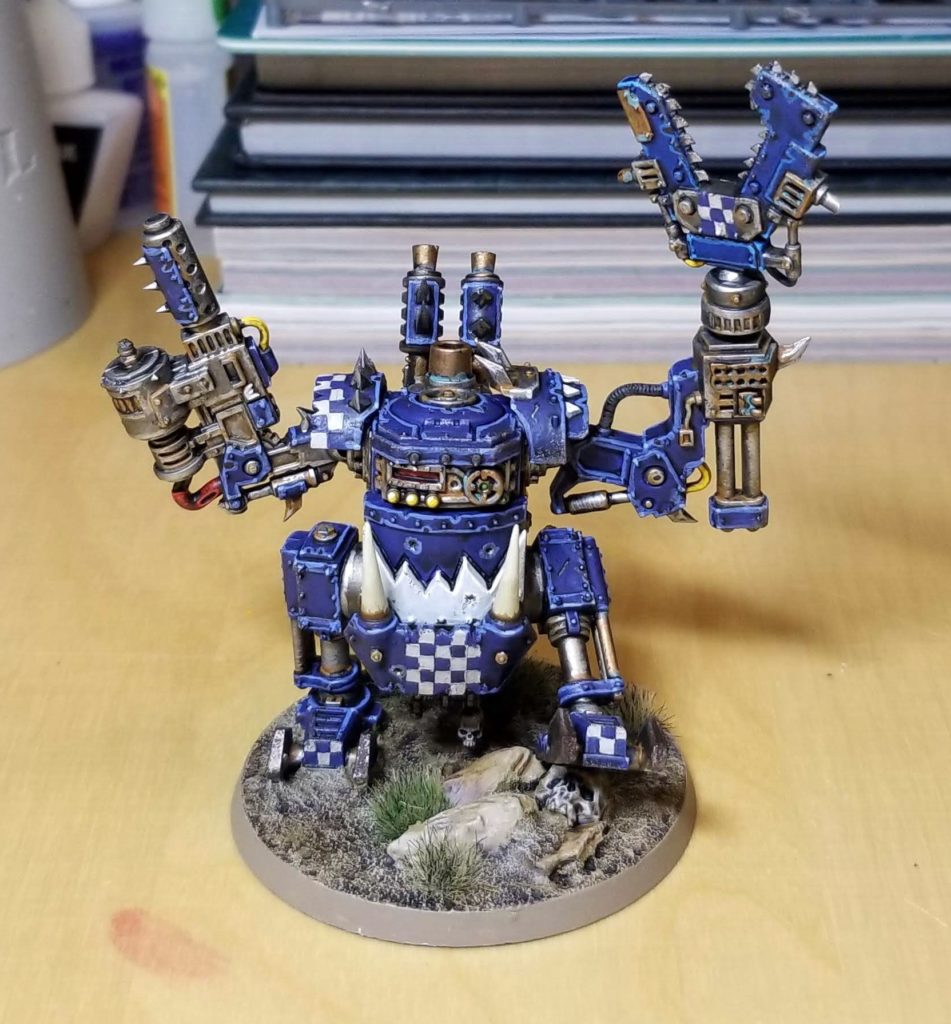 I got out the first miniature I finished in 2020, Brother Scipio from Space Hulk (2/27), and threw them in the lightbox together for a first/last comparison shot: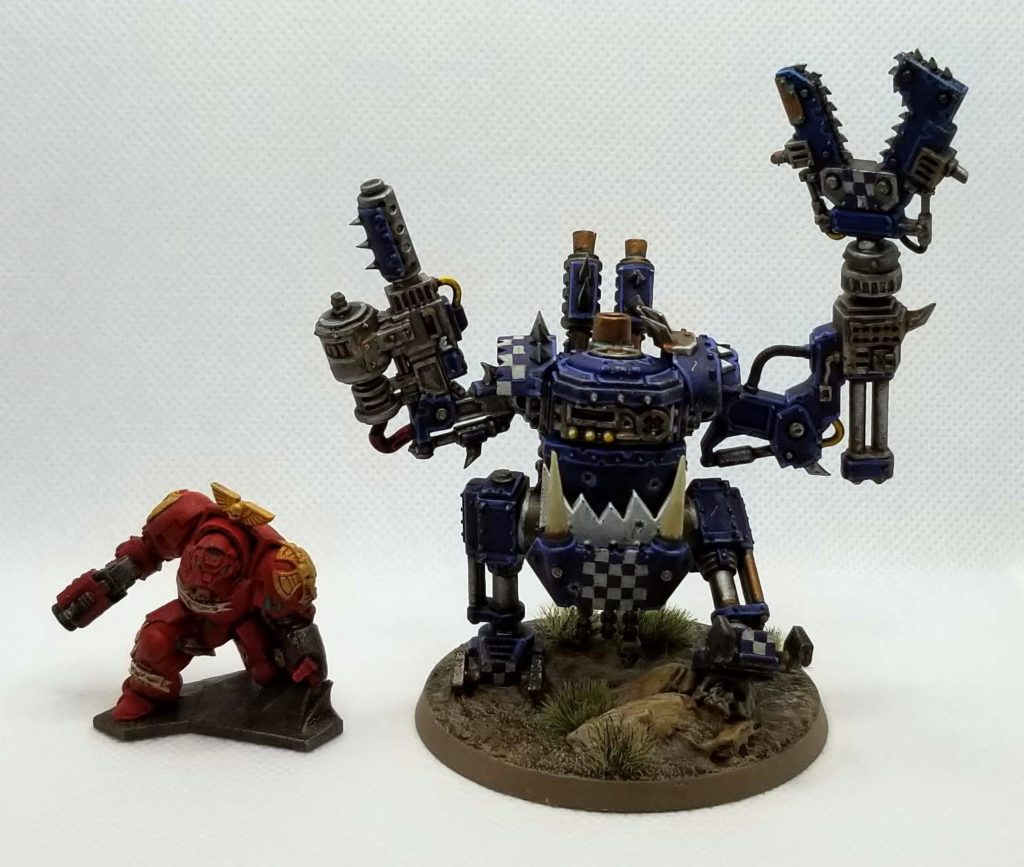 My MVP brush for the year, the Citadel S Layer — which I bought before learning that animal-hair brushes were a thing — finally died at the end of December. I replaced it with a Princeton Velvetouch size 0 Round, an excellent synthetic brush with similar characteristics. This size has become my workhorse, handling everything from edge highlights to base-coating details to eyes.

I learned a lot about painting this year. I still have a lot to learn, and a lot to continue improving upon. Painting was a real source of joy for me in 2020. Capturing that joy and that learning process here, and hopefully in ways that might be useful to other painters, has been a lot of fun as well.
I like tracking stuff
A few other stats I've kept track of:
Hobby streak: From the day I started painting again to the end of the year, I maintained an unbroken hobby streak of 314 days. Doing at least a little bit of assembly/priming/painting every day played a huge role in keeping me motivated and moving, and in getting this many minis done.
Hand-washing: Since mid-March, I've recited my Covid-19 hand-washing mantra — the opening narration for Star Trek: The Next Generation — approximately 950 times. (I don't, like, log this or anything; I'm backing into my total based on an average of 3x a day since March 12, when we went into isolation.)
Audiobooks: Having gotten into audiobooks at the same time as 40k, and explicitly as an accompaniment to painting, I listened to 15 excellent 40k books this year (almost all of them by my favorite author/narrator pairing, Dan Abnett and Toby Longworth). Favorite titles include Ravenor (Ravenor v.1), Necropolis (Gaunt's Ghosts v.3), and Brothers of the Snake.
Movies: I watched 183 movies, 44 of which were 2020 releases. Birds of Prey was my favorite 2020 film, and the last thing I saw in the theater; I hit four viewings by year's end. (I log and comment on every movie I've seen on Letterboxd.)
Music: I listened to 52 hours of music, all on Spotify; genre-wise, hip-hop and electronica were my top two. My favorite 2020 releases were Birds of Prey: The Album (various artists), HOUSE OF ZEF (Die Antwoord), and BE (BTS), and dang if that isn't a decent snapshot of my musical tastes.
RPGs: I played 87 RPG sessions, 27 of which were solo. I only played one 2020 release, Brindlewood Bay; it's a hoot. Unusually, it's the first game I can remember that both of my groups are playing at the same time.
Blogging: I wrote 166 blog posts, about 40% of my total output here on Yore since 2012. 2020 also marks the year when Yore crossed the tipping point from being primarily about tabletop RPGs (166 posts as of December 8) to being primarily about minis and my hobby journey (the 167th minis post was on December 8).
Here's to 2021
While I doubt we'll get "back to normal" in 2021, I think things will start to look up in the spring and summer, and playing 40k seems like it could happen next winter. (I'm last in line for the vaccine, as I should be, and my family's bubble, distancing, mask usage, and other precautions don't seem likely to change for months.) But there's ample reason to hope for a better year, and hope for it I do!
Thank you for reading Yore. Stay safe out there.
Digging Yore? Check out my book!The Unlucky Isles
[
affiliate link
], the first system-neutral guidebook for my Godsbarrow fantasy campaign setting, is available in print and PDF.