My booty from the Rippers Resurrected Kickstarter came in on Tuesday, and I've had a chance to spend a bit of time with all three books. As is so often the case, my first thought was, "How well would Rippers work as a sandbox?"
All of the ingredients are there, and the hook is so damned sexy — I suspect the answer is "really, really well."
From lodges to social status mechanics to calling in favors, the setting deftly hooks into the system to add mechanical weight to fun things the PCs would be likely to do anyway. And the setting itself, with rippertech (bits of monsters you extract and graft onto yourself) and a delightful "kitchen sink" approach to Victorian-era monster hunting, is just fantastic.
The books
The Rippers Resurrected line kicks off with three books and a screen. The books are the Player's Guide (paid link),  Game Master's Handbook (paid link), and Frightful Expeditions (paid link).
If this sandbox — "ripperbox" — were a hearty meal, the meat would be in the Player's Guide, the potatoes would be in the Game Master's Guide, and the gravy would be in Frightful Expeditions.
All three books are gorgeous: full-color, great artwork, clean layout and design, lovely graphic novel format, and available in hardcover (limited) and softcover (unlimited). Like most SW settings, the core rules (paid link) are also needed to play.[1]
For context
I've played two city-based, sandbox, supernatural horror campaigns in the past few years:
A Dresden Files RPG (paid link) campaign in which the PCs came together to clean up Dresdenverse Boston, which was dominated by witches and snake-people. (This one also involved round-robin GMing and used Microscope (paid link) to gin up our version of Boston.)
A Hunter: The Reckoning (paid link) game where the PCs were mortal monster hunters in the World of Darkness version of San Francisco, wildly outclassed by all of its myriad horrors. This one was dark, and mixed "here's tonight's adventure hook" sessions with pure sandbox "we, the players, are going to do This Thing That Interests Us" sessions.
Both of those experiences inform how I'm thinking about a possible ripperbox, as does the setup for Rippers itself: proactive PCs, a home base, and a world full of evil that needs smiting — plus many, many ways for the PCs to get themselves in trouble.
Ripperbox ingredients
Rippers Resurrected assumes you want plotted adventures, and offers a wealth of support — including a complete Plot Point campaign — for that mode of play. I don't want that, so for me most of that support exists as imagination fuel and ready-made resources for sandbox play. Which is great! I'm happy to have it; that's why I bought all three books.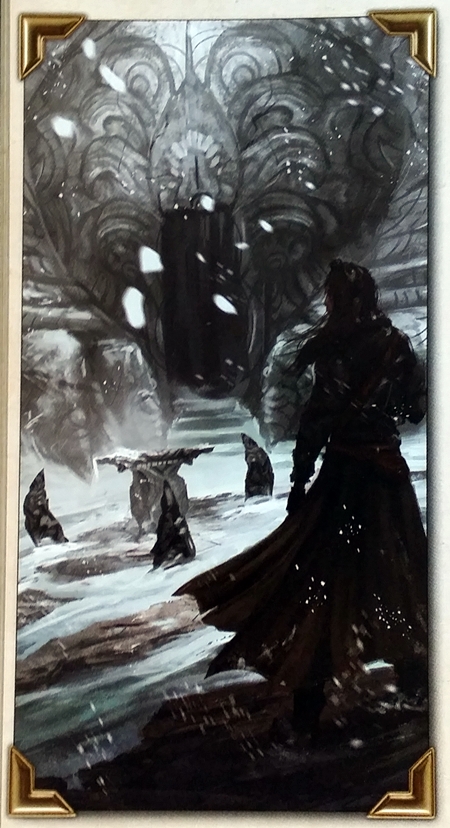 (There's no artist credit accompanying the image, but I love this illustration of a Ripper lodge.)
In terms of ripperbox ingredients, here's what jumps straight out at me (with each element's book, or books, of origin in parentheses):
That sexy, sexy hook (Player's Guide): In Rippers, the PCs are monster hunters in the late 19th century, balancing their role as fighters of evil with their place in Victorian society. There are different factions of Rippers, and pretty much any classic monster you can think of is out there somewhere, doing evil.
Lodges (Player's Guide): Each group of Rippers, including the PCs, once they're Seasoned, has a lodge — their home base. Whenever the PCs earn an Advance, they each also earn a Lodge Point; those are spent upgrade the lodge with labs, workshops, etc. A home base with a base-building mechanic is pure gold in a sandbox game, and the lodge system is clever. There are sample lodges in this book, plus more in the other two books.
Status and favors (Player's Guide): What do PCs do? Get themselves into trouble, often while helping people. Both of those things involve one's status in Victorian society, and that in turn brings favors into play. Help someone (particularly if they're all fancy), and you earn Favors; do something scandalous, and you have to spend Favors to smooth things over. You can also call in Favors to get help from others. Tying things that will already happen in a sandbox into a fun mechanic which presents further hooks for adventure is a fantastic way to glue things together.
Lots of monsters (Game Master's Handbook, Frightful Expeditions): If it's found in classical literature (Dracula, Frankenstein's monster, Jekyll and Hyde), the real world (Jack the Ripper), a pulp yarn (mummies, evil wizards), or a Hammer Horror film (skeletons!), it'd fit right into the Rippers setting — and the stats are probably in one of these two books. That makes it dead simple to populate the world with threats. SW is on the outer edge of my personal sweet spot for mechanical complexity, so having monsters already created for me is a big plus.
Adventure generators (Game Master's Handbook): The GMH includes a chart for random encounters during travel (for example: "Fortuitous Find: Someone on the trip has something the heroes want. How they get it is up to them; just decide how they learn of the object."), and there's a whole section on rolling up different kinds of adventures. In a ripperbox, I'd recast these as adventure hooks, give the PCs lots of ways to learn about them, and too many of them to possibly follow up on them all — and not plot any outcomes, of course.
Lots of world info (Game Master's Handbook, Frightful Expeditions): There's an assumption of globe-trotting built into Rippers (although I think it'd work great as a city-based game with only occasional travel, too), and that generates a need for concise, gameable setting material — but not too much of it. Day After Ragnarok (paid link) nails this a bit better than Rippers Resurrected, providing so very much in so few pages, but the looser approach here works quite well. If there's an iconic pulp location, it's likely to be covered here through the Rippers "lens."
Rippertech and chances to get in trouble (Player's Guide, a bit in the Game Master's Handbook): The titular setting element, rippertech, is the thing that originally drew me to the setting: The PCs can literally harvest the monsters they kill and impant those bits in themselves. Want improved poison resistance? Replace some of your organs with preserved organs from a mummy. Want tentacles that can burst from your chest to attack your foes? Rip 'em out of a demon and stick 'em on in there. There are costs, of course, both social and mechanical — and that's what makes it work. Giving the players plenty of tempting opportunities to get themselves into trouble, which have a variety of meaningful consequences in the game mechanics, is sandbox gold.[2]
It'd be fun to play other ways, too — the setting is just so good! — but for me, Rippers Resurrected cries out for the ripperbox treatment. All three main books (all paid links: Player's Guide, Game Master's Handbook, and Frightful Expeditions) would be useful for making it into a ripperbox, although in a pinch you could get by with just the Player's Guide and some old-fashioned research into locations and monsters.
However you use it, Rippers Resurrected is awesome. It's a quirky setting that nicely balances existing material with new elements, giving you lots to work with, and it does so in a way that leverages the crunchiness of Savage Worlds to give player agency meaningful mechanical consequences.
[1] And at a mere $10, it would be a crime not to coil-bind that sucker, making it one of the best deals in gaming.
[2] It's also a big part of why, despite preferring lighter rules, I'd probably run a ripperbox with Savage Worlds: SW has enough mechanical complexity to give grafting demon organs some mechanical heft, and connects that heft to other parts of the rules — without bogging itself down in the process.
Out now: The Unlucky IslesThe Unlucky Isles
[
affiliate link
], the first system-neutral guidebook for my Godsbarrow fantasy campaign setting, is now on DriveThruRPG.