I wanted to improve my force/plasma blue paint jobs, so I did a bit of poking around and found a GW recipe I like: Caledor Sky > Drakenhof Nightshade > Temple Guard Blue > Baharroth Blue (as seen in my Narses color guide). With 3/4 of those now ordered but not yet arrived — meaning I can't finish Narses' base coat, which includes those colors for his Force Halberd and eyes — I spent the weekend bouncing back and forth between him and Squad Ultio.
First up was the little teleport homer, which was a fun warm-up figure. I don't remember even consciously doing a figure as a warm-up before, but now that I've done one I like the concept.
I used this illustration on the 40k wiki as my template, but made the lamp a cheery green and skipped the second light (at least I think it's a light?). My paint library isn't that deep yet, as I tend to buy colors I need/think I'll need rather than stocking up on everything — so for the green, I just used a 50/50 Moot Green/White Scar blend for the layer.
I also got Squad Ultio's bases completely done (except for tufts, of course) — and I love being able to use the same Citadel painting handles for 40mm bases that I use for 25mm and 32mm.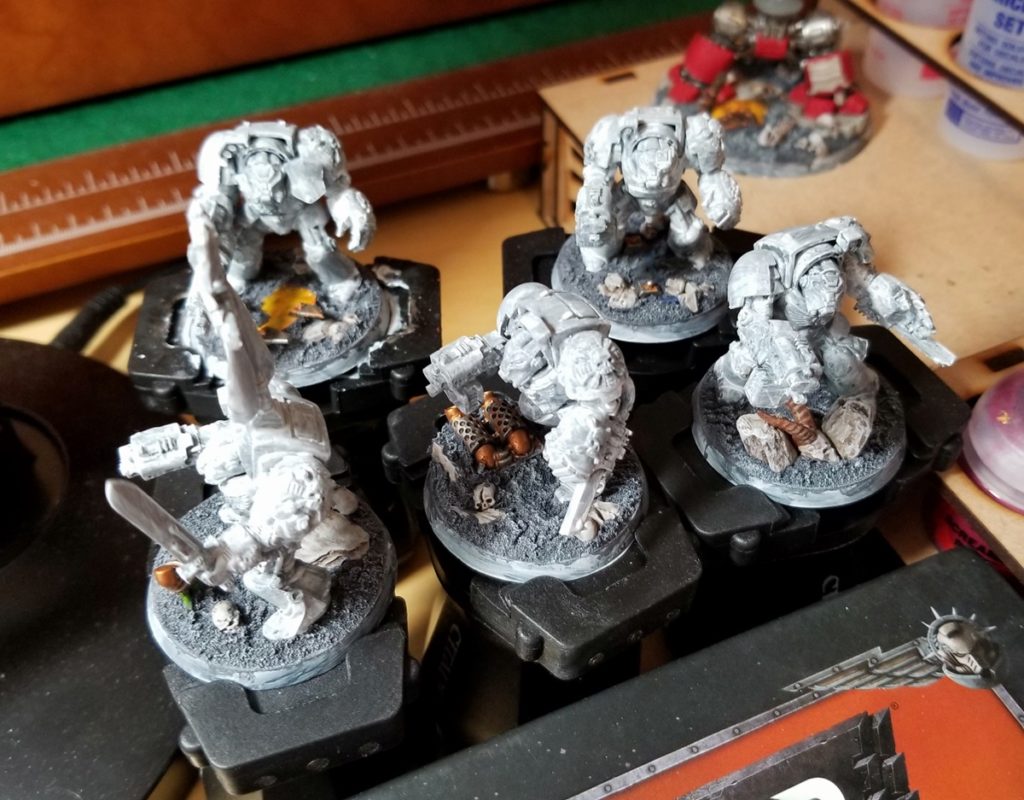 I think of my minis as halfway done when I reach this point. It's not accurate — the remaining "50%" is more than 50% — but it feels accurate. To reach this point I had to clean up their mold lines, assemble them, partially base them, prime them, and then finish basing them (texture paint, base coat, wash, drybrush). And those steps include at least three overnight curing/drying stints: glue, primer, texture paint. By that point a nice head of steam has been built up — the rest of the figure feels inevitable!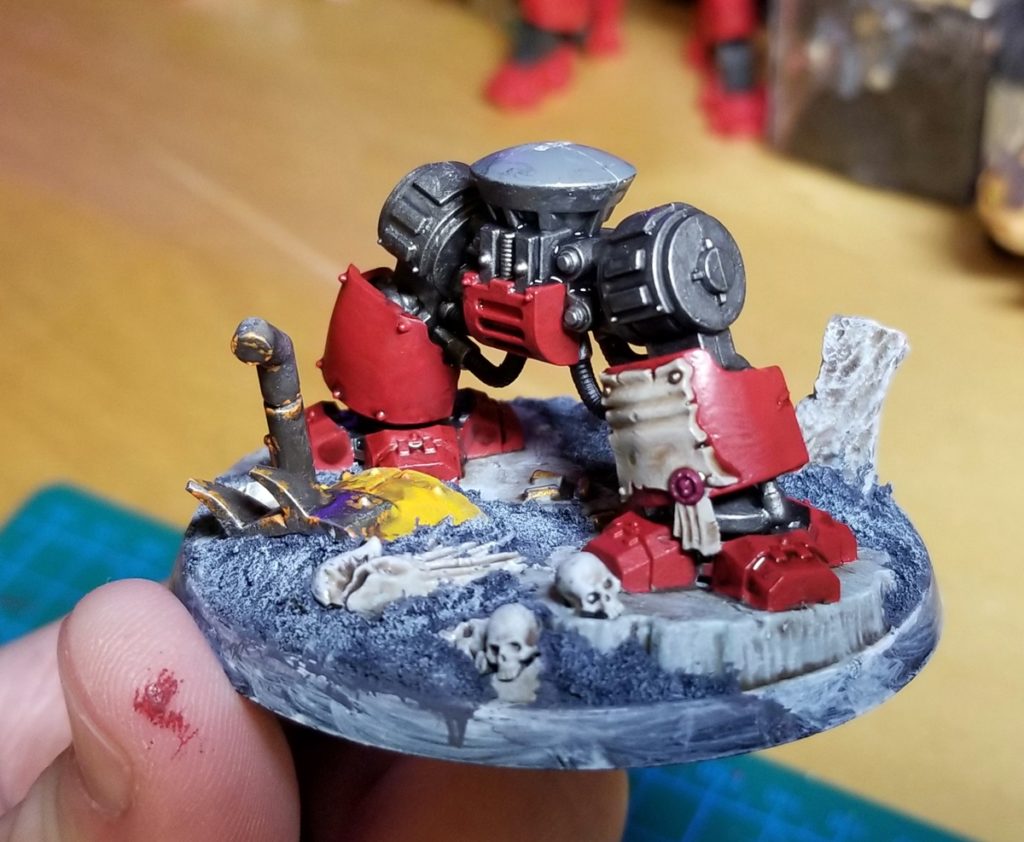 It hit me on Friday night that since there's more than one Space Marine worth of painting work in Narses, and since I'm painting him in sub-assemblies, I should just finish each part separately — as in, not base coat them all, then wash them all, and so on, but take each one through to highlights on its own.
So I started with his legs. It looks like if I do the single-color underside of his upper body next, I might be able to glue the waist joint and then be painting an actual Dreadnought rather than his component parts. Which sounds like fun.
This is the first time I've been really happy with my first layer on parchment. And when the second layer and text (squiggles) were done, I was happy with those, too — I'm learning!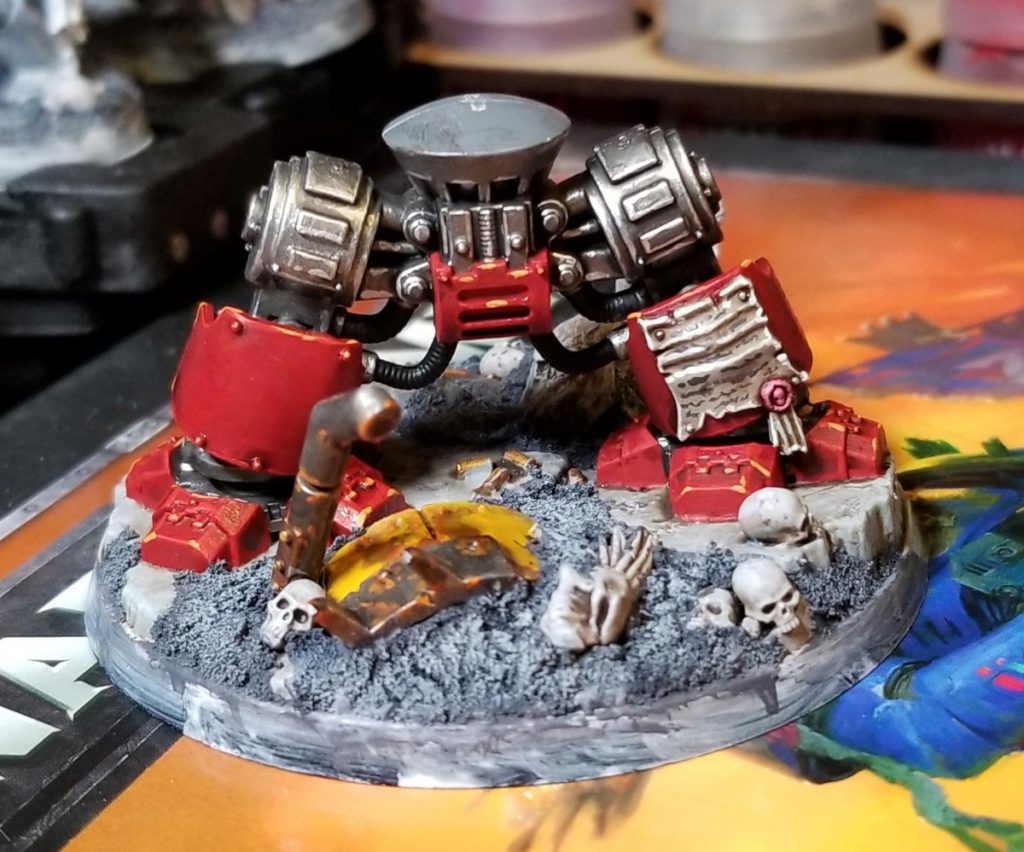 Once I added the chapter decal and highlighted the black piping (which I forgot to do before taking the photo above), I shaded and highlighted the underside of Narses' upper body and glued his waist joint. That glue cured overnight from Saturday to Sunday.
I checked beforehand to make sure I had unencumbered access to the rest of his upper body when it was in place before adding the glue, and there's plenty of room for me to work. Now it will feel like I'm painting a figure!
Shifting gears
On Sunday we spring-cleaned the house and I didn't really feel like painting, so I decided to do some assembly instead. I was planning to build my Sanguinary Guard so they'd be ready for painting on May, but when I checked the kit vs. what I'd specced out in BattleScribe I realized that the kit didn't come with the five swords I'd planned on; rather, it includes three swords, two axes, and a Power Fist.
I know my 2,000-point army will probably get rebuilt after I get to play my first game — whenever the pandemic is over and going to my local 40k venue is a thing again — but psychologically it's important to me that I'm working toward a specific army, WYSIWYG, that's game-legal. I have a huge backlog that will give me lots of flexibility in future army lists, but for now I'm building towards one specific list.
So my choices were 1) Ebay a couple extra SG swords, or 2) tweak my list. I went for #2 and spent a couple of happy hours playing with different options.
Two of my goals while assembling my initial list were to build 100% of each kit (so if it comes with 10 models, build a 10-man squad) and to field no duplicate units (there'll be plenty of time to paint more identical squads down the road). But I realized that one of those was going to have to go to make a tweaked list work, so I decided to cut Squad Dolos — my Infiltrators — in half.
They're great sculpts, but not all that diverse in appearance; I'll use the other five down the road, but I don't mind setting them aside. Freeing up half their points let me kit out my Land Raider a bit differently, give my Assault squad sergeant an Eviscerator — and add a squad of Sternguard Veterans. I got so excited looking at all their cool bits that I decided they'd be Sunday's assembly project.
As always, I started with the sergeant and let the character of the squad flow from him. This kit comes with an incredibly badass "one hand on the hilt of his power sword" pose for the sergeant — an easy choice! Thus was born Sergeant Amedeo.
In my quest to bling him out as much as possible, giving him two shoulder pads with wide rims, hoisting his Boltgun, and adding the crest to his helmet, I inadvertently made it almost impossible to squeeze his head in there. I wound up having to swap out his left pauldron for a more subdued model to get everything to fit. He looks like he's staring imperiously across the battlefield, which feels appropriate for a kit with a very "Roman centurion" feel to it.

From there, it was a fun evening of finishing out the rest of the squad. I love this kit! It's loaded with details and extra bits (like belt bandoleers of Boltgun ammo and grenades) , and with the addition of the Blood Angels Upgrade Kit shoulder pads they feel right at home in my growing strike force.
After Sergeant Amedeo, the battle-brother on the far left was my favorite to build. I tried to make it look like he was mid-motion, having just drawn his combat knife, about to launch himself off a rock and into the fray. The right arm was intended to hold a strapless Storm Bolter, but it works just as well for one of the Sternguards' special Boltguns with its strap swinging out to one side.
I wrapped things up by doing the first round of basing on all of them, so that they'd be ready for priming after curing overnight. Which means at the moment May should look something like this:
Finish Squad Ultio and/or Narses, if any of them aren't done yet
Paint Squad Dolos, 5x Primaris Infiltrators
Paint Squad Amedeo, 5x Sternguard Veterans
Build and paint a Rhino
I'm especially excited to take what I'm learning from painting Narses and apply it to my first 40k tank — and the Rhino is just such an iconic design.
Digging Yore? Check out my book!The Unlucky Isles
[
affiliate link
], the first system-neutral guidebook for my Godsbarrow fantasy campaign setting, is available in print and PDF.