With a pile of Blood Angels to paint, I've been thinking a lot about how I'm going to base them. I've tried four methods over the years, with mixed results.
Number one is just painting the base black. This is boring. I no longer own any of my minis that are old enough to have been painted this way.
Learning from that, I glued little rocks to my mech bases (1997-2007).
Those little rocks were a learning experience. They look okay, sometimes even good, but they fall off all the time. I probably didn't use enough glue, and I definitely didn't paint them. They likely did get a coat of sealant, but it wasn't enough to keep them from being annoying.
For the MERCS mini below (2010), I used lots of glue, fewer rocks, larger rocks, and painted and sealed them. I also painted the flat bits of the base dark green. These look pretty good and they never fall off, but the flat green bits are uninspiring.
The Terminators and Genestealers I've been working on since 2009 are all molded with bases (left) or lack them entirely (right). These are dead simple, easy to paint, and of course never fall off.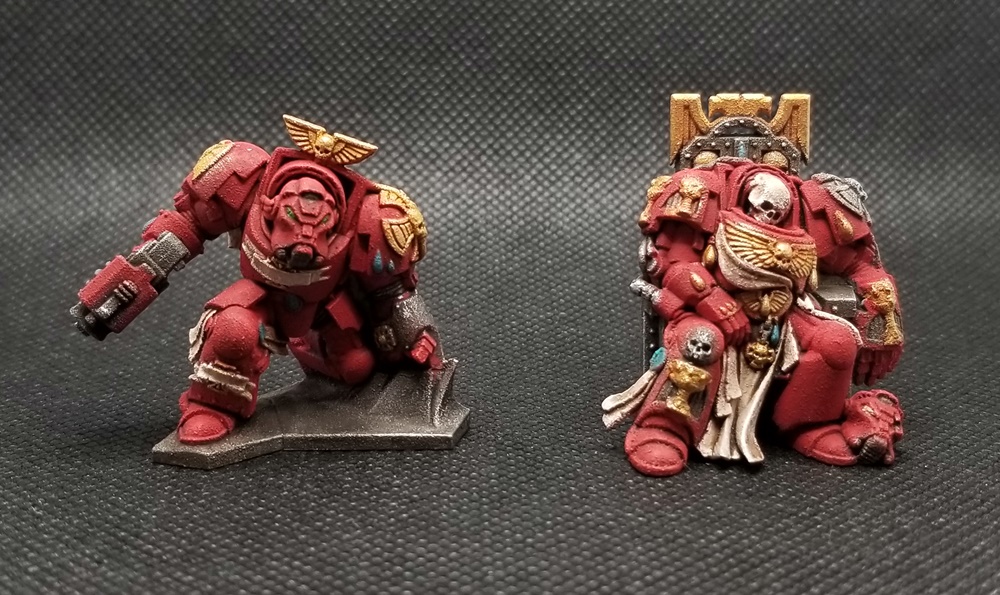 For my Blood Angels, I was planning to use a thick layer of white glue, basing sand, paint (base, wash, drybrush), and sealant. But a bit of reading and video watching made me wonder about the durability of that approach — and I don't want little bits of sand coming off everywhere.
This excellent review of Citadel's texture paint range (now renamed/merged with their technical line) on Age of Miniatures got me interested in using texture paints instead. GW also provides a neat free PDF showing some of the different approaches you can take with these paints.
Based (hah!) on the AoM review, it sounds like the thin and thick non-crackle options both offer sterling durability, and the thick gives you the most options in terms of washing and drybrushing for a base that pops a bit. I'm drawn to Astrogranite Debris because it looks like it will contrast nicely with a sea of Blood Angels red armor.
A possible basing recipe
Combining the Astrogranite Debris base shown in the above PDF (Astrogranite Debris > Drakenhof Nightshade wash > Longbeard Grey drybrush) with the image in this Spikey Bits post for the Plains of Armageddon (which adds the now-OOP Mordheim Turf tufts, i.e. pale grass, and little skulls) gives me a recipe with which to experiment:
Astrogranite Debris base coat
Drakenhof Nightshade wash
Grey Seer (or similar) drybrush
Add little skulls, rocks, and tufts to taste
Paint the edge black or medium-to-dark gray
In my head that looks really cool with a little red dude standing on it. Add that to the still-a-WIP Faceless Strike Force concept for my Blood Angels army, apply some campaign decals, and it's starting to feel like the kernel of a solid theme.
After I commented on how great his bases looked, a fellow minis painter on Twitter recommended this winters SEO video on using texture paint to base minis — and what a great recommendation that was. Different colors, but this is more or less exactly where my brain was heading; now I have a tutorial to follow.
Digging Yore? Check out my book!The Unlucky Isles
[
affiliate link
], the first system-neutral guidebook for my Godsbarrow fantasy campaign setting, is available in print and PDF.