I missed the boat on Chris McDowall​'s Into the Odd (paid link), but eventually figured out that I was missing something splendid. It's out of print, but the PDF is a dandy $8 and I love coil binding, so here we are.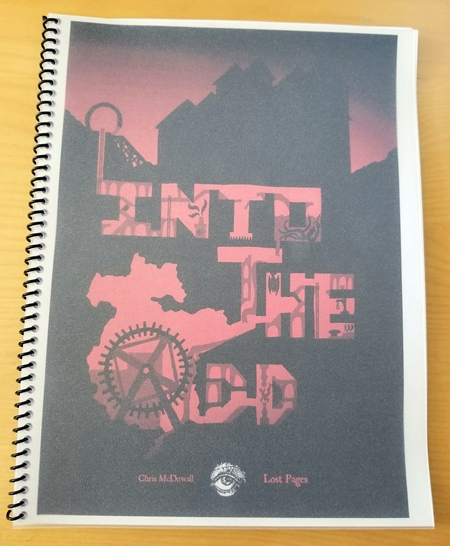 Here's the blurb:
"Into the Odd contains everything you need to create a character and explore an industrial world of cosmic meddlers and horrific hazards. This is a fast, simple game, to challenge your wits rather than your understanding of complex rules.
You seek Arcana, strange devices hosting unnatural powers beyond technology. They range from the smallest ring to vast machines, with powers from petty to godlike. Beside these unnatural items that they may acquire, your characters remain grounded as mortals in constant danger."
It's a great book. Tight. Taut. Pregnant with possibilities. It does a lot between the lines, and even more that looks innocuous but is actually delightfully clever. And it includes a marvelous on-ramp in the form of an introductory dungeon, a hexcrawl surrounding said dungeon, and a starting city — plus a raft of tables to flesh things out on the fly.
I absolutely love its leveling system, which is handled not by XP but by the number of expeditions you've survived (and later on, shepherded others through), and the mechanics for buying military units and starting businesses which hum along between sessions are fantastic.
There are so many small-yet-not-small flourishes in Into the Odd that I won't try to catalog them all here. Chris offers a free edition of Into the Odd so you can get a feel for the game before plunking down some cash, and many of those flourishes are on display in that version of the game.
I want to run at least a one-shot of Into the Odd (paid link) to see what it feels like in play — probably straight from the book, as there's plenty in that intro adventure and its environs to get a campaign off the ground.
Digging Yore? Check out my book!The Unlucky Isles
[
affiliate link
], the first system-neutral guidebook for my Godsbarrow fantasy campaign setting, is available in print and PDF.