I started Killa Kans two and three — Stikkit and Skraggit — back in April, and finished them up on Thursday night. They join Mukkit, my final mini of 2020, to form Mukkit's Murda Mob, which bring my Deathskulls army up to 591 points.
The Killa Kans kit is incredible — just absolutely packed with modularity and personality — and I had a great time with these two (as I did with my first Kan).
Waaagh!
Since I have a better lightbox now, I figured I'd roll Mukkit in as well and have the whole gang in one photoshoot.
Here's the whole mob, at what I hope are their golden angles: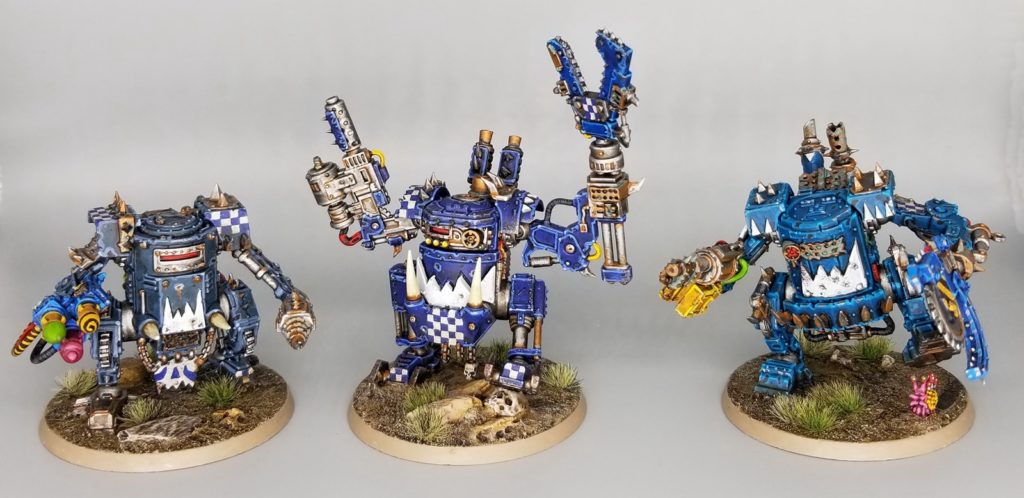 I crossed my fingers when I painted each Kan a different shade of blue, but now that they're all in one place I like that effect. In combination with my other units, it looks suitably hodgepodge for Orks.
And here's each Kan individually: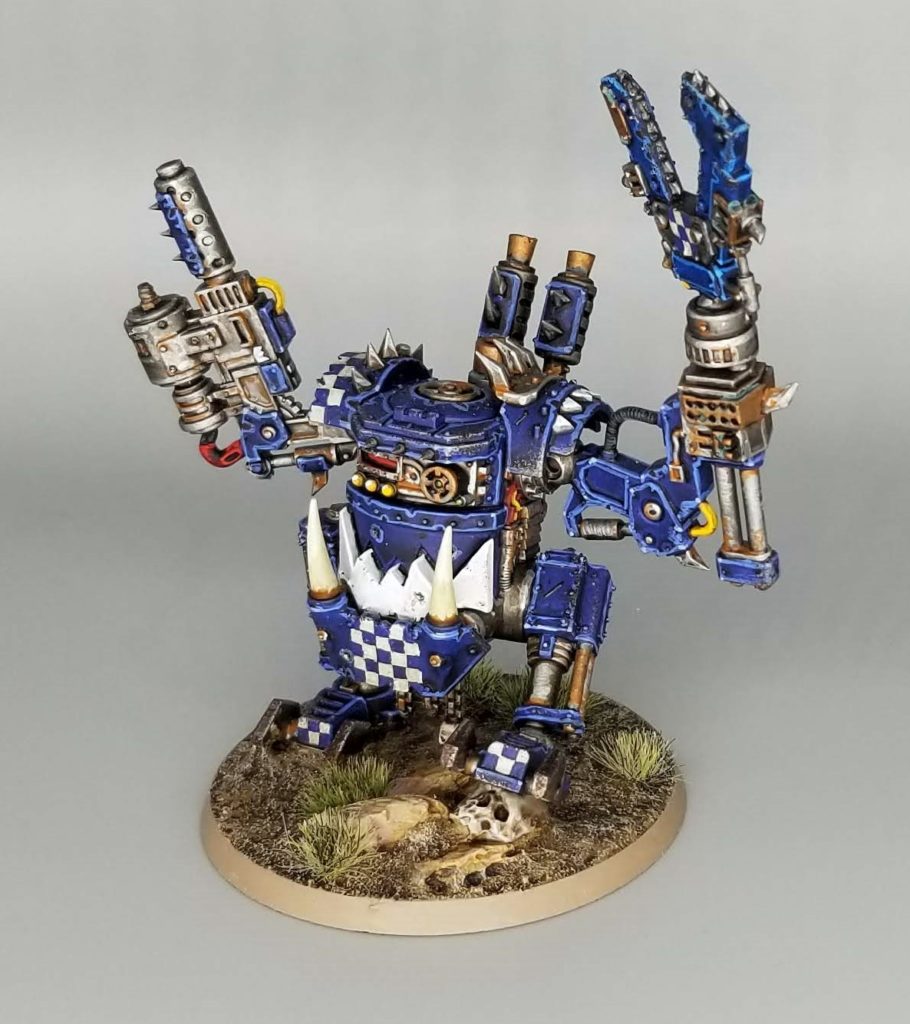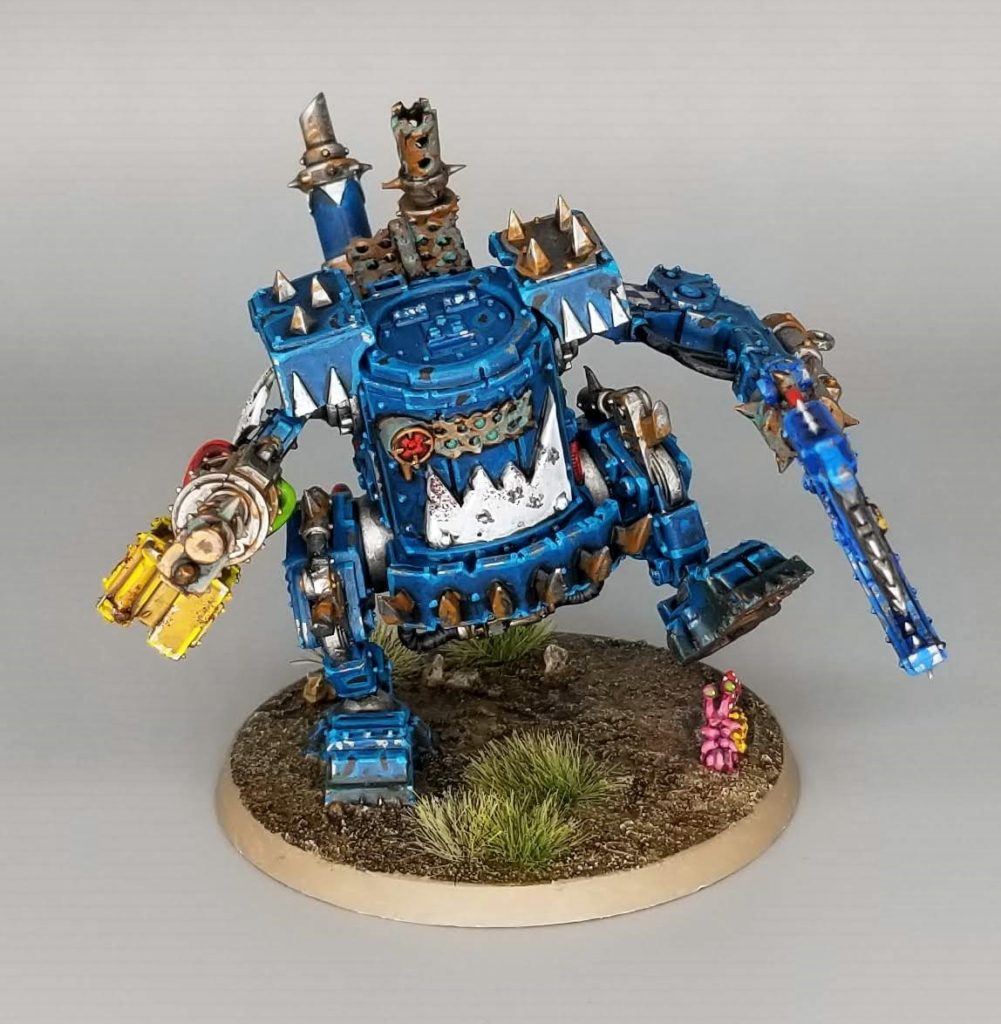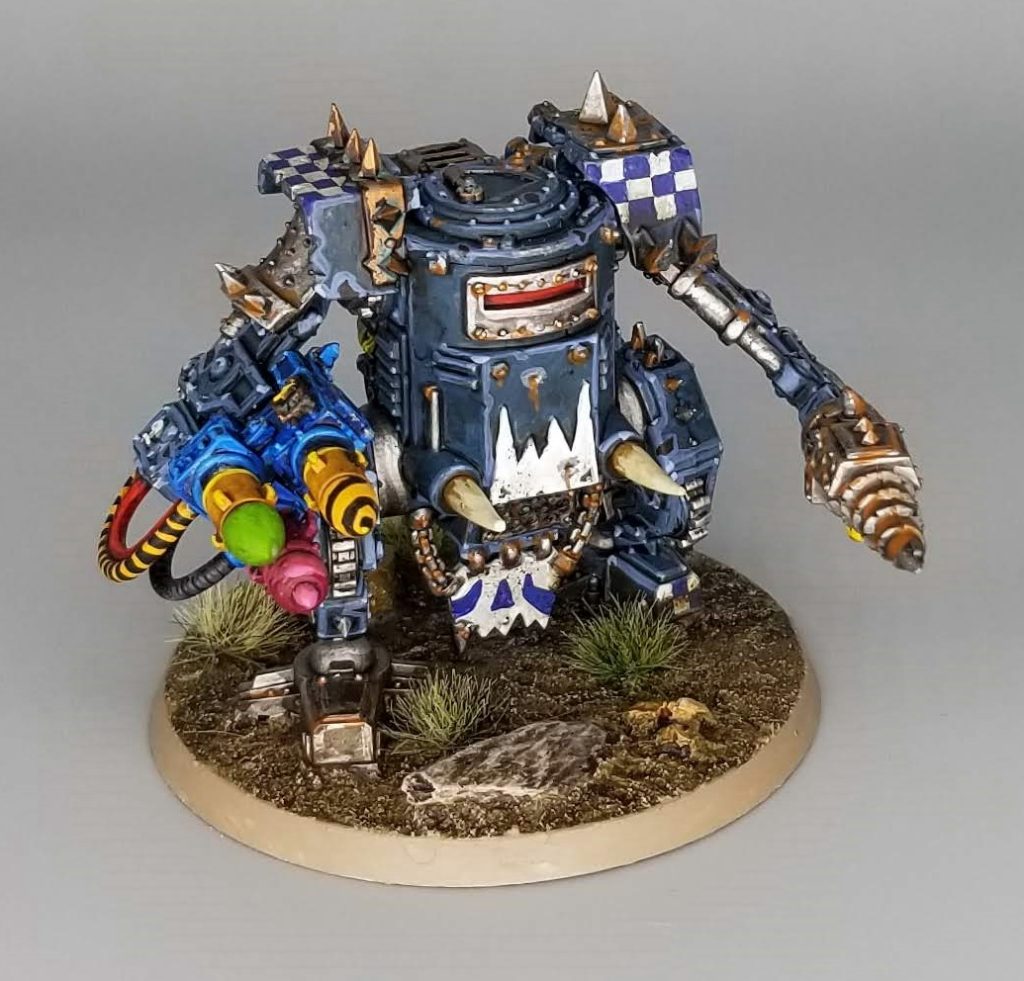 …And then shots of the whole mob from all four sides.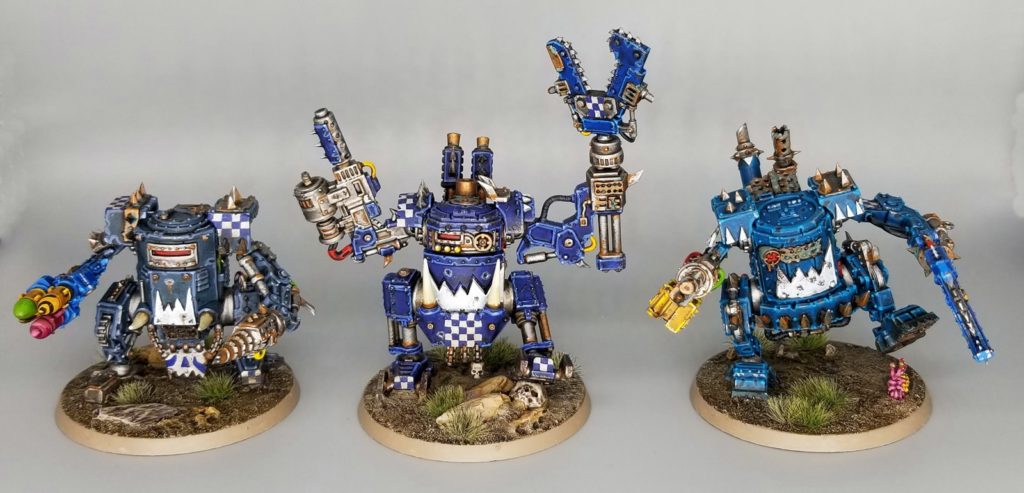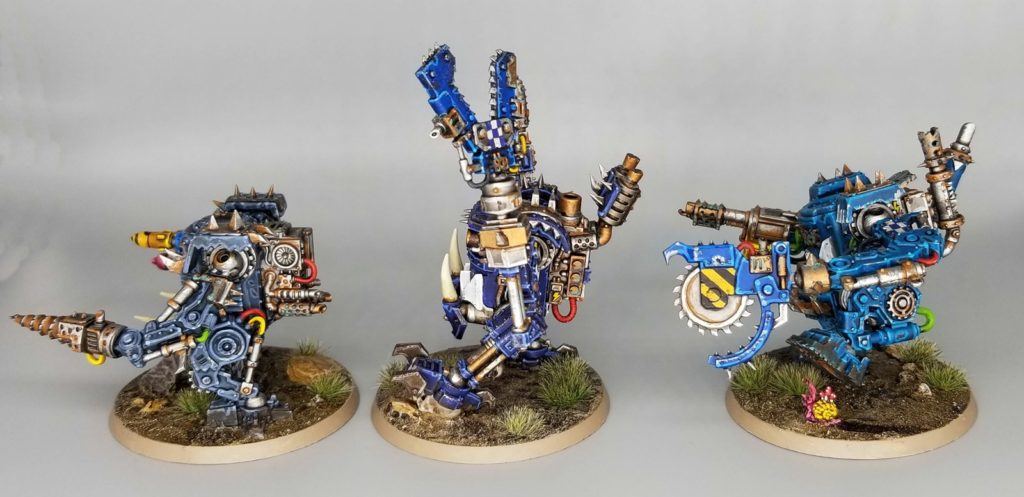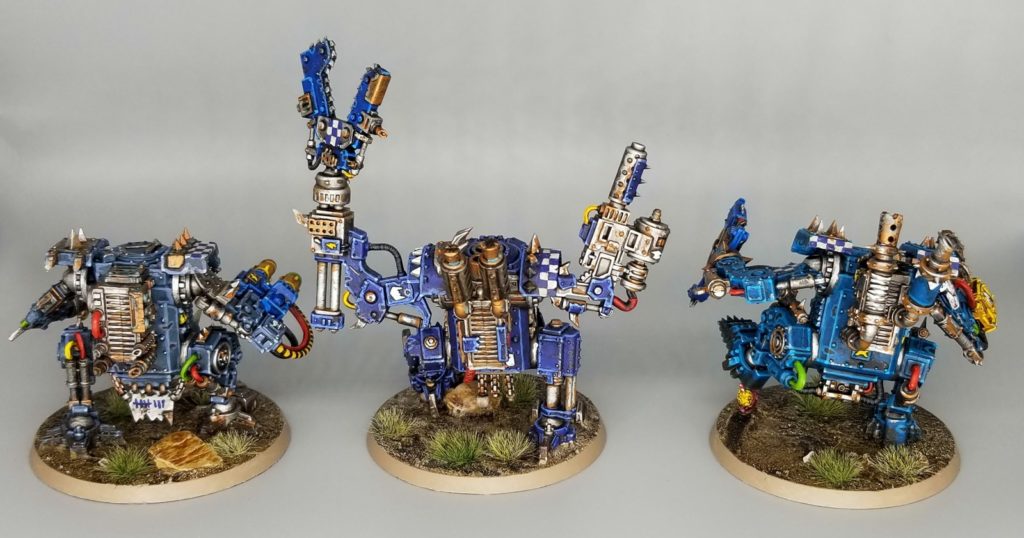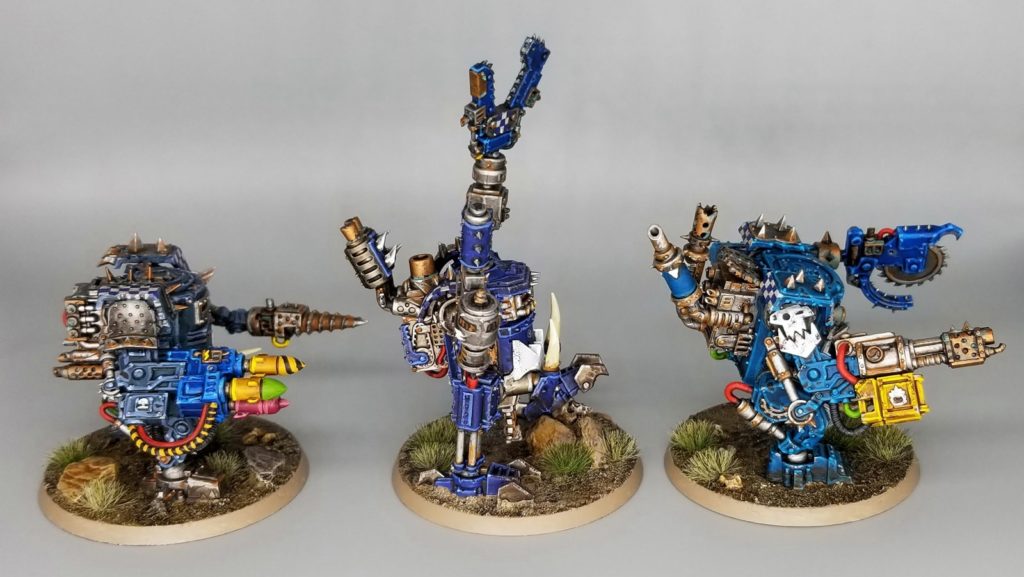 The space-snail Skraggit is about to stomp on is from an Age of Sigmar kit, the Squig Herd. Wanting to use him prompted me to pose Skraggit mid-stomp, creating Skraggit as a character at the same time. Here's his close-up: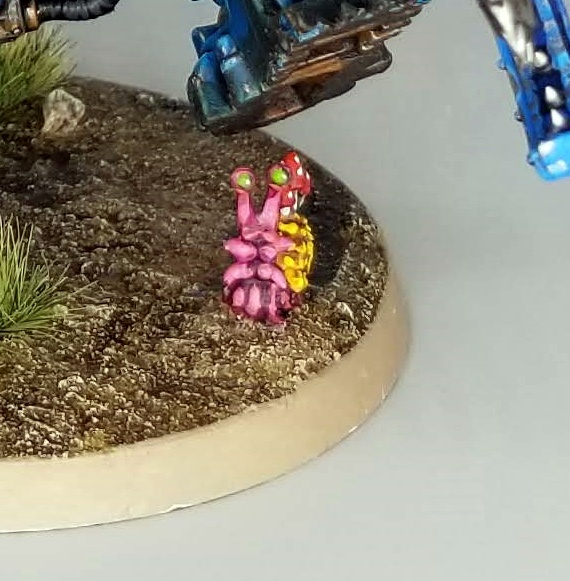 I made a little slimy trail for him by forming a shallow trough in the texture paint, applying extra Agrax Earthshade to that area, and then skipping it when I drybrushed the rest of the base. It shows up best from above:
Next up is my Oldhammer project: 10 vintage '80s/'90s metal Boyz, include 2/3 of the Goffik Rok band, with a little light kitbashing to bring all their wargear up to a reasonable WYSIWYG standard for 9th Edition. Too rowdy to be led by a Boss Nob, they're oldsters who don't play by the rules — and love to play their looted 'oomie instruments. Their draft name is Deff Metal Mayhem.
Digging Yore? Check out my book!The Unlucky Isles
[
affiliate link
], the first system-neutral guidebook for my Godsbarrow fantasy campaign setting, is available in print and PDF.