The book I've been working on since July is now available! You can buy The Unlucky Isles [affiliate link] from DriveThruRPG.
If you purchase the PDF now, I'll send you a discount code that reduces the price of the print-on-demand version by the full cost of the PDF once POD is available.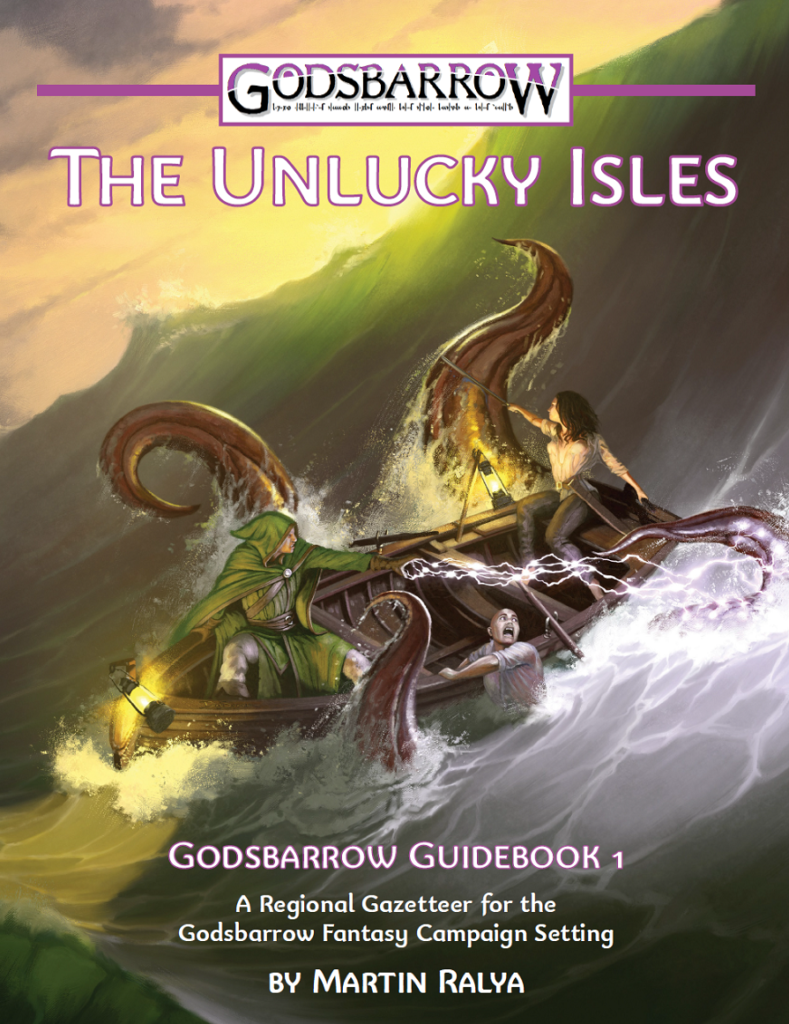 Large, high-resolution map
The standalone map of the Unlucky Isles region is also available as a PWYW product, and while it's included in the book you should snag this version as well because it's much larger (as it doesn't have to fit on a page): The Unlucky Isles Region Map [affiliate link].
Print is coming
I've submitted the files for the print on demand version of the book, but it will probably be a little while until that's available. The printer has to process them and then mail me a proof copy, and then if that proof looks good I can turn on the POD option; if it needs changes, that adds another cycle of approvals to the timeline.
Thank you!
When I first started working on Godsbarrow back in March of 2021, there was no guarantee this day would come. But after more than a year and a half on working on Godsbarrow every single day, and running an ongoing campaign in the setting, I love this place even more now than I did when I started writing about it.
Getting to this point, where I feel comfortable sharing my first campaign setting in published format, has been a long, fun road. If you wind up picking up The Unlucky Isles [affiliate link], thank you so much for your support!
Digging Yore? Check out my book!The Unlucky Isles
[
affiliate link
], the first system-neutral guidebook for my Godsbarrow fantasy campaign setting, is available in print and PDF.