After spending 15 months developing Godsbarrow, getting to actually start up a campaign in this setting was the spark I needed to convince me to give publishing another shot.
Today I founded Halfbeard Press, the company I'll be using to publish Godsbarrow material.
Halfbeard Press has a logo, an incredibly spartan website, a (currently empty) DriveThruRPG publisher page [paid link], and a plan: I'm about 50% done writing its first product, a gazetteer of the Unlucky Isles.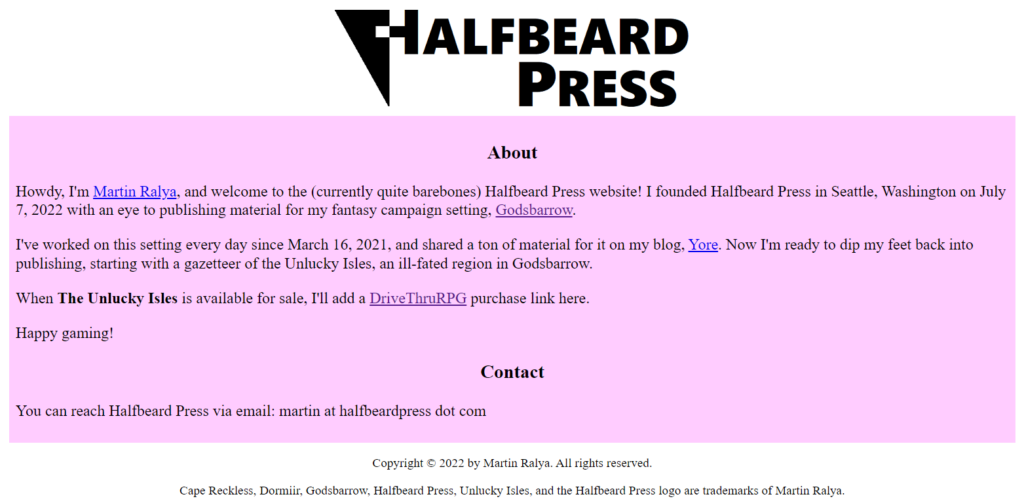 Many, many thanks to my wife, Alysia, my kiddo, Lark, and my friends Alice, John, Reagan, and Renee, who consulted on numerous iterations of the logo and made it so much better than my first draft (with special thanks to Reagan for suggesting the half-beard be on the left, and merged with part of the H).
I don't regret selling Engine Publishing in 2019. It was the right choice. But I have missed publishing (or aspects of it, anyway), and I always suspected I'd be giving it another shot at some point.
Like Yore, which is more personal, barebones, and eclectic than my more focused ventures (Treasure Tables, Gnome Stew, Engine Publishing), I'm taking a smaller, quieter approach with Halfbeard Press.
I'm trying to do as much of it as I can myself, even the parts of it (cough cough graphic design) where I'm, at best, a clumsy dabbler with decent ideas. I'm not taking out thousands of dollars in loans to fund upfront publishing costs (as I did for Engine Publishing books). I don't have a marketing budget, or an established readership like the gnomes had when we published Eureka [paid link] back in 2010.
Hell, this might not work out at all. Like Engine Publishing back in 2009, this venture is far from being a sure thing. But no matter what happens, I'm excited to be working on a short book about a campaign setting I love.
As soon as I have more to share about the Unlucky Isles gazetteer, and Halfbeard Press, you'll hear about it here!
Digging Yore? Check out my book!The Unlucky Isles
[
affiliate link
], the first system-neutral guidebook for my Godsbarrow fantasy campaign setting, is available in print and PDF.