I buy most of my gaming books online, but there's not much of an art to finding new, in-print stuff. Old, out-of-print books, on the other hand, are fun to hunt down. There are added complications, like condition, rarity, and perceived value, that make things interesting.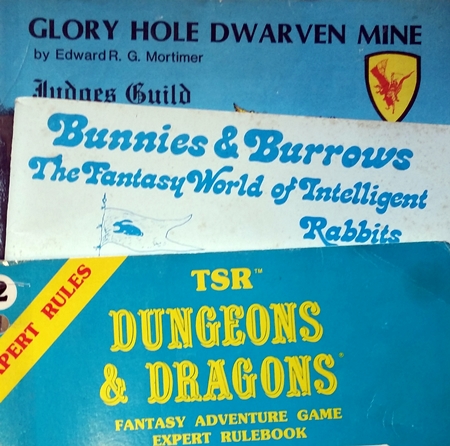 I collect gaming books, but I don't collect for value and I don't keep my books pristine — I buy them to use. I look for tight bindings and non-crushed boxes, but apart from that I don't get too fussy about condition — if it's going to bump around in my backpack, who cares if I need to tape the corners, or if it's got stuff written in the margins?
I also don't view collecting old RPG books as a competition, and I hope this post helps you find something awesome! Here's a rundown on my favorite online haunts for old gaming books, including six options and tips about each of them.
Noble Knight and Wayne's Books
These are my two go-to stores for OOP gaming stuff. Both Noble Knight Games and Wayne's Books grade products accurately, ship promptly, pack orders extremely well, and offer great customer service. Shipping rates are reasonable, too.
The condition thing is big, too. I pass up lots of stuff elsewhere that might be perfectly good because the seller doesn't do a good job telling me about it, and Wayne and NKG absolutely nail condition ratings.
With respect to value, both stores know when they've got something that's worth some money — you're not going to find a rare book on the cheap. For my personal level of price sensitivity, Noble Knight's prices for rarer books often feel too high.
Both stores typically offer what I consider good prices on non-rare stuff, and since that's usually what I'm after that works out nicely. They also both get new stuff in all the time, and I usually make a point of browsing around every month or two. (I hide my wallet when I do this, but it doesn't seem to help!)
I've been happy with 100% of my orders from both stores, and I highly recommend them both.
Ebay and Amazon
In my experience, Ebay and Amazon (paid link) both tend towards either very high or very low prices for old gaming books. Amazon has the further complication of automated price-adjustment bots used by some third-party sellers, which jack up prices based on other sellers' prices and result in what should be a $10 book getting listed for a thousand bucks.
Both are good options, but I don't trust either of them as a snapshot of what to think a book should be worth. Searching closed auctions on Ebay is a great way to see what the market is willing to pay, though.
I tend to like Ebay best when I'm willing to wait patiently for a good price. I set up a search to notify me when new matches are listed, and I lurk. I generally ignore auctions, and stick to Buy It Now listings.
With Amazon, OOP stuff is always going to be from a third-party seller. I flat-out won't buy a book that doesn't have at least a few specific condition notes in its listing; big charity bookstores are the worst offenders here, using the same description across all their items.
Wayne's Books also lists on Amazon, and I can usually tell when a listing is his: The write-up is detailed and accurate, and the price is fair. Noble Knight has most of their stock cross-listed on Ebay, too, but I usually just go direct.
Lastly, feedback is king. I only buy from folks with good feedback, and I've had very few problems over many, many years of shopping on Ebay and Amazon.
Gator Games and The Hit Pointe
When I can't find a book at the four sites above, I try Gator Games and The Hit Pointe.
Gator just lists most stuff as "used," but they'll happily answer questions and give you a more specific condition rating if you ask. The stuff I've bought from them in "used" condition has been just fine, so I don't ask anymore.
The Hit Pointe has a quirky and clunky website, but they occasionally have stuff I can't find anywhere else. I always email them to see if something is actually in stock before I order.
Neither store is a go-to, but I've been happy with my experiences with both of them.
When in doubt, Google
If I don't have a good idea what an old book is worth, I Google it. If I want to see if there are stores tucked away in the dark corners of the web who might have something these six sites don't, I Google it. When I want to know why something is special, I Google it — and more often than not, I wind up reading an old GROGNARDIA post, so I should save some time and remember to just start there!
The Acaeum and Wayne's Books RPG Reference are both great resources for figuring out if something is supposed to have maps or counters, which printing you want, etc. Googling a book usually pops them up pretty quickly, too.
And that's it! Six sites and a bit of enjoyable research usually gets the job done for me.
That said, I guarantee I'm missing or overlooking other great options. If you have a favorite haunt or two, or tips to share, I'd love to hear about them in the comments!
Out now: The Unlucky IslesThe Unlucky Isles
[
affiliate link
], the first system-neutral guidebook for my Godsbarrow fantasy campaign setting, is now on DriveThruRPG.