I'm plowing through the most excellent GURPS Time Travel at a good clip, and its Time Corps setting is just too good not to share here. (I wrote about the overall book in yesterday's post.)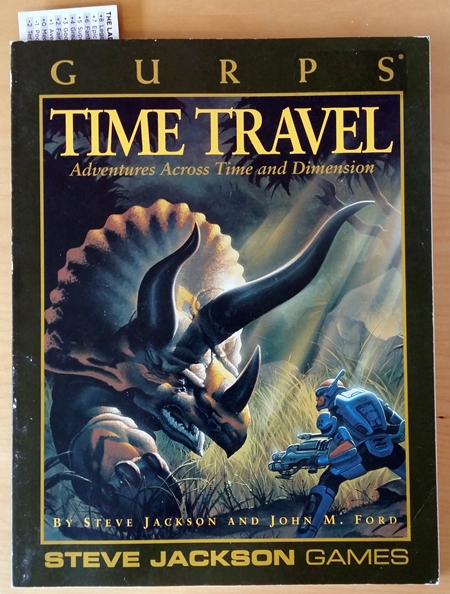 Six settings
GURPS Time Travel includes six settings:
Time Corps, the default time travel setting, which is about Timepiece agents vs. Stopwatch agents
In the Cube, which has the PCs lost in the past as part of an early time travel experiment
Eternity's Rangers, a military campaign
The Order of the Hourglass, about time-traveling mentalists in the 1920s
The Horatio Club, a dimension-hopping campaign featuring free-agent PCs
Infinite Worlds, a full-blown dimension-hopping setting with two opposing organizations (like Time Corps)
Time Corps gets 13 pages (one is essentially the "cover," so it's really 12 pages), while the short ones get 2-10 pages apiece. Infinite Worlds gets a whole chapter, like Time Corps, and runs over 30 pages. It also got expanded into its own book, GURPS Infinite Worlds, which should be landing in my mailbox today.
Timepiece needs you!
Time Corps packs a mind-boggling amount of goodness into its handful of pages — more than enough to get a campaign off the ground.
Here are my five favorite things about Time Corps:
The hook. The Time Corps, and its Timepiece agents, are opposed by Stopwatch, agents of The Hive (an uber-bureaucracy that spans the globe) — classic "time war" setup, right? Right, except that the two agencies exist in different versions of the present. There can only be one present, so both Stopwatch and Timepiece are trying to make sure it's their version that survives.
49/49/2. The ground state at the start of the campaign is a 49% chance the good timeline (Timepiece, us) wins, a 49% chance the bad timeline (Stopwatch, The Hive) wins, and a 2% that one of a myriad of incredibly unlikely alternatives wins. Every mission either agency sends into the past — each from its own version of the present — has a chance to move the needle, changing those probabilities. After every mission, you roll dice for each side and change their respective probabilities. If either falls below 8%, they lose and their timeline is wiped out — it simply never comes into being. If both of them added together fall below 70%, one of the previously-unlikely alternate timelines takes over, wiping out both realities, Timepiece and Stopwatch. Talk about player agency and meaningful consequences!
Clever temporal physics. Time travel can only occur through "windows" into the past, and the windows are always about 8 months apart. Want to foil a Stopwatch plot? You might have to go back to some time long before the plot and wait for the appointed hour. This also gives real weight to using local agents — folks "embedded" in a local time — for support.
Snap-back. Agents can trigger implants to snap themselves forward to the present, but anything they brought with them automatically snaps forward if it gets more than a few feet away from them. Need to send a message to HQ? Drop a "notecard" and it'll pop into the present; HQ can then send help, assuming a window is available and useful to you. Don't want your ray gun to fall into the hands of a medieval peasant? It won't, because as soon as it leaves an area a few feet around you, it's zapped forwardto HQ.
Observation equals reality. A quirk of this setting's temporal physics is its approach to the Observer Effect: If someone from either present, Timepiece or Stopwatch, observes an event in the past and returns to tell their tale, it becomes unalterably true — that is how How It Happened. This creates marvelous incentives to do things like sacrifice yourself if things have gone badly, so that your screw-up doesn't shape history — or, much more often, to be extremely careful about what you don't see, so that you have a shot at changing it down the line. Information is a double-edged sword.
I could go on, but at some point I'd just be reproducing this delightfully brief chapter, so I'll stop there.
I look at those features of Time Corps and see fodder for a sandbox campaign — or at least a sandbox-adjacent one, with lots of options for the players and real fallout based on what they do. You might look at those features and see the seeds of a mission-based, GM-driven campaign — something that looks a lot like an episodic TV show, for example. One of the strengths of Time Corps as a premise is that it's a strong foundation for a variety of play and campaign styles.
The Time Corps setting on its own is a good enough reason to buy GURPS Time Travel. Doing a lot with a little is one of my favorite design goals, and this setting is bursting with possibilities.
[1] And yes, if an agent eats a meal before they leave, and then takes a dump in the past, guess what snaps forward to HQ?
Tags: campaign settings, GURPS, GURPS Infinite Worlds, GURPS Time Travel, roleplaying games, RPGs, Time Corps, time travel
I've got time travel gaming on the brain, and haven't yet found a time travel RPG that hits exactly the vibe I'm after.
Epidiah Ravachol's Time & Temp is at the top of my shortlist to play, with the excellent Timeworks setting from Fate Worlds: Worlds in Shadow running a close second. But those both do specific things (nothing wrong with that!), and I'm after something more open-ended. It may become more specific as I think about it more, but for now loosey-goosey is good.
I want to pack my brain with interesting, RPG-oriented time travel stuff, and whenever I'm that mood the answer is usually GURPS. In this case, GURPS Time Travel, by Steve Jackson and John M. Ford.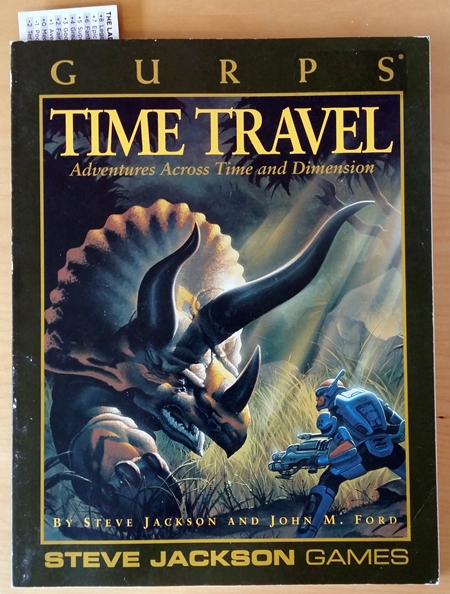 Like GURPS Warehouse 23 and GURPS Illuminati, which I've written about on Yore, Time Travel is a toolkit.[1] It takes one huge enchilada of a topic and comes at it from several angles, teases out the best bits from each angle, and gives you the stuff you need to put it back together how you like.
The book provides a default campaign setting, and it's a good one: Timepiece agents vs. Stopwatch agents, each group trying to ensure the survival of their own timeline, with lots of clever details. For example: Time travel "windows" are always about 8 months apart, so sometimes you need to go back too far and wait for your moment; and whether history can be changed depends on whether an agent observes it, so there are delightfully perverse incentives to walk away from problems so you can take another run at them later on.
In a (parallel) world . . .
One of those angles, dimensional travel/parallel worlds as an alternative to time travel, wasn't even on my radar until I started looking into (and then bought) this book. It features many of the best bits of time travel — alternate worlds, ahistorical elements, fish out of water — without all the brain-burning paradoxes and temporal physics.
There's a whole setting in Time Travel, Infinite Worlds, which delves into dimensional travel, and the topic gets quite a bit of attention in the book. It also got blown out into a much bigger book (which apparently also reprints some of what's in this one), GURPS Infinite Worlds. That one's on the way, and I'm excited to read it.
TPS reports
One of the tools Time Travel offers is a form: one for time travel games, one for dimension-hopping games. Here's the time travel version: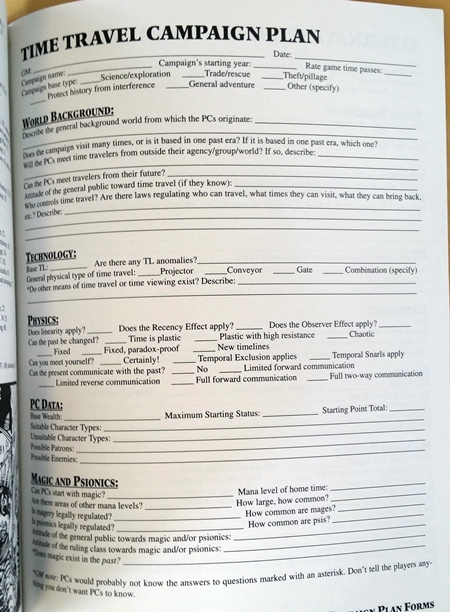 That's just handy! It covers a host of common questions — the stuff everyone at the table will ask — while also rounding out some corners, establishing a solid baseline, and piquing the group's interest.
It also makes me want to know more. What's the Recency Effect? What's a Temporal Snarl? Those both sound awesome! (And yes, they're both covered in the book.)
I'm not sure what I'll do with it yet, although that Fate bookmark peeking out the top isn't an accident. I think Fate would be a great fit for a time/dimension travel game, particularly since I can lean on what's already in Timeworks.
Whatever I do with it, Time Travel is a great starting point. It's my favorite kind of GURPS book: the kind that fires my imagination, gives me new ideas to chew on, and provides the tools to implement them — all in a tidy package of reasonable length.[2]
It's also dirt cheap, at least at the moment — I paid $6 for my copy, and it's in fine shape.
[1] All of my favorite GURPS books are toolkits.
[2] Nope, leaving that one alone. Noooothing to see here.
Tags: campaign settings, Epidiah Ravachol, Fate, Fate Worlds: Worlds in Shadow, GURPS, GURPS Infinite Worlds, GURPS Time Travel, John M. Ford, roleplaying games, RPGs, Steve Jackson, Time & Temp, Time Corps, time travel, Timeworks
With RPGs, what counts as one unit of play? Or, basically, what is a single session of a roleplaying game?
Lately I've been playing The Beast, a single-player epistolary RPG that takes place over the course of sessions, each lasting 5-15 minutes, and it's gotten me thinking more closely about units of play and the nature of RPGs in general.
On a concrete level, I log all my plays on RPGGeek, so I have to think frequently about whether some gaming thing I did counts for those purposes. But it's also fun to think about in the abstract — and my thinking has changed over the years.
Contents: one play
To count as a session of play, my current thinking is that it must:
Be discrete
Not be crazy-short
Involve roleplaying
So if I play a session of Savage Worlds that lasts four hours, and then play again a day later, but only for two hours, that's two sessions. Even though the first session was twice as long as the second, the unit is the discrete time spent playing, regardless of length — provided it's not crazy-short (which these sessions are not). And obviously Savage Worlds is a roleplaying game, so there we go.
Wibbly wobbly
Where things get interesting is on the fringes and in the liminal spaces. #1 isn't too fuzzy, and really has no fringe: When the session ends, so does the unit of play.
Number two is a bit fuzzier, since "crazy-short" is obviously a subjective measure. Number three is fuzzier still, since any given roomful of gamers is reasonably unlikely to agree on a single definition of "roleplaying." So let's poke those two a bit.
Number two
Most of my gaming over the past few years has fallen into six broad time slots, session-wise:
9 hours[1], when the weekly game ran really long
6 hours, which was about normal back in Utah
4 hours, like most Gen Con slots
3 hours, my new normal in Seattle
90 minutes, how long my online group plays
5-15 minutes, for short-form games
I'd probably describe anything under 3 hours as a short session in conversation, and anything over 4 hours as a long session, but they're all fundamentally sessions.
For me, only the last entry — the shortest — pushes up against the boundary of what I'd consider a play. My sessions of The Beast are short, but not the shortest I've played: My free RPG The Thief can be played to its conclusion in under 5 minutes. And at some point in my gaming career I'm going to play a game that takes 30 seconds, and I suspect I'd still consider that to be one play.
At any point on the time spectrum, the key is that meaningful gaming happens during the session. If I sat at my desk and made a character, that's not a session. If we sat down to play D&D and, 10 minutes in, had to call it a night, that's not a session.
The Beast and The Thief both define the unit of play in the rules — and that's important, too: If the game designer says "This is a session," I give them the benefit of the doubt.[2]
Number three
My initial list of criteria for what counts as a play is missing a few things — intentionally so:
A game master
More than one player
Any reference to the format of the game
Despite GM-less solitaire RPGs going back as far as the second-ever fantasy RPG, 1975's Tunnels & Trolls, I'd be willing to bet there are gamers out there who don't consider GM-less games, let alone solitaire games, "real" RPGs.
Throw in format, and the waters get even murkier. Is an epistolary game like The Beast an RPG? I think so, absolutely. How about a map game like The Quiet Year, where no one does any in-character roleplaying, or the fractal history RPG Microscope, where in-character play is optional and no one owns any elements of the game (in the sense of owning a PC, for example)? Ditto and ditto — but I've seen folks contend that those aren't RPGs at all.
Like units of play, I place a lot of weight on what the game's designer says about it. If she calls it an RPG, it's an RPG.
But it doesn't rhyme
Back in high school, one of my English teachers wrote this on the board:
Stay off the grass
He then asked us if that was a poem.
Duh, right? Of course not! It's a lawn sign.
But what if a poet writes it and calls it a poem? Then yeah, it's a poem. That was the closest we got to a definition of "poem" that the whole class could agree on.
Everything is personal
Alongside the designer's intent, though, is the personal component: Do I think it's an RPG? Because at the end of the day, I'm the one playing it and I get to decide what it is — for me. So do you, for you — so does everyone. (I'm not sure one trumps the other, intent or experience; RPGs are weird.)
That's why, for example, I count collaborative setting creation as play: When we sit down to create a Dresden Files city, we're making roleplaying choices and collaborating in ways that feel like play to me. There the collaborative element matters — whereas The Beast, defined as a solo RPG, necessarily doesn't take that into account.
I have zero stake in what anyone else considers a play (or thinks about what I count as play), save as a philosophical question — it's just an interesting question to think about. But it's also a question that's broadened my gaming horizons — and that I do care about.
[1] Somewhere in the past 30 years of gaming, I may have played a session that ran longer than 9 hours. Let's just take "9 hours" to mean "a really long time."
[2] Especially when it's me.
Tags: Microscope, roleplaying games, RPGGeek, RPGs, story games, The Beast, The Dresden Files RPG, The Quiet Year, The Thief, Tunnels & Trolls
I'm currently reading Neal Stephenson's Seveneves, and it's blowing my mind.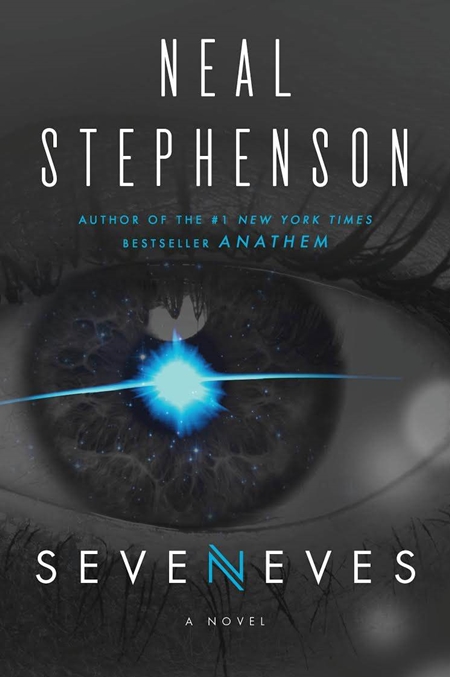 (This post is spoiler-free.)
The larch
Stephenson is one of my favorite authors, and Cryptnomicon is both my favorite Stephenson book and one of my favorite books period. Quite apart from "just" being fucking amazing in every way, it sparked my interest in cryptography, convinced me I could learn enough HTML and CSS to be dangerous, and deepened my interest in WWII history.
When Crypto came out, I was already fully aboard the Stephenson train — at that point, I'd buy whatever he wrote, sight and reviews unseen. But Quicksilver brought me to a screeching halt. I made it a little ways in and gave up, which was rare for me a decade ago.[1]
The rest of the Baroque Cycle looked like more of the same, so I figured Stephenson had stopped writing books I liked, and hey, no worries. More power to him for following his heart.
But then Reamde came along, and it looked different. I sampled it, and it was different. I read it, and dug it, and although I didn't love it as much as Crypto — a high standard! — but it was a fun ride.
Seveneves, though? It looked overlong and overly complex — like another Quicksilver — and I passed on it. Until a few days ago, when a friend recommended it to me.
I mentioned hating Quicksilver, and my friend said he'd hated it too — but that Seveneves wasn't anything like the Baroque Cycle. He knows I hate spoilers, but he dropped an intriguing hint that put some of the bad press I'd heard about the book in perspective. I put a lot of stock in his recommendations, so I picked it up.
And now for something completely different
Seveneves is amazing.
If, like me, you took an extended "Stephenson break," come back for this one.
It does more in the first 50 pages than lesser books do in their entirety. It's teaching me all sorts of stuff about space and orbital mechanics, and at every turn it's surprising me. I love being surprised, particularly by books.
Seveneves reminds me a lot of Cryptonomicon. Different, obviously, but there's a common spark. It's written from one geek to another, but accessibly enough that my fuzzy memories of physics and childhood dream of being an astronaut are getting a workout and a fresh coat of paint. It's full of big ideas, expressed adroitly, and even when I can see something coming it doesn't arrive in the way I expected.
It's got me in its grip, and it's not letting go. I'm not done reading it yet, but I'm so excited about it that I wanted to share that excitement here. Give Seveneves a look, especially if you haven't read any Stephenson in a while.
[1] It's less rare now, but Kindle samples make it easier for me to avoid stuff that I might likely stop reading, so it probably balances out. Life's too short to read books I don't enjoy.
Tags: books, Cryptonomicon, Hugo Awards, Neal Stephenson, Quicksilver, Reamde, science fiction, Seveneves
We moved to Seattle last year, and about 75% of my RPG collection went into storage when we got here. Shelf space went way down in the new place, so only about 250 gaming books made the cut to stay out and accessible.
Two of those were GURPS books, and I don't even play GURPS — they made the cut because they're two of the best gaming books I've ever read, full stop: GURPS Warehouse 23, by S. John Ross[1], and GURPS Illuminati, by Nigel D. Findley.
I rate both of these books a 10/10. I've read the shit out of them (just look at that cover wear![2]), and hauled them around the country on multiple moves, and they've been a well of gaming inspiration for years.
GURPS Warehouse 23
You know the warehouse at the end of Raiders of the Lost Ark? This is that warehouse.
Warehouse 23 postulates that magic, conspiracies, secret societies, space aliens, weird science, and cryptids are real, and that the government keeps as much of the related stuff as possible locked away in the titular warehouse. So one thing this book is, is that: a marvelous sourcebook of all that great stuff, each thing with its own write-up. And as that, it's excellent.
But you could build an entire campaign around the warehouse. Where there's a conspiracy (or conspiracies), there are secret masters; you can fight them. Or join them! Someone's got to acquire all of those Secrets Humankind Was Not Meant to Know, after all.
Warehouse 23 also walks you through lots of possibilities for who owns the joint, how Illuminated your setting could be (and how that impacts the warehouse), and what all that means to a potential campaign. Those lenses make the warehouse malleable, and Ross excels at making all of its possible incarnations eminently gameable.
Back to the stuff, though — this isn't just a fancy equipment book. That would be dull. It's a book of stuff which makes that stuff matter.
Take the Ark of the Covenant, for example. It gets a half-page of history and legends, a half-page on the Grail Order, a half-page on its rumored powers, and a half-page on questing for it and how to use it in different ways — combine it with other artifacts in the book, twist it sideways and make it not a physical artifact at all, etc. The two-page entry for the grail could be teased into a campaign seed in its own right, and that's just one of the dozens of artifacts in the book.
Context is king, and the context around all of the weird and wonderful goodies in the warehouse is what makes this such a treasure trove of ideas. A world where all of this stuff — much of which is insanely dangerous and/or world-altering — would be an amazing gaming setting.
Which brings us to GURPS Illuminati.
GURPS Illuminati
GURPS Illuminati takes the core idea that there exists a world-spanning conspiracy — the Illuminati — and bends the whole modern world around it. It's the default setting for Warehouse 23, but each book works just fine without the other.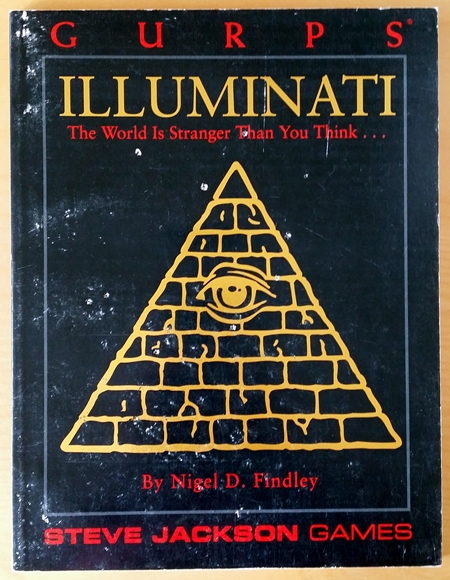 Like Warehouse, and in the best GURPS fashion, Illuminati is bursting with ideas — all clearly and engagingly presented — which can fuel conspiracy-driven games in any system. It's laced wth dark humor — like the list of 50 Awful Things About the Illuminati, which opens with this gem:
Everything here is true, even the false things
From there, you get an element-by-element guide to running this sort of campaign: character types that work well, ways to build the power structure of your conspiracy of choice, mapping the web of lies, adjusting for other genres, and on and on. The amount of good stuff packed in here belies the book's relatively modest size.
Need secret societies? They're in here. Need potential allies for foes of the Illuminati (likely the PCs)? Yep, they're in here too. Oddball sidebars about conspiracies within conspiracies? Yeppers. A whole section on how to introduce the Illuminati, and the true extent of their world-dominating evil, to as-yet-not-paranoid-enough PCs? You bet.
And like Warehouse 23, it's wonderfully weird. I get ideas from every page, and I've returned to Illuminati many times over the years — often just to read for pleasure, but also to stir up my imagination for various games.
I consider GURPS Illuminati an essential toolkit for running any game that even dabbles in conspiracies, and doubly so for one set in the modern world. Use it whole cloth, mine it for parts, blend it with other stuff — it'll support you no matter how you want to employ it.
Like peanut butter and tinfoil hats
It's fun to write about gaming stuff that I love, and GURPS Warehouse 23 and GURPS Illuminati are flat-out amazing books. They earn my highest recommendation.
[1] As an aside, S. John Ross has a fantastic list of personal GURPS book ratings (one number for reading enjoyment, one for play); you can also see just the best ones. Plus the big list of RPG plots. And Risus (which I've gushed about on Yore). His entire site is basically a rabbit hole full of joyful exuberance — which, in a lot of ways, is what I want Yore to be.
[2] I'd forgotten that Teenage Martin decided, for reasons long forgotten, to use the front cover of GURPS Illuminati for target practice. I'm not sure if those are BB holes or stab wounds from testing out homemade Wolverine claws, but both options are about equally likely.
Tags: campaign settings, GURPS, GURPS Illuminati, GURPS Warehouse 23, modern, Nigel D. Findley, roleplaying games, RPGs, S. John Ross
Thanks to a post by James Aulds over on G+, I got to enjoy reading Chris Hogan's mashup of Warhammer Fantasy Roleplay and B/X D&D, a free RPG called Small But Vicious Dog.
It's a flavorful delight.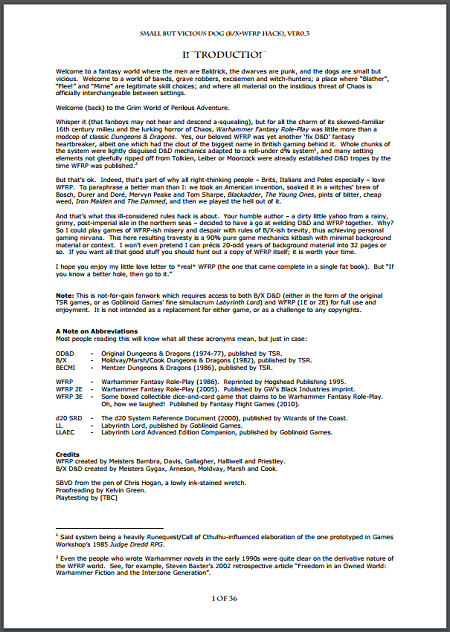 Rules needn't be dull
SBVD presents fun, coherent rules that express the ethos of the game and the world, all in 36 pages. It's everything I love about dirty British fantasy (which in turn is part of why the Fiend Folio is my favorite monster book). Chris knows his B/X, and he knows his WFRP, and he groks them both.
By way of example
It's easier to show than tell, so here are some of my favorite bits from SBVD.
The introduction:
Welcome to a fantasy world where the men are Baldrick, the dwarves are punk, and the dogs are small but vicious. Welcome to a world of bawds, grave robbers, excisemen and witchhunters; a place where "Blather", "Flee!" and "Mime" are legitimate skill choices; and where all material on the insidious threat of Chaos is officially interchangeable between settings.
From the write-up on dwarves:
All dwarves are beersoaked beards on legs who stop mining only to fight, drink heavily and/or sing about mining. They consider everything they say and do to be SRS BZNZ and nurse a grudge like a Bretonnian nurtures a fine vintage wine. All perceived similarities between Dwarves and Yorkshiremen are coincidental.
It's funny, but it's also functional. I could play an SVBD dwarf character using only that description, and it would be a hoot. The game is excellent at combining concision with humor.
In SBVD, a character's social status makes it harder for peasants to do anything against them:
Social position affects all dice rolls made directly against a particular character. […] Exactly how and why this works the way it does is something of a mystery: the consensus is that it's rather difficult to beat the crap out of someone while you're malnourished and/or busy doffing your cap. Either way, this rule prevents some dirty oiks with rusty knives and a plan from opportunistically assassinating the Kaiser.
This is a great example of a clever rule that's also a fun read. The whole section on how social status runs less than a page, but it communicates a lot about the setting and the people in it, and the actual mechanics are excellent.
Lastly, here are items 4-9 from the list of stuff to keep in mind that closes out SBVD:
4. Everyone has an agenda, sometimes several.
5. It can always get worse, and generally should.
6. If in doubt, Chaos did it!
7. If it appears that Chaos didn't do it, check harder.
Even if it never hits the table, Small But Vicious Dog is a fun read for fans of WFRP — or anyone interested in how to communicate RPG stuff clearly and briefly without it coming off as dry.
It also does some neat things to B/X D&D that could work well in other settings. For example, it immediately makes me think of the OSR setting Lesserton & Mor, which is criminally underrated (and which I should really post about sometime!) and shares some of the same dirty British fantasy feel.
Tags: B/X D&D, campaign settings, Chris Hogan, D&D, Dungens & Dragons, fantasy, James Aulds, Lesserton & Mor, old school, OSR, roleplaying games, RPGs, SBVD, Small But Vicious Dog, Warhammer Fantasy Roleplay, WFRP
I've had long rulebooks on the brain lately[1], which has been making me think about S. John Ross' Risus RPG. Risus makes me happy.
It's also really short. How short? Here's the first half: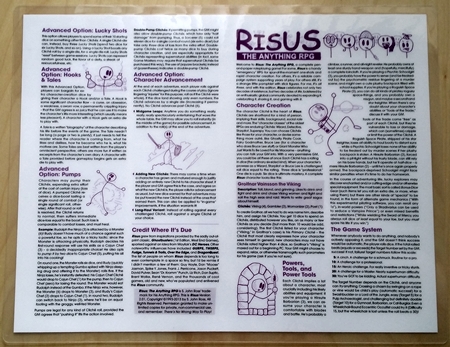 …and here's the second half: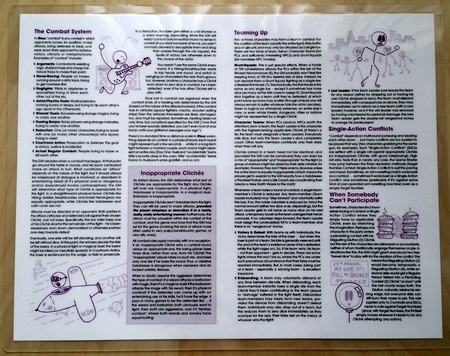 Yep, Risus fits on the front and back of a single piece of 8 1/2×11 paper. It's also free.
The version in those photos is designed to fold into a booklet, but I was tickled by the idea of making a free, one-page RPG super-durable, so I laminated it (with thick, stiff laminate — not the floppy stuff). It's like a plastic tank now, suitable for bathtub use.
How's it work?
Risus hums along on the core mechanic of clichés: free-form character traits which express many things about a character in just a few words. Aspects in Fate are similar, as are skills in Unknown Armies (and probably lots of other games I can't think of at the moment), but Risus builds the whole game around clichés.
Spread 10 dice across clichés you make up on the spot, add a sentence or two of description, and you've got a complete Risus character. Maybe you pick:
Space smuggler (4), my primary cliché — the one that best defines the character
Hotshot pilot (3)
Fast talker (2)
Reluctant good guy (1)
If you can tell who that's supposed to be, I'll chalk it up as a personal success. But the important thing is that it's a clever, robust, flexible, and above all simple engine for powering a full-fledged RPG.
Not a one-trick pony
Risus is a multi-genre RPG, and it's got an undercurrent of humor that I love. "Undercurrent of humor" might make you think it's not suitable for non-funny games, but there's a ton of versatility baked into its minimal rules. "Fits on a single page" might suggest it can't hold up to long-term play, but two decades of Risus players would likely disagree.
Enter The Risus Companion, which isn't free, but is worth every penny of its $10 asking price. I bound it with a copy of the core rules, just to have it all in one handy package.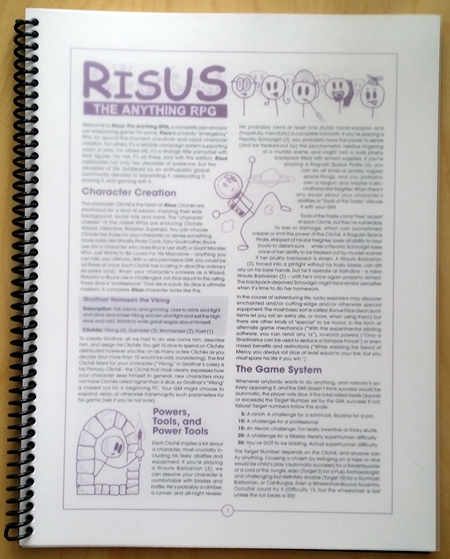 When I think about rulebooks, or new-to-me RPGs in general, one question I like to ask is, "Can Risus do this?" If Risus can do it, and do it as well as RPG X, do I really need RPG X?[2]
It might seem odd to have a 64-page companion to a four-page RPG; it certainly seemed odd to me at first. But it's a fantastic book. (The Companion also taught me that Risus is pronounced "REE-suss" (as in Latin for "laughter"), not "RYE-suss," which, years later, still hasn't corrected my internal pronunciation — I always think it as "RYE-suss."[3])
The Companion unpacks the Risus rules, delving into each of its components and highlighting all the different ways you can use them. One of my favorite examples is defining a character by the absence of relevant clichés, like Mrs. Butterbread, world-famous detective:
Kindly grandmother-to-everyone (4)
Bothersome fussbudget (3)
Small-breed dog enthusiast (3)
Risus encourages creative use of inappropriate clichés: If it doesn't fit the situation, but you can creatively justify it in play, you get better results. Mrs. Butterbread is herself a creative example of taking that notion to its logical conclusion, as she can only solve crimes through peculiar means.
The book is full of stuff like that. Couple excellent content with the fact that S. John Ross is one of the most concise, clear, and entertaining writers in the RPG industry, and both Risus and The Risus Companion are a joy.
It's a put-it-in-your-Go-Bag game, sure — but it can be a lot more than that. It stands on its two tiny, free, stick-figure feet, and the Companion unpacks the everloving shit out of how much potential is containing in its four short pages.
[1] Call of Cthulhu 7th Edition is really fucking long, no, it's REALLY fucking long, and DCC RPG in 18 pages.
[2] I also like to substitute Fate and ask the same question again.
[3] See also drow rhyming with "cow," which sounds way cooler than drow rhyming with "throw" . . . but "throw" is how my brain internalized it, and "throw" it shall ever be.
Tags: Fate, Risus, roleplaying games, RPGs, S. John Ross
Over on Against the Wicked City, Joseph Manola posted about colorful versions of classic D&D monsters — from the AD&D 1e Monster Manual.
Quick, picture an ogre. What color is it? Now check out its description from the MM:
The hide of ogres varies from dull blackish-brown to dead yellow. Rare specimens are a sickly violet in color. Their warty bumps are often of different color — or at least darker than their hides. Hair is blackish-blue to dull dark green. Eyes are purple with white pupils. Teeth are black or orange, as are talons.
Whoa! That's not what I picture in my head when I think "D&D ogre," but I love it.
And Joseph is right: There are lots of other monsters in the AD&D 1e MM that fall into this category — much more vividly hued that what's come to be the default D&D version. I'd never noticed that before.
Goblins is yeller
Joseph also quoted a few other descriptions, including the one for goblins — "yellow through dull orange to brick red," and yep, no green ones — that made me take a closer look at the back cover of the MM. And there they are — bright yellow goblins!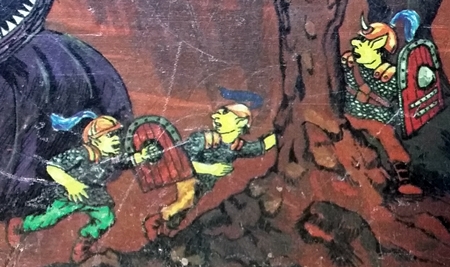 My copy isn't going to win any beauty contests, but the yellow still shows up clearly. I thought maybe I was misidentifying those little dudes as goblins, but check out the lovely Trampier goblin illustration from the goblin entry:
It's a perfect match, right down to the shape of the shield. Bright yellow goblins — awesome!
Where did the colorful ogre come from?
That made me wonder whether I'd just been missing, or perhaps glossing over, marvelously colorful ogres (and other humanoids) in other editions. Did colorful ogres start in OD&D?
Nope:
These large and fearsome monsters range from 7 to 10 feet in height, and due to their size will score 1 die +2 (3–8) points of hits when they hit. When encountered outside their lair they will carry from 100 to 600 Gold Pieces each.
That's the whole entry — no word on their appearance. But OD&D sometimes assumes you're also looking at Chainmail, so let's look there, too:
What are generally referred to as Trolls are more properly Ogres — intermediate creatures between men and Giants. They will fight in formations, and have a martial capability of six Heavy Foot.
Nope again. How about Holmes Basic?
These large and fearsome humanoid monsters range from 7 to 10 feet in height and are of various disgusting colors.
That's interesting — "various disgusting colors." I like that it's left vague, but it doesn't help pin down the origins of the violet ogre.
Okay, what about Moldvay Basic?
Ogres are huge fearsome human-like creatures, usually 8 to 10 feet tall.
They grew a foot, but they're back to having no reference to skin color. So where did the colorful ogre come from?
Noodling
OD&D is a short game, and light on details in many places. It wouldn't surprise me if Gygax and Arneson didn't both describing some creatures, like the ogre, with which they assumed folks would be familiar. Holmes and Moldvay both used OD&D as their baseline, so it makes sense that they'd leave ogres pretty much the same.
And then along comes the MM. It was written by Gary, so presumably the colorful ogre — and its brightly-hued friends — is a Gygaxian ogre, not an Arnesonian or Gygax/Arneson one. I've read a decent chunk of Appendix N, but I haven't bumped into any ogres that look like this so far.
I'd love to know the answer, but I've got nothing. Nothing but Joseph's original point, that is: There are some cool, wildly colorful humanoids in the AD&D MM.
I'd love to play in a game where those were the defaults — that'd be a pulpy setting with a healthy dose of zany, and I dig that.
Update
Michael Curtis has a theory about the origins of the colorful ogre, and gave me permission to share it here (including his photo). Thanks, Michael!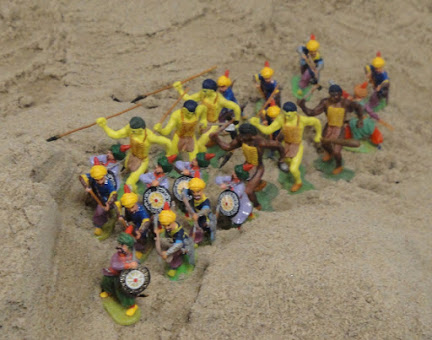 "When Gary and the guys were playing Chainmail with the Fantasy supplement, there wasn't much in the way of fantastical miniatures to use as monsters and humanoid troops. Chainmail itself suggests using 25mm and 15mm figures of normal medieval troops (then readily available) to portray dwarves, halflings, goblins, etc for example.
In those games, the players used larger scale miniatures to represent the bigger monsters. One such figure was an American Indian warrior with spear and breastplate. These figure were used as ogres. Their coloration: bright yellow.
The attached photo is from Gary Con IV where they replayed the "Battle of the Brown Hills" Chainmail fantasy scenario. The game used figures dating from the early 1970s, in some cases the actual miniatures owned by the Lake Geneva crew. Here you can see the yellow warriors (and one painted dark brown) facing off against human soldiers. Compare the pose of these "ogres" to the picture in the 1st edition Monster Manual.
I can't confirm this with 100% accuracy that this is how we got bright yellow ogres, but the pieces fit the theory."
Here's the ogre from the MM: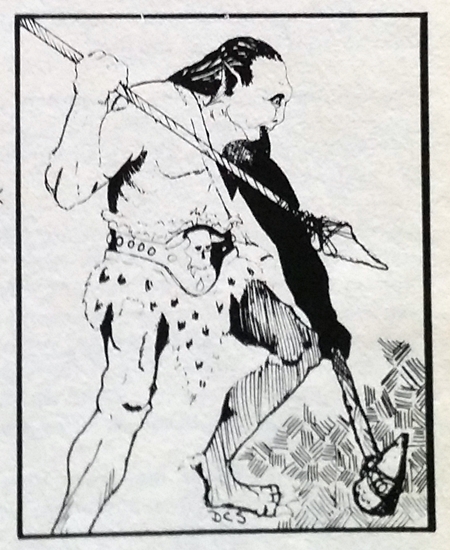 Seems like a solid theory to me!
Tags: AD&D, B/X D&D, Chainmail, D&D, Dungeons & Dragons, fantasy, Gary Gygax, Holmes D&D, Joseph Manola, Michael Curtis, Monster Manual, monsters, OD&D, roleplaying games, RPGs
Lately, when I read a new game (or assess one before buying it), I find myself asking this question: "How much of this do I need to run the game?"
I've still got Call of Cthulhu 7th Edition on the brain, and it's really fucking huge — particularly compared to earlier editions. But is it usefully huge, or annoyingly huge?
I prefer short rulebooks to longer ones. The shorter the better. But not all lengthy rulebooks are created equal. For example, I can condense the DCC RPG — nearly 500 pages — into just 18 pages of rules I need to actually run the game.[1]
16 pages of chase rules
A post Kelvin Green made yesterday, The Stars Are Right(ish), gave me pause: He mentions that there are 16 pages of rules for car and foot chases in 7th edition. Sixteen pages!
A portion of those 16 pages are devoted to providing examples, something 7th edition is splendid about. There's an example for everything. If a mechanic involves multiple steps, there's an example for each step, and then an overall example pulling things together. Sometimes that feels overdone, but it's hard to judge without playing the game.
Half a page is given over to examples of hazards in foot and car chases, things like "Cyclists in the road," in list format. That's a waste of space for me; a paragraph with an example or two would have done the job. But a first-time GM might enjoy it, and some folks might find the list format useful as opposed to wasteful.
But the simple fact that resolving a chase might make use of 16 pages of rules is a huge turn-off for me.
Bug or feature?
In that same vein, opinions will differ on whether a combat flowchart is a bug or a feature.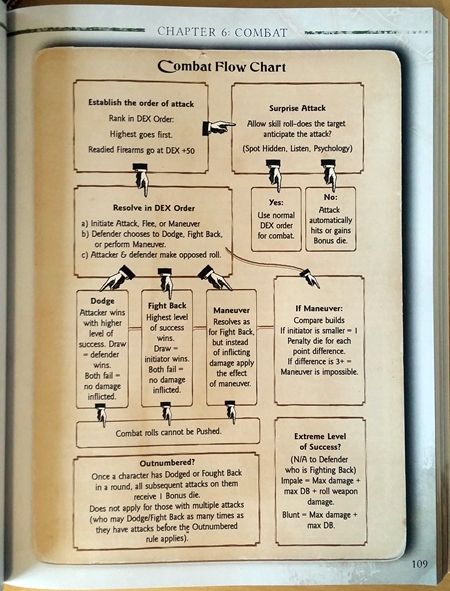 I almost closed the book and put it back on the shelf when I saw that. Seriously, a fucking flowchart!?
Maybe it's a newbie/veteran thing again, though. Like, combat's not all that complicated, but some people learn visually so let's have a flowchart? Maybe! I hope so. Bad first impressions don't always stick, as I saw over the course of two tremulus campaigns.
At this point, I'm still giving 7e the benefit of the doubt, but it's starting to feel like Stockholm syndrome.
Apples to apples
I wanted to see if I was just getting off on the wrong foot with 7e, so I ran a quick comparison: core rules in another edition vs. core rules in this one.
When I run CoC, I reach for 4th edition. 7th edition is split into two rulebooks, but the Keeper Rulebook contains the core rules. As it notes on the back cover, though, you do also need a copy of the Investigator Handbook, which isn't just a retreading of the same stuff minus the monsters and spells.[2]
Kelvin chalks up 130 pages of "actual game mechanics." If I were printing out pages from the PDF for a condensed edition in the vein of DCC, though, I'd do pp.82-99 (core mechanics) and pp.102-129 (combat). I don't need chase rules unless we're having one. I don't need sanity unless it comes up. Ditto magic, etc.
What I do need comes to 46 pages. How does that stack up to 4th Edition?
In 4th, I wouldn't print a damned thing, because in 4e those same rules — core mechanics and combat — fit into 8 pages, and that's being generous. It's really 7 pages, plus a paragraph on the 8th page. There's a stray page in the Sanity section I'd like, too, so let's call it 9 pages.
How about 4e vs. 6e?
Hang on a minute, though. 4th and 7th have two full editions in between, plus several ".X" editions. Maybe the Girthening of Cthulhu happened in 5th or 6th edition, and I've just forgotten about it?
I'd love to compare every edition, really, but all but a couple of my copies of the core rules are in storage. I do have a copy of 6th edition I can get to, though.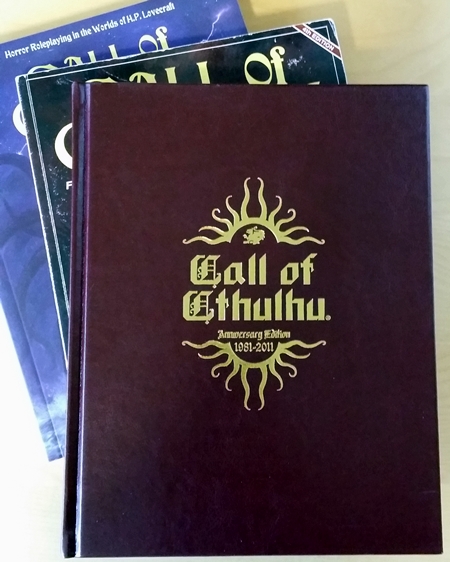 6e is 320 pages, compared to 4e's 192, so there's been an increase in page count. But I've never cracked open any 1st-6th edition CoC rulebook and thought, "Boy, they've added a bunch of rules!"
Usually, they've added stuff: a full Lovecraft tale, more monsters, resources that used to be part of the Companions, etc. This is a game famous for having many editions with no substantial mechanical changes in 30 years, after all.
The core rules in 6e take up 11 pages. 12 if I throw in a bonus page from the Sanity section (like I did with 4e). Blergh.
Comparing 7e to both 4e and 6e, the mechanical complexity hasn't changed dramatically. But it has changed. There's more to do, more special cases are spelled out, there are more examples, and in the end, there are more numbers on the character sheet.
Different, I was interested in; more, not so much.
Hmmmm
I won't know if a sixfold increase in pages devoted to core rules (7e vs. 4e), or even a fourfold increase (7e vs. 6e), is actually a problem in play until I play the game. But it does sap my interest in playing at all, as does the overall size of this two-book edition.
I love CoC, and I like what I've seen of the new rules — bonus dice are particularly clever, and pushing skill roles looks like a great addition. I'm not sure I'll keep poking at 7th edition, though.
[1] DCC is a special case for other reasons, too. Each spell takes up a full page, most of which is a chart; that's over a hundred pages right there, and you don't need all or even most of it at any given time. Art is another reason: squished together, there's about a hundred pages of artwork in the book. I still find it overlarge at the table, hence the condensed version.
[2] I'm largely taking that as an article of faith, although a skim of the Investigator Handbook suggests that there's nothing in there one absolutely needs to run the game.
Tags: Call of Cthulhu, Kelvin Green, roleplaying games, RPGs
Atomic Robo is awesome. You can read all of it through that link, as webcomic. (It's also available in TPBs. Written by Brian Clevinger, drawn by Scott Wegener, and colored by Ronda Pattison, Atomic Robo is an angst-free, punchy (and punch-filled), pulpy romp — a comic where "I punch it with SCIENCE!" makes perfect sense.
I love pulp, I love robots punching stuff — it's a mystery to me why I didn't check this out sooner. And seriously, that link? This isn't a bargain-basement, I-can't-draw-or-write-but-it's-free-so-why-not affair — Atomic Robo is polished, professional, and just happens to be free.
Beautiful and well-written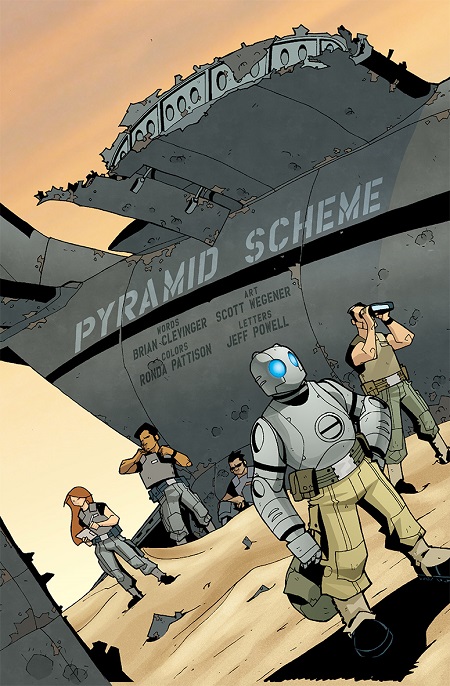 (From the story "Pyramid Scheme," which starts here)
I see a bit of Mike Mignola in Wegener's artwork, which is a good thing, and the artwork and coloring complements Clevinger's humor beautifully. I looked for a sample page that would sum up that humor and showcase some of the series' appeal, while also not spoiling anything, and settled on this one (from the first story):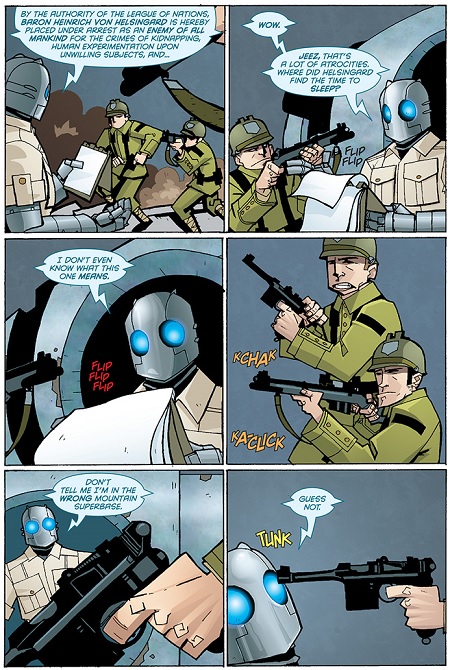 The rules the creators follow really come through, too. I mentioned #1, "No Angst," but I also love #5: "The Main Robot Punches A Different Robot (Or Maybe A Monster)." If that's not your jam, you know it right up front.
But Fate, there's more!
There's also a licensed RPG, powered by Fate Core and available in paperback or PDF. It's a standalone volume, including all of the Fate rules you need to play.
I read a few reviews, checked Amazon, and ordered a copy with same-day delivery so I could read it on a trip. It looks amazing, both on its own merits and as a take on Fate Core, and I can't wait to tuck into it.
Tags: Atomic Robo, Brian Clevinger, comics, Fate, Fate Core, roleplaying games, Ronda Pattison, RPGs, Scott Wegener, webcomics