I've juggled things around a bit since my initial #dungeon23 post. With less than 24 hours to go until my first room, it's time to lay the last bits of ground work for the Black Furnace.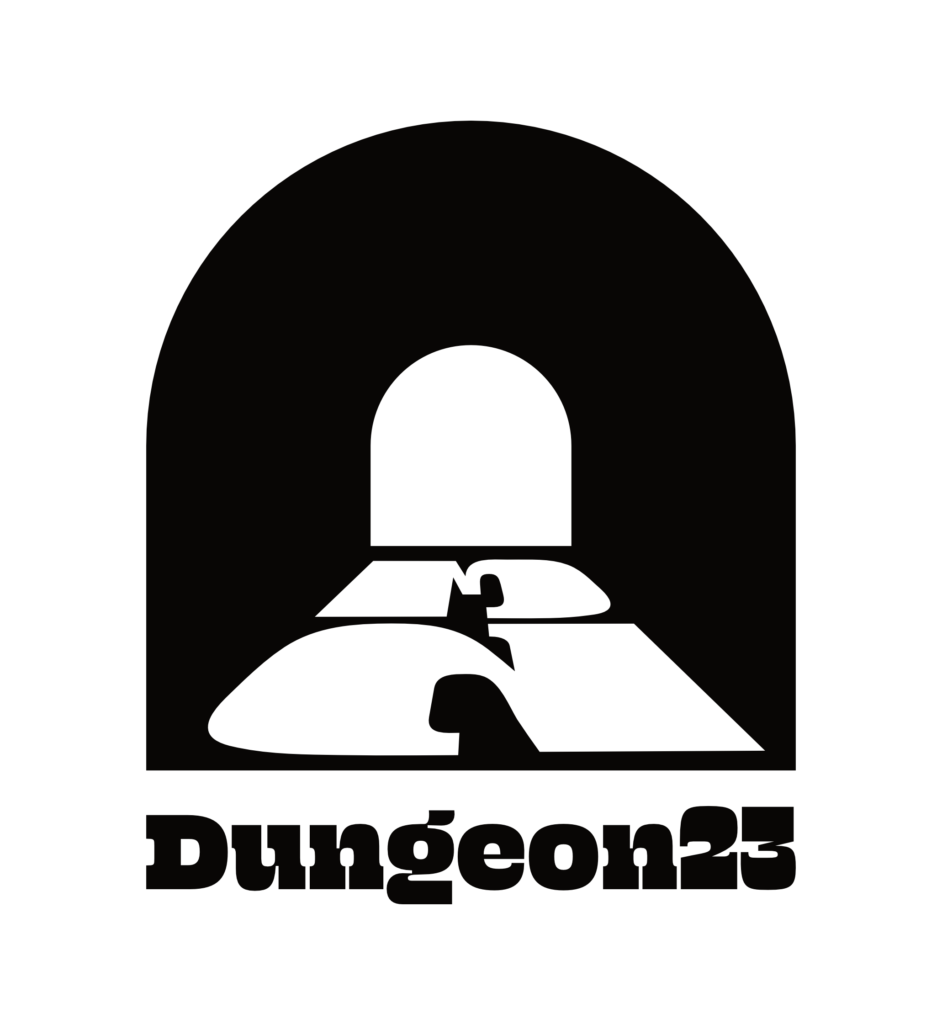 The thing I've changed up is mapping: I bought a graph paper notebook (4 squares/inch) and a Jujutsu Kaisen pencil mat, and I'm going to do some — or maybe all — of the mapping myself.
I still might use some of Dyson Logos' gorgeous maps later on, but for the entrances I need to blaze my own trail. I have an idea of what the dungeon looks like on the surface, and how many entrances it has, and I want a significant vertical element available early on; all of that points to mapping out the first level myself.
Origins of the Black Furnace
When I open the book for a published dungeon, there are few things I like to see less than pages and pages of backstory. That's usually enough for me to put it down and/or never run it.
But ya gotta have some backstory, or at least I do, to hang your hat on. I don't need a meticulous ecology that makes logical sense, but I want to know why the dungeon exists, or why the first bit of it was created, if that's more applicable; and I want to know its themes and key ingredients.
Here's what I already know about the Black Furnace, which appears as an adventure site in The Unlucky Isles [affiliate link]:
Rises from the earth during times of great strife
Sprawling subterranean maze
Realm of a long-forgotten god
Maw which releases ancient monstrosities into the world
Reappearance bodes ill for Brundir
That's the grist for my mill, and those are my touchstones to keep me reasonably focused. But I need to flesh that list out a bit before I write my first dungeon room/location or I'm going to wind up rambling in eight directions, none of them productive.
The larch
All it took to get my creative juices flowing was a few rolls on the Religions table in one of my favorite random-creation tools, the Tome of Adventure Design [affiliate link]. I rolled the name Her + ak + Mol and instantly knew I had the heart of the Black Furnace: the god who created it.
I put a bit of English on that name, started writing…and the rest of it flowed out of my half-formed notions, the notes I've taken over the past month, and the raw creative flow born from knowing this god's name.
Why does it exist?
In Godsbarrow's earliest days, the gods warred openly against one another. Their need for new and ever more powerful weapons was insatiable, so the deity Hürak Mol (they/them, pronounced "HOO-rak mawl") built a great kiln, and a furnace beneath it, and began forging, shaping, and birthing artifacts, monsters, and engines of war. This fell place was known as the Black Furnace.
With every creation, Hürak Mol gained power through the other gods' reliance on them. Where most gods grew strong because of the number of their mortal worshipers, Hürak Mol thrived on the needs of Dormiir's many gods.
Which meant that as the world stabilized, and the gods withdrew from the mortal realm, preferring to bask in their power or fight each other through proxies, Hürak Mol was no longer needed.
Their power diminished until Hürak Mol became little more than a small god, half-remembered and largely ignored by the other gods. Before they could fade away entirely, Hürak Mol infused the Black Furnace with their deific power and caused their great kiln and subterranean complex of forges, fires, and chimneys, as well as their servitors, raw materials, and small cult of devout worshipers, to sink beneath the earth.
The Black Furnace was not seen in Godsbarrow for many centuries. Hürak Mol was entirely forgotten by the people of Dormiir.
Where has it been?
The Cult of Mol the Timeless has survived within the tunnels of the Black Furnace for untold centuries. Generation upon generation of worshipers have tended the Black Furnace, banked its fires, and — most importantly — remained fervent in their devotion to Hürak Mol, ensuring that they do not fade away entirely.
Hürak Mol, for their part, slumbers in god-sleep in the depths of the Black Furnace, their ancient, war-filled dreams forming part of the Wraithsea.
The Black Furnace is a god-realm, not subject to the laws of physics nor entirely bound by notions of time or reality. It somehow sustains the life within it, and time passes much more slowly inside its tunnels — until it returns to Dormiir. Infused with Hürak Mol's power, the dungeon itself can sense when there might be enough strife in the world to return Hürak Mol to their former glory.
When this happens, the cult seeks to wake up Hürak Mol. Cultists work the forges and kilns, birthing monstrosities into the world and forging dark artifacts. They attempt to recruit new members. They spread a gospel of war and chaos — the fertile ground Hürak Mol needs to awaken from torpor.
It has appeared in different places throughout Godsbarrow's history, and done so often enough to become the subject of legends throughout the world. Thus far, the Black Furnace has always remained in Godsbarrow for a time and then, responding to the ancient dictates of its creation, sunk back beneath the earth to await the next moment when Hürak Mol's return might be realized.
Fuck yeah
That's what I needed to feel confident heading into day one of #dungeon23!
I've got some evocative, partially-formed notions of what the Black Furnace looks like (or parts of it, at least). I've got reasons for just about anything to be part of it, as it has been accessible to the denizens of Dormiir many times over many centuries. Hell, there's room for gonzo science-fantasy stuff, too.
I have at least one faction in mind, the cult, and it's likely to be a fractious one. (Who could possibly agree on how to stay devoted to a sleeping god for untold centuries without becoming divided over the specifics?) It's accessible via the Wraithsea, which is a whole other avenue of ingress and egress (sort of). That means the Arkestran Dominion likely has a presence here, or has at some point.
It also has agency, because the second it appears — which it already has — the weirdoes who live there starting making fucked-up monsters and shit, fanning out across the countryside, and spreading the gospel of Hürak Mol. Hell, they want people to find the dungeon; they'll tempt anyone they think could be useful with promises of unimaginable power (and be telling the truth about it, although the trade-off isn't going to appeal to everyone).
The dungeon and its core inhabitants have a direct connection to the PCs' actions, too: Wiping out the cult would kill Hürak Mol. Aiding the cult would wake up Hürak Mol. If they survive long enough to reach the lowest levels, the PCs will encounter a god. The longer the dungeon stays in Godsbarrow, the more messed-up shit is going to leak into Brundir.
I love it when a dungeon has potentially world-shaking implications, yet can be accessible to 1st level D&D characters. That's what I wanted out of the Black Furnace when I came up with it, and having jotted all this stuff down I like how it's coming together.
I'm stoked to explore the Black Furnace this year and see what comes of it!
Out now: The Unlucky IslesThe Unlucky Isles
[
affiliate link
], the first system-neutral guidebook for my Godsbarrow fantasy campaign setting, is now on DriveThruRPG.