I spent a good chunk of today installing, configuring, and populating YoreWiki.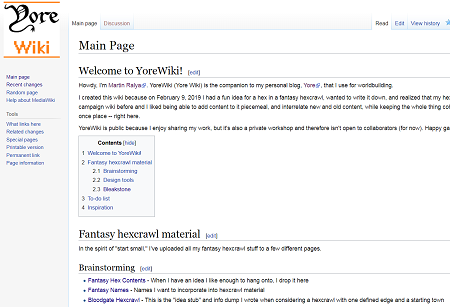 For now, YoreWiki is my info dumping ground for Bleakstone and other fantasy hexcrawl material. I realized that my false starts and brainstorming files and "master" documents were scattered across multiple folders and Yore draft posts, which made it impossible to find anything and exerted a measure of anti-creativity inertia that I found troubling.
My hope is that YoreWiki will give me an outlet to organize, interrelate, and add to my content for Bleakstone — ideally without feeling like work.
It's already given me a chance to unearth, organize (in some cases!), and share a ton of stuff I've already created that was just gathering virtual dust and of no use to anyone — myself included. Now those ideas have a home.
Out now: The Unlucky IslesThe Unlucky Isles
[
affiliate link
], the first system-neutral guidebook for my Godsbarrow fantasy campaign setting, is now on DriveThruRPG.