Legendary Realms makes a host of prepainted terrain and scenery, including some dungeon dressing that I thought would be a perfect fit for my take on Frostgrave (paid link). Noble Knight had a bunch of it in stock (as opposed to waiting for LR to make it to order), so I ordered some.
I picked up some lizard god statues, knight statues, crypt skeletons, crypt skeletons on thrones, and wooden chests. Here they are all together (larger version):
Piece by piece
The lizard gods are the best value in terms of size — Noble Knight had them for under $3 a pop. They add a much-needed dash of weird to my Frostgrave (larger version):

The knights are a decent size, too, but the sculpt is kind of crappy. Still, they do look appropriately aged/ruined for Frostgrave (larger version):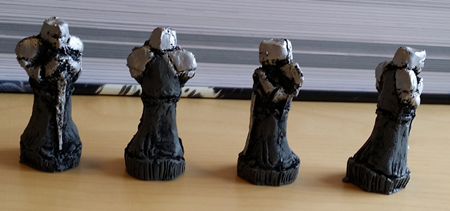 I love the crypt skeletons. Their little eye sockets are red (gems, maybe?), and although one of mine is missing its head, that totally works in this setting. Frostgrave was a city that used necromancy in daily life, so having skeletons in its ruins makes sense to me (larger version):

They also do a seated variety, which feels very sword and sorcery to me — also a part of my Frostgrave (larger version):
Lastly, I snagged enough treasure chests for four players (larger version):
Overall
I don't love the knight statues, and the enthroned skeletons are a bit small for the price (though as dungeon dressing for a setup with walls and so forth, they're a good size), but the lizard gods, crypt skeletons, and treasure chests are solid.
On the whole, I'm happy with my Legendary Realms stuff. Being made of resin, they're reasonably tough. The paint jobs are serviceable, and they fit well into a city that's been in ruins for a thousand years.
In fact, I wound up placing a second order for some more bits and bobs to round things out — dead trees, graves, skull piles, some rubble, and one or two other things.
Out now: The Unlucky IslesThe Unlucky Isles
[
affiliate link
], the first system-neutral guidebook for my Godsbarrow fantasy campaign setting, is now on DriveThruRPG.