I'm far enough along with my first Fire Team for Hive Fleet Balaur to need to take stock of my paint library, so it's time for a color guide!

As always, this guide is drawn from a mix of GW material (White Dwarf #463 and a Warhammer TV video for the Leviathan scheme, Warhammer TV again for their classic Warriors video), YouTube tutorials (Doctor Faust and CatgutPainting for the mottling), and my own spin on things. Washes/shades are generally in italics, and my notation is base > shade > layer > layer for Citadel's Parade Ready approach.
Bases
Terrain: Stirland Mud > Reikland Fleshshade > Astorath Red drybrush
Rocks: Mechanicus Standard Grey > Agrax Earthshade > Celestra Grey drybrush
Skulls: Corax White > Agrax Earthshade > Corax White drybrush
Horns: Zandri Dust > Seraphim Sepia > Ushabti Bone drybrush
Base rim: Doombull Brown
Tufts: Army Painter Wasteland Tufts
Models
My Tyranid Kill Team only has two units as of this writing, Genestealers and Tyranid Warriors, and Tyranids tend to be pretty similar faction-wide, so this is pretty much my guide for all Hive Fleet Balaur Tyranids. Balaur is a splinter fleet of Leviathan, so the studio scheme for Leviathan was my starting point.
Paint steps vary slightly from my usual approach because the full-body drybrush is messy, so it has to come before most of the other steps: Prime and base coat with Wraithbone spray, shade the skin, drybrush the skin, deepen the wash in the vents/joints, apply the texture paint to the base, and then do everything else.
Body/skin: Wraithbone spray > shade with 1:4 Carroburg Crimson:Lahmian Medium all over > Screaming Skull drybrush > Carroburg Crimson wash in the vents/joints > Pallid Wych Flesh drybrush > Pallid Wych Flesh on high points
Carapace: Naggaroth Night > Druchii Violet > Xereus Purple edge highlights > Genestealer Purple edge/point highlights > Genestealer Purple mottling (larger dots), size of model permitting > Fulgrim Pink mottling (smaller dots)

Mottling: Apply dots of thinned paint with dotting tools, in varying sizes

Claws: Incubi Darkness > Nuln Oil > Warpstone Glow > Sybarite Green on tips/edges
Weapons larger than claws: Incubi Darkness > Nuln Oil > Warpstone Glow glaze > Warpstone Glow edge and tip highlighting (as if the glaze weren't there) > Sybarite Green on tips/edges

Glazing: 1:6 Warpstone Glow:Lahmian Medium, 7-8 layers, starting with almost the entire weapon and covering a bit less area every time, working from the base towards the tip; the end should be pretty close to pure Warpstone Glow, but not quite as bright

Fleshy bits and tongues: Bugman's Glow > Reikland Fleshshade > Kislev Flesh
Teeth: Screaming Skull > Agrax Earthshade > Screaming Skull
Eyes: Averland Sunset > Casandora Yellow > Flash Gitz Yellow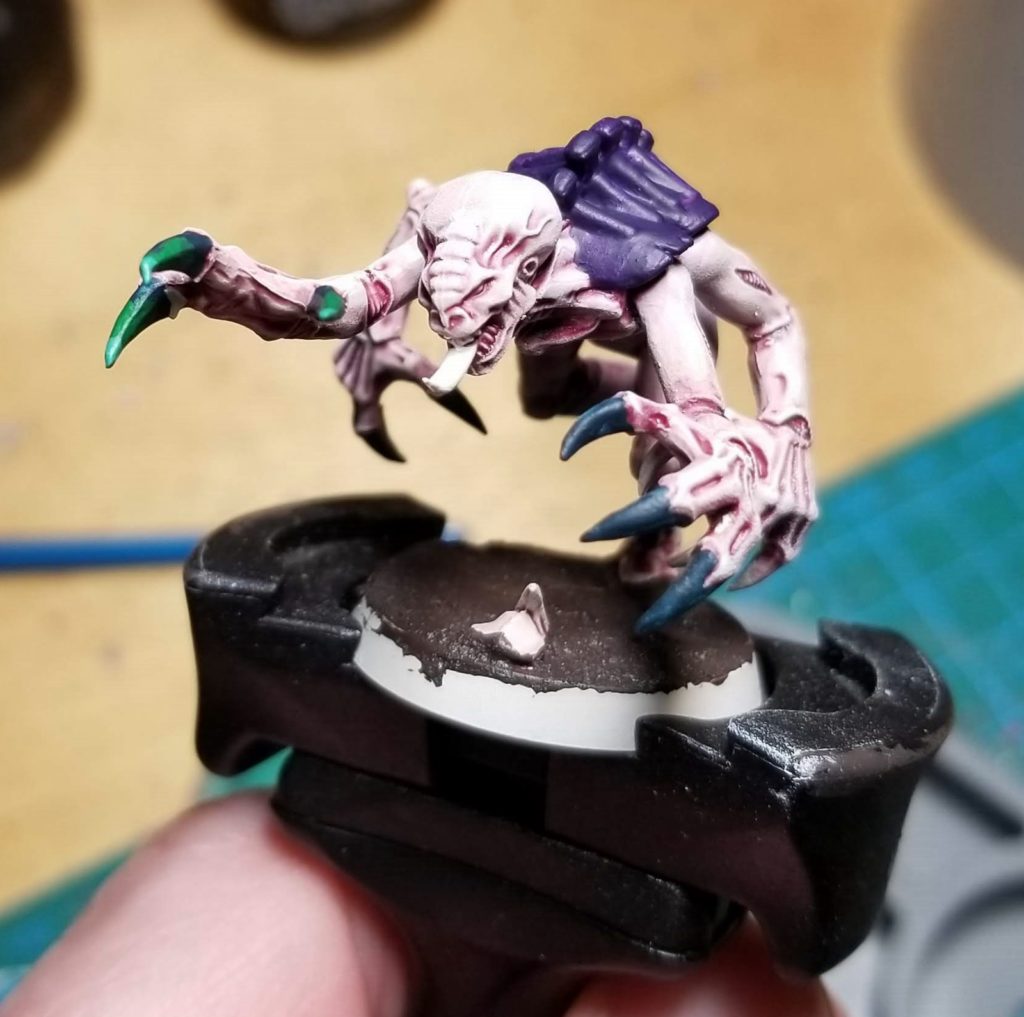 Notes
I'm still pretty new to using Lahmian Medium, and my first attempt for the main body/flesh wash — 1:3 Screamer Pink:Lahmian Medium, my best guess at the ratio used in White Dwarf #463 — went on more like a base coat than a wash. So I switched to using my shade brush, Carroburg Crimson, and a 1:4 ratio, and that went much more smoothly.
Out now: The Unlucky IslesThe Unlucky Isles
[
affiliate link
], the first system-neutral guidebook for my Godsbarrow fantasy campaign setting, is now on DriveThruRPG.