Priming minis used to stress me out because spray primer is so finicky, and I've ruined minis using it wrong. I've switched to brush-on primer (Vallejo white primer, paid link) . . . and apparently it still stresses me out. I think it's because it feels too easy to mess up, and unlike a painting mistake it's not trivial to fix.
Time to learn how to brush on primer!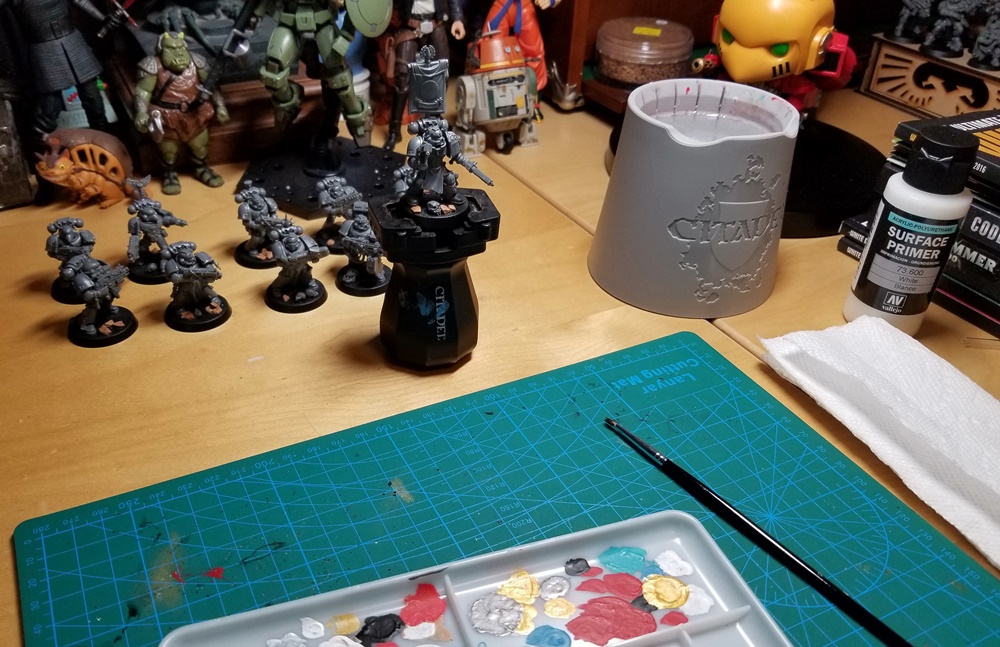 After a couple of minis, I'd figured out a few things. One, this stuff dries faster than varnish. With the varnish, I can quickly do the whole miniature and then backtrack to pop bubbles, eliminate puddles, etc. With the primer, the top half of the mini is dry before I've finished the bottom half. So I learned to tackle a section, backtrack, and then tackle the next section.
Two, it's less forgiving than the other two new approaches I've used since I got back into miniatures: brushing on wash/shade and varnish. This Vallejo primer is quite good about "self-correcting" — many bubbles will pop on their own, it settles into cracks a bit as it dries, and a thin coat works nicely. But if I dab it on too thick in, say, the vents on a Space Marine backpack and don't notice it right away, I can't fix it; with shade and varnish, it's fixable for some time.
Three, I primed my first couple like they owed me money and I was going to beat it out of them with my brush. As a result, I over-primed them a bit. Once I figured out to put less on the brush and apply it with a lighter touch, the whole process went more smoothly.
As ever, I started with Sergeant Karios — the first mini in my Blood Angels army that I built, and the first for every stage of the process. Even if I mess him up, I like that he'll always be special because he was the test pilot.
By my last, things were looking better: a lighter, smoother coat; many fewer bubbles and puddles; and less like an explosion in a cake frosting factory.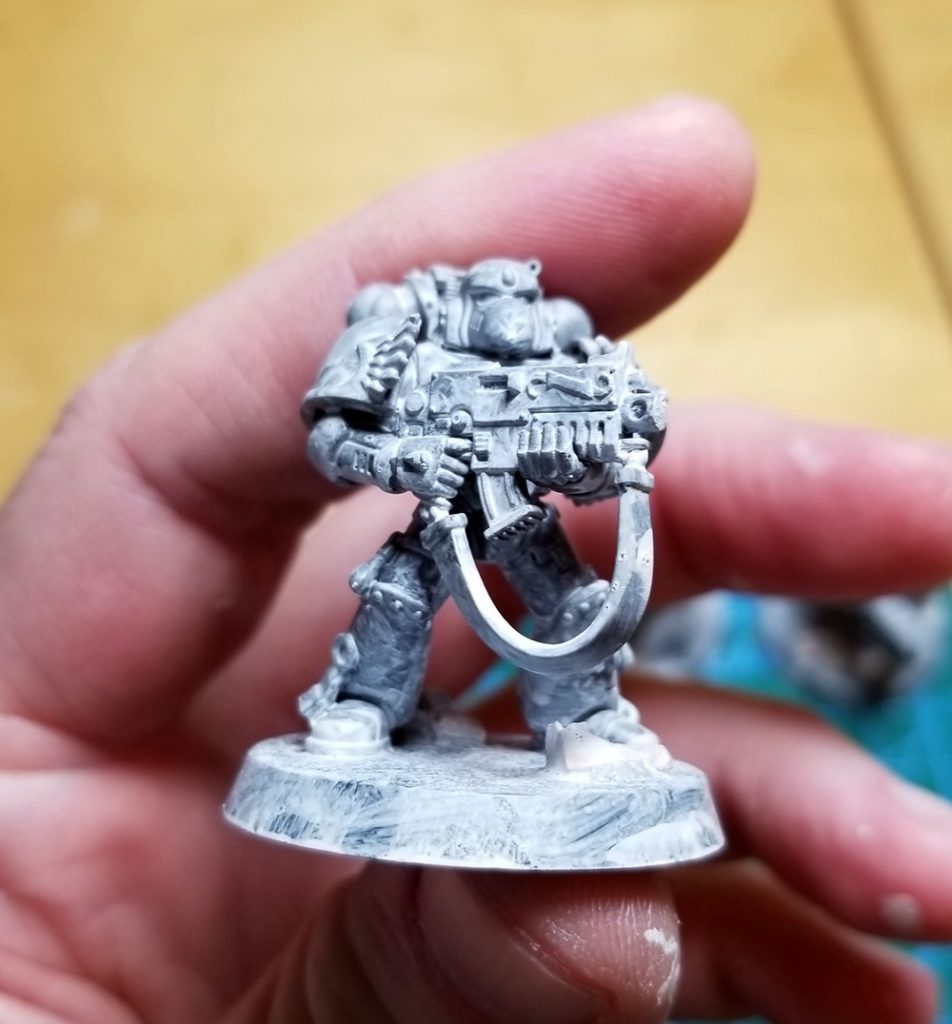 The saving grace here — I hope — is that I just finished painting a dozen Terminators that I'd 1) over-primed, 2) with spray primer, making them fuzzy, and 3) bounced around in a Plano box for six years after priming them, and they turned out okay. I can see some bubbles and pooling on my Blood Angels (note to self: Space Marine pauldron edges like to collect primer), but they look better than those Termies did.
Fingers crossed for the painting stage! I'll be starting with the bases, and I have to say that putting together this post, and seeing Squad Karios up close in photos, makes me more optimistic than I was as I primed them.
Digging Yore? Check out my book!The Unlucky Isles
[
affiliate link
], the first system-neutral guidebook for my Godsbarrow fantasy campaign setting, is available in print and PDF.