I had the day off on Friday, so I finished touch-ups on Relentless. So far my experience with vehicles — this one and my Dreadnought, so still quite limited — is that they look simple but feel like they take forever.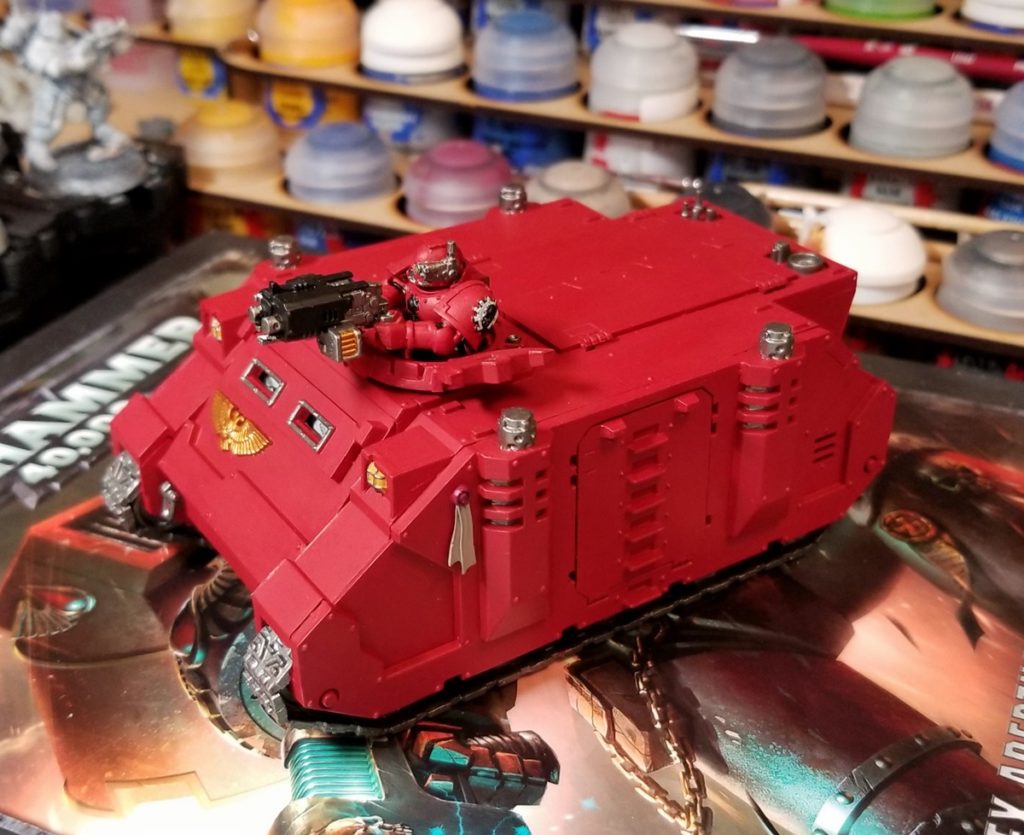 Unlike a Space Marine, I can't just shade a Rhino in one go. There's nothing to hold onto, the washes run, and everything is sticky for a little while. So stages it is!
Honestly there's no real reason to shade the bottom — or even paint most of it, for that matter. But I knew it would feel incomplete to me if I didn't do the bottom.
After an hour, the bottom was dry enough to serve as my "handle" to wash the sides.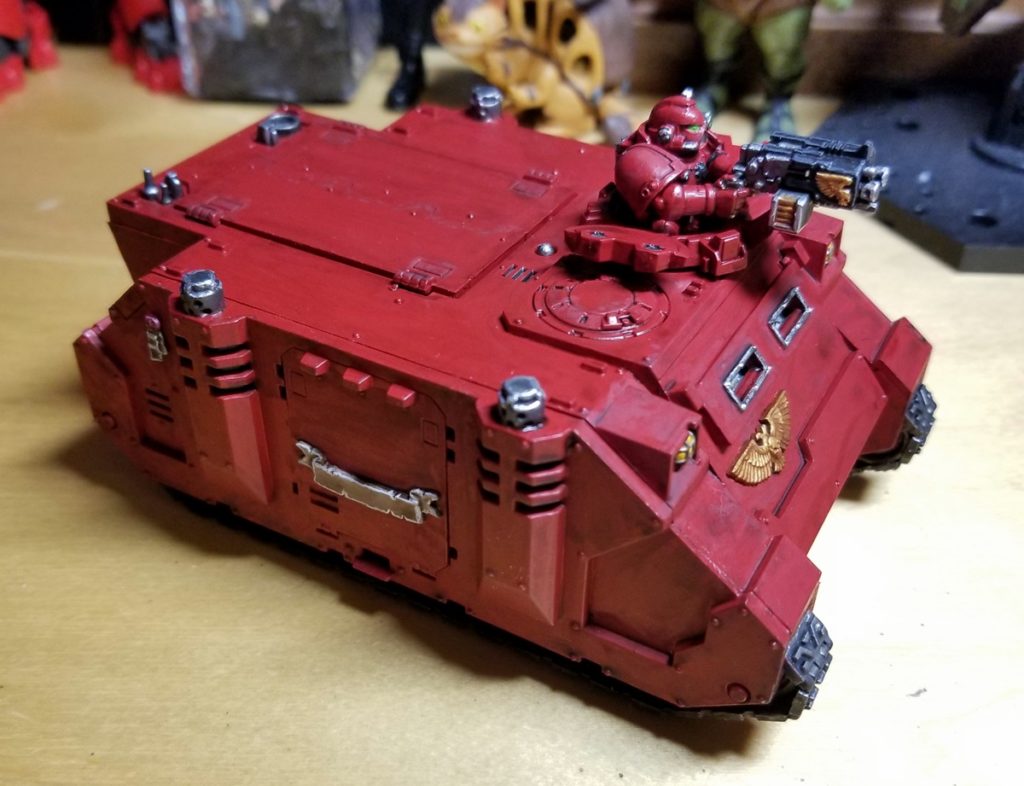 My stopping point on Friday night was with all the first-order layers done except for the biggie, red. That looked like an easy 1-2 hours of work, and what came next was stressing me out a bit: Do I just proceed through all of my usual highlights, like I would on a Space Marine, or do I attempt "scraped down to the bare metal" sponge-weathering on the corners and other high-use areas of the tank body?
So on Saturday I broke out my test mini, tore off a couple bits of foam from a miniature case (the extras), and tried this on my designated test mini.
I don't think that makes enough of a difference to be worth the risk, so I'm going to file "first use of weathering" under techniques I'll try down the road.
Such is the power of edge highlighting that even though I'm not very good at at, the model still looks better with it than without it. Just contrast the highlighted side with the top; the difference is striking.
I wrapped up Saturday night with just the name scroll, decals, and varnish to go.
Come Sunday morning, I had the decals done and moved on to the name scroll. Nothing inspires awe in your foes like the name [Relentless____]. Yeah. So, back to the Rakarth Flesh and the Agrax Earthshade and then another try.
I'll save the final photos for a separate post, after the varnish dries. This tank was a ton more work than I expected, but I figure I'll get faster at it the more vehicles I paint.
Rhino color guide
All the colors are the same as any of my other Blood Angels, but there are a few little notes to add (shades are in italics, as always):
Headlights: Averland Sunset > Agrax Earthshade > Yriel Yellow
Lenses: Moot Green or Caledor Sky > Agrax Earthshade > Moot Green or Lothern Blue
Cog Mechanicum: Abaddon Black/Corax White > Agrax Earthshade > White Scar
As I was trying to remember which color I used to brighten up the white on the cog, I realized I'd done them the opposite of the one on Narses, my Librarian Dreadnought. His scheme came off GW's page, the studio scheme (skull's left side white), while this guy's came off a web reference (skull's left side black). Poking around, I see that the studio scheme shown in the GW store varies at least some of the time — the Skitarii Ranger 360 model, for example, has the same pattern as my Rhino's gunner.
Ah well! It's not the only mistake I made, and it won't be the last. I'm still pretty happy with Relentless.
Digging Yore? Check out my book!The Unlucky Isles
[
affiliate link
], the first system-neutral guidebook for my Godsbarrow fantasy campaign setting, is available in print and PDF.