They don't always turn out how I'd hoped, but no matter what I always enjoy working on bases. This whole scenic base thing is still pretty new to me, and I learn something every time I work on one. Yesterday saw Squad Ultio hit the texture paint stage, which ties the whole thing together — sometimes just right, sometimes a bit off the mark.
The only one that didn't quite work out is the top left Termie, whose base is bisected by a cool bit of blue Imperial scrap . . . which is so flat that it's almost entirely obscured by the texture paint, and so dark in color that it becomes even more invisible. The rest turned out how I imagined them; tufts will really seal the deal — sometimes they look off until that stage.
The philosophy of miniature painting
Which, as it turns out, is one of the things I find most fascinating about painting miniatures: You have to believe in the potential of a thing that won't be realized until several steps — and several hours — down the road. Base terrain looks weird until it's washed; that's one step. But the scrap looks weird until it's surrounded by terrain and accented with tufts — and that stuff doesn't fully come to fruition until the entire model is complete.
I'm not always a confident painter, so I like that the process itself forces me to believe in the groundwork I'm laying — to see the vision of a completed figure I'm happy with during the stages where it doesn't look great. I find the philosophical side of this hobby as interesting as the actual painting in its own way — like finding joy in painting for the sake of painting, or knowing my own limitations while simultaneously trying to surpass them.
It's a rich and varied hobby, and I'm really digging it so far.
Also, Narses now has a base coat on his legs.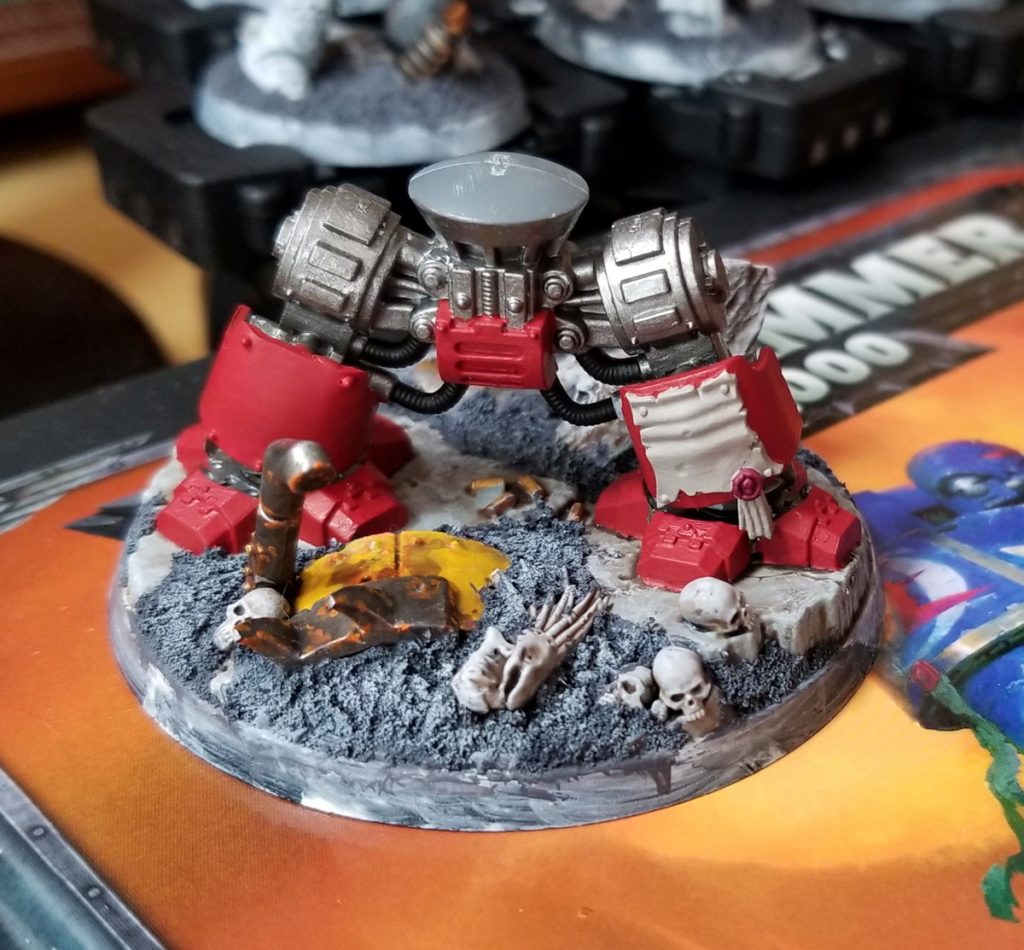 I'm back to being a bit intimidated by Narses. I'm not sure why! First Dreadnought? First HQ? Largest model I've painted in over 30 years? Those all make sense, more or less — but I wasn't intimidated last week. I don't know what's changed.
Digging Yore? Check out my book!The Unlucky Isles
[
affiliate link
], the first system-neutral guidebook for my Godsbarrow fantasy campaign setting, is available in print and PDF.