Narses finally has his base coat done! I assembled him on March 19, started his base on April 9, finished his base somewhere around April 12, and started painting his body in earnest on the 15th. It's not that long, but it feels like a long time.
That's probably partly down to having completely finished him from the waist down before starting in on the rest of him. Painting him that way, while it made sense, has given the process an odd rhythm.
It's rad to see him with his arms on!
I've still got a few smaller elements in need of their base coat — blood drops, lenses, etc. — but they're so tiny that I'll just roll them in with the touch-up step. And there are plenty of touch-ups to do!
I even took a pass at the Cog Mechanicum, although it clearly needs some work. And this photo make it pretty easy to see the spot where I broke part of his power plant while assembling him, yikes (top right, silver).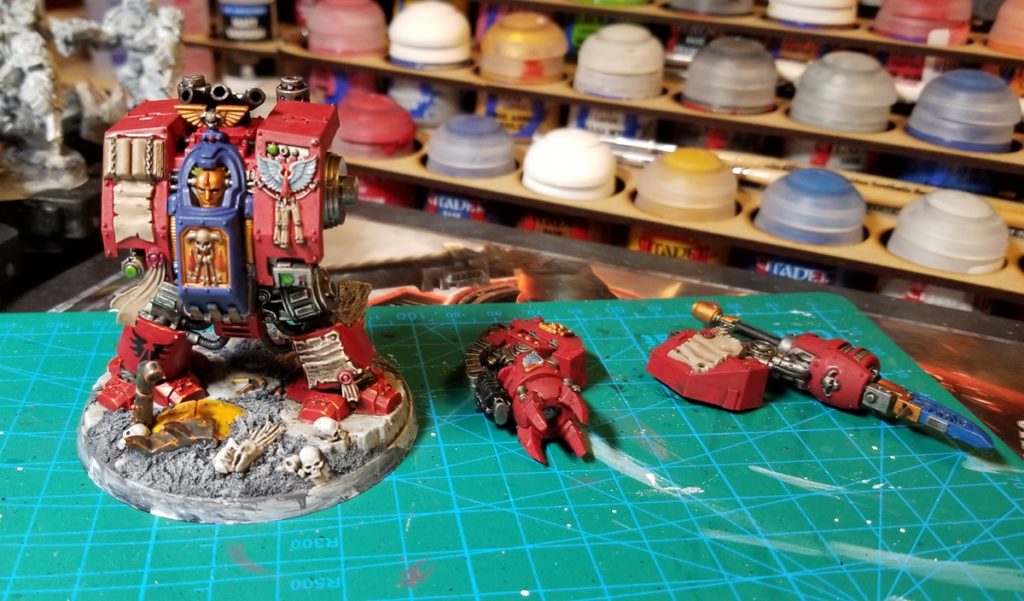 I stayed up too late doing it, but before bed I got Narses fully touched up and shaded.
I can now do everything but the final layer/highlight on his sarcophagus (Calgar Blue) and the two layers on his Force Halberd (Temple Guard Blue > Baharroth Blue), including varnishing his right arm once those highlights are in place. I think it makes sense to do as much as possible before I have to push pause, so I'm planning to do all of his other highlights and just leave those few blues for whenever my paints arrive.
In the meantime, Squad Ultio beckons!
Out now: The Unlucky IslesThe Unlucky Isles
[
affiliate link
], the first system-neutral guidebook for my Godsbarrow fantasy campaign setting, is now on DriveThruRPG.