This method for quickly mapping fantasy kingdoms over on Coins & Scrolls is really neat.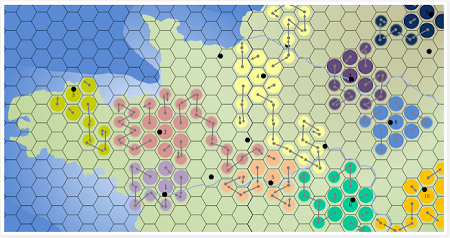 Start with a blank map, just coastlines. Add dots for major settlements, and color the hexes around them to identify the "core regions" of different counties/duchies. Then roll dice to expand those counties, determine undeveloped regions, and create enclaves.
The end result looks dandy, but — perhaps more importantly — this mapping methods looks like a lot of fun and seems like it would produce a gameable map.
Digging Yore? Check out my book!The Unlucky Isles
[
affiliate link
], the first system-neutral guidebook for my Godsbarrow fantasy campaign setting, is available in print and PDF.