Two of the three blue paint pots I need to finish Narses came in the mail yesterday, so I tackled 99% of his highlights last night. He's so close to completion at this point — but "so close" also equals 18 colors of highlights.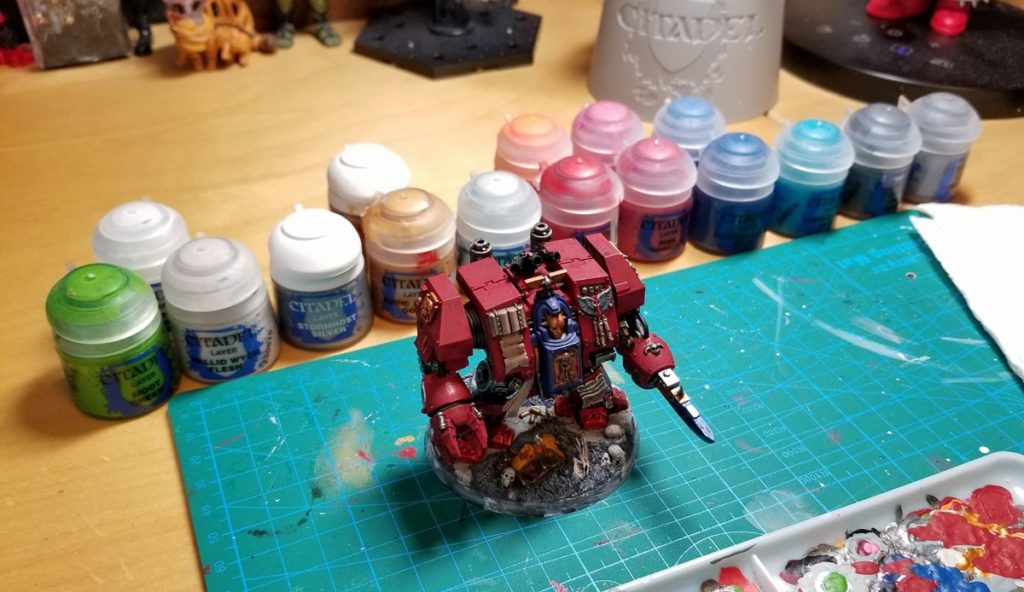 Two hours of layers and highlights later, and he's nearly good to go!
Up close like this the final orange highlights on his armor (Fire Dragon Bright) read as Way Too Much, but at tabletop distance it looks more natural.
My Cog Mechanicum turned out okay, too!
Meanwhile, I've got Squad Ultio on the painting handles, fully based and ready to rock — and as part of the RPGGeek April 2020 Painting Challenge I'm trying to get the whole squad (and Narses) finished in April. That challenge was a tremendous motivator in March, and it's been a great motivator in April, too. A miniature every two days (on average) would get me to a parade-ready 2,000-point Blood Angels army by mid-July, allowing a bit of slush time for the larger vehicles.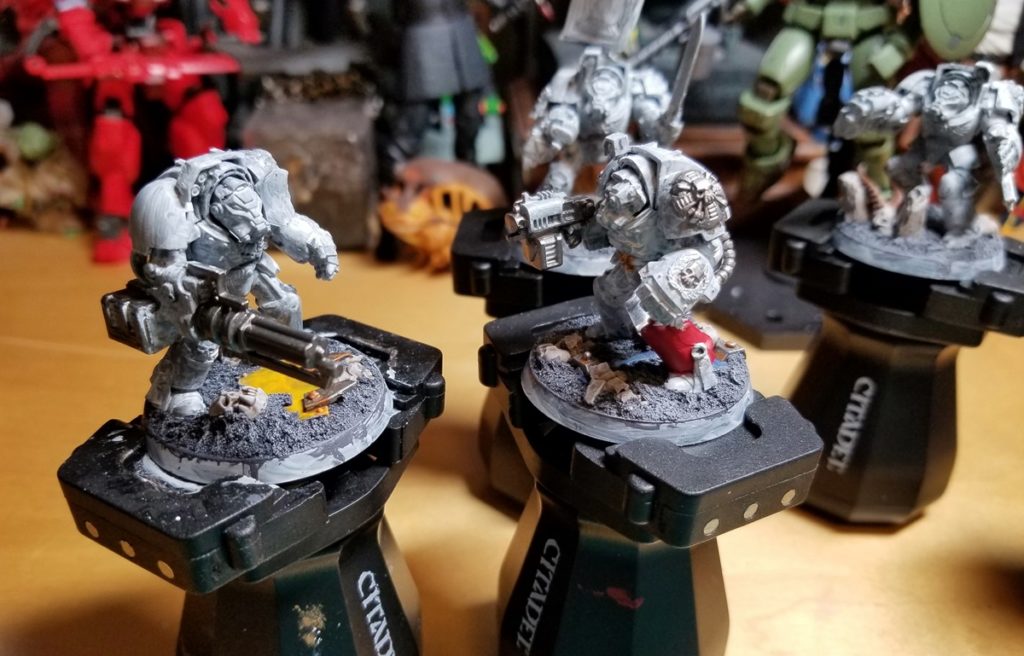 And I built my first Rhino, the designated transport for Squad Karios, so that I can paint it in May.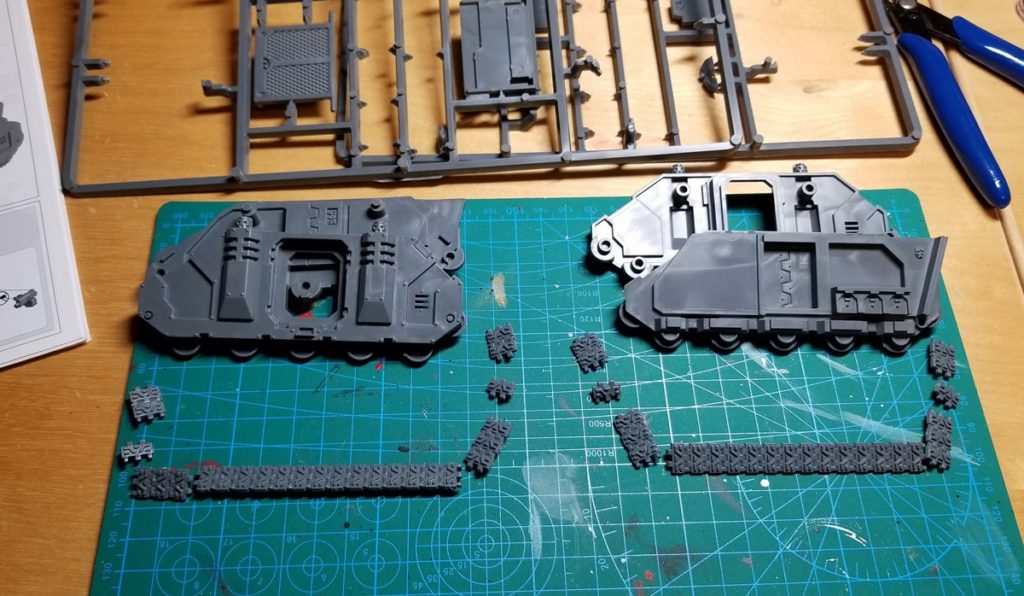 I made so many mistakes while building this kit: forgot to add the ramp before gluing the sides, glued the top doors on upside down, and glued one hatch to the wrong mount. All fixed before they became permanent, but it was a bit of a comedy of errors.
I'd planned to paint the interior, and assumed that leaving the top off would give me enough room to work. But that's not the case: There's no way I can credibly paint, say, the Bolter under the console given how little room there is inside this puppy. Plus my ramp wouldn't stay fully closed, and I couldn't figure out why; combine those factors and I decided to just glue this one up and plan ahead for painting the interior of a future Rhino or Razorback. (Which I'd do by priming and fully painting every interior piece before gluing them together.)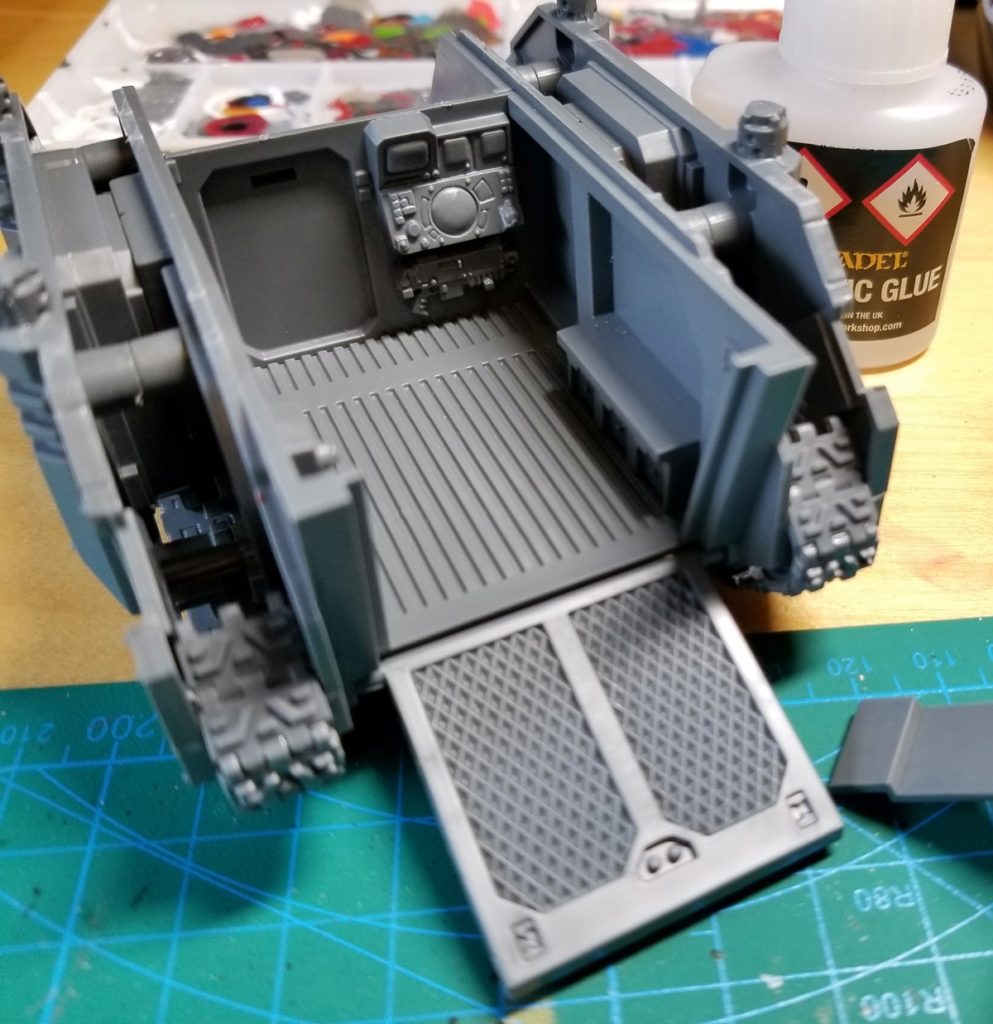 All told, this is a really neat kit. I got a good deal on an older Rhino box which, despite including instructions for a Razorback, lacked the sprue with the Razorback turret weapons — and the cool little cargo and tow ropes and stuff. I think it was from back when GW was producing them as separate kits, whereas now a Razorback kit will include everything you need to go either route.
And here she is: Relentless, ready to crush heresy in the Emperor's name. Or more accurately, ready to transport Squad Karios for said heresy-crushing — while providing a little dakka along the way,
I went with the gunner because 1) he's awesome and 2) who knows if my next Rhino will take the Storm Bolter option (although for 2 points, it seems likely). This should be a fun one to paint — especially now that I have some larger brushes to speed up the bigger panels.
I think I'm going to have to actually write "Relentless" on the name scroll, too, rather than just scribbling on it like I do with most scrolls. I wonder if Gundam panel-lining markers will work?
Digging Yore? Check out my book!The Unlucky Isles
[
affiliate link
], the first system-neutral guidebook for my Godsbarrow fantasy campaign setting, is available in print and PDF.