By pure coincidence, this is my 300th post on Yore! I didn't plan this one as number 300; I noticed I was getting close and then forgot about it, but as it turns out this grab-bag post of what's on my mind right now (miniatures!) is pretty emblematic of my approach to blogging here. I hope you're enjoying Yore, which also turned 10 years old this year — thank you for reading!
I kicked today's hobby session off by adding rocks and skulls to the bases of Squad Dolos and Squad Cain, my Primaris Infiltrators and Space Marine Scouts, respectively.
I envisioned Squad Karios as slogging through the shit, fighting their way through the graveyards of Armageddon — but these two squads are sneaky boys. They're not charging up the center, Bolters howling; they're infiltrating, skulking, lurking, sniping from outcroppings.
So whereas Squad Karios got lots of rocks and skulls, I focused on rocks for Dolos (since a lot of the Infiltrators' feet include them), picturing them up in high places; and on sparse use of both for the Scouts, with their tiny bases. Both will get extra tufts in the final stage, so they look quite bare now.
Narses
I've been itching to build my two Dreadnoughts — one Librarian, one Furioso — but also a bit intimidated by them. I've never built a larger miniature before, and I love these units so much that I really want to get them right.
Dreadnoughts are one of my favorite things in 40k: a life-support sarcophagus, in which is entombed the still-living remains of a Space Marine who was mortally wounded on the battlefield centuries ago, mounted at the heart of a walking tank — a machine of eternal war. How fucking rad — and metal! — is that?
One of the reasons I picked the Blood Angels is because they have three special ones, all of which come out of the same kit (you pick when you build it): the Blood Angels Furioso Dreadnought (paid link). I started with Narses, my Librarian — named after the 6th Century Roman general, a deeply religious eunuch whose martial successes came late in life, and an unlikely leader; that sounded like a perfect fit to me.
After building his torso and the legs, I decided I'm going to paint Narses in pieces. I'll sticky-tack the foot divots, waist joints, and maybe arm joints; prime and paint them all separately; and then peel off the sticky tack so I can get a clean plastic/plastic join for the final gluing stage.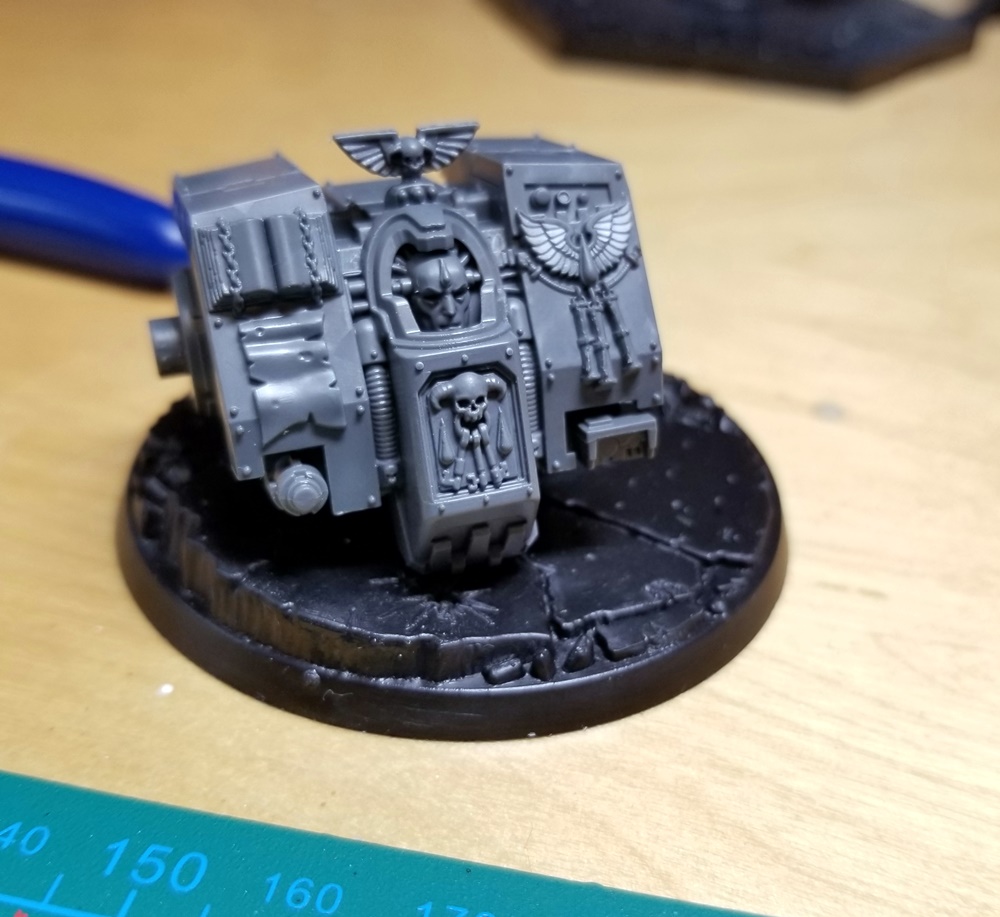 Names
One of the little joys of building a 40k army is naming units. I'm starting with just the sergeants and characters, but may eventually branch out to naming more of the models as well. Karios was a son of Zeus, Dolos is a Greek spirit of trickery and guile, and Cain can mean "possessed" and "spear" (plus the whole Christian mythology around the first murder).
Narses is coming along nicely, but I'm out of hobby time for today — his arms and power plant will have to wait.
Out now: The Unlucky IslesThe Unlucky Isles
[
affiliate link
], the first system-neutral guidebook for my Godsbarrow fantasy campaign setting, is now on DriveThruRPG.