I've been using a Timbuk2 Rogue (paid link) backpack as my dedicated gaming bag for the past year or so, and as my needs have changed it's been less and less ideal.[1] I asked for recommendations on G+ and got some great ones, but it was Jerome Comeau's suggestion I kept coming back to: Tom Bihn.
After entirely too much research, reading forum posts and reviews, and narrowing things down, I decided that to go from 95% sure to 100% sure, I'd need to see a couple different bags in person. Tom Bihn is local, so I visited their showroom-warehouse-workshop, which was awesome. They're super-friendly, and they're bag geeks too: I asked if it was weird that I'd brought a bunch of stuff to test out in different bags, and they said not at all.
I went with the Pilot in burnt orange exterior/northwest sky interior.
I've only had it for a few hours, and I haven't even taken it to gaming yet, so grain of salt and all that. But my first impression in-store is backed up by my second impression, after loading it up at home: This is a fabulous bag.
The product page covers all the stats, so I'll focus on why I chose it as a gaming bag and what I've got in it at the moment.
For context
Most of my gaming these days is done with digest-sized (or similar) books, but not all of it; I use 8.5″x11″ gaming books, too, so I need a bag that can hold them. But I don't need one that can hold a lot of books — I can always switch to a backpack for those rare occasions when I need a mess of books.
What I do need, alongside a few books, is just the right amount of space for doodads: dice bags, decks of cards, pencils, and the like. I also need room for a water bottle and maybe a raincoat or warm layer, and I want the flexibility to use this bag at local cons (starting with Go Play NW in a couple of weeks) and on occasional airplane trips.
A straight-up messenger bag isn't ideal for this use case, because they tend to be primarily one big compartment plus a few slim pockets. That leads to jamming card boxes and shit in around books, which is annoying. And a strap designed to position the bag diagonally, with one end at my shoulder, is awesome for commuting on my bike, but less awesome at every other time.
Finally, I like a bag that doesn't feel under-loaded when I don't have much in it, but which also doesn't feel overloaded when I've jammed it full of stuff. That's a hard balance to strike!
Enter the Pilot
The Pilot is long enough for 8.5″x11″ books, and tall enough to accommodate a three-ring binder and oversized folders (slightly larger than 8.5″x11″). In the showroom, I fit my DCC RPG core book, big red folder/folio thing, and a three-ring binder in it — tightly, but it fit.
But look at how it's segmented, as seen from the top:
Half of the Pilot is "book space," and the other half is "small stuff space." For how and where I game, and with the stuff I use, that's a perfect split for me.
Here it is with the three main compartments open: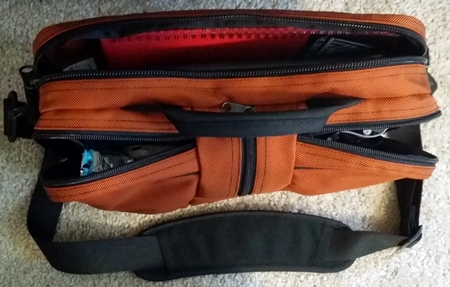 It's divided down the middle, along the line of the handle. The way the pockets are positioned — two on the "book side" of that division, and the rest on the opposite side — is, like so many things about this bag, quite clever.
It makes weight "collect" along the central axis, which, along with the stiffness of the ballistic nylon exterior, makes the Pilot stay standing up quite easily. By contrast, my current bike commuting bag, a small Timbuk2 Commute (paid link), concentrates most of its pockets on the front edge; unless the main compartment is fully loaded, it flops over on itself.
In the Pilot, I'm currently using the two "book side" pockets to hold digest-sized gaming books. Here they are, along with the stuff that shares that main compartment: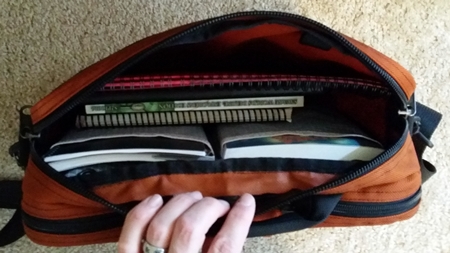 My group in Seattle generally plays three games at a time, on different nights, so I like to keep the bag loaded for all three of them. With fewer books, I might use those thin pockets for something else.
Bag dump
Here's everything I have in it at the moment, with stuff positioned near the pocket it inhabits:
By section, that's:
Five small gaming books, a large Moleskine notebook (paid link), and my folio/folder thing for loose papers in the main compartment
My Rory's Story Cubes (paid link) collection, snacks, tissues, and a card case that holds some 3×5 index cards and a Harrow Deck[2] (paid link) in the left front section
Pens and pencils, replacement leads, ibuprofen, and my dice bag in the right front section
There's room left over, too. I could squeeze another book or two into the main compartment, plus maybe my bag of poker chips; there's also room to spare in both front compartments.
And, of course, no hydration — yet!
Agua
The central pocket on the front is made for a water bottle, but can also hold a small umbrella, a rolled-up raincoat, or anything else about that size and shape. Unlike exterior water bottle pockets, which in my experience have limited or no use for much else, this one is more versatile.
I've experimented with a couple different bottles and settled on the 24 oz. Nalgene N-Gen (paid link). My beloved narrow-mouth 32 oz. Nalgene (paid link) fits, but requires some wrasslin' going in and coming out. The pint version (paid link) doesn't use as much space as it could, and I'd rather have a bit more water than that near to hand. I suspect the 24-ouncer will be perfect.
I love this bag
Overall, the bag is built like a tank, and the quality level is through the roof. There's nary a stray thread in sight, all the seams are tight, and the zippers are a delight. It's comfortable as a shoulder bag, a cross-shoulder bag, slung around to the back, and as a briefcase (special mention goes to the grab handle, which rocks). I can see why people rave about these bags.
So there it is! Untested on the field of battle, but already feeling like mine. Many thanks to Jerome for the recommendation, and to Matthew at Tom Bihn for his help!
[1] Where it shines, and will continue to shine, is as a family day pack — particularly when we're going somewhere crowded. It's long and slim, but holds three water bottles, three raincoats, snacks, and other miscellaneous items well, and being thin means I don't bump into people all the time while I'm wearing it.
[2] Story Cubes and the Harrow Deck are my two favorites sources of ideas for improvisation. I should really write a post about them sometime!
Out now: The Unlucky IslesThe Unlucky Isles
[
affiliate link
], the first system-neutral guidebook for my Godsbarrow fantasy campaign setting, is now on DriveThruRPG.