When my Tunnels & Trolls (paid link) hardcover arrived, I was immediately drawn to the glossy color section. I'd mostly ignored Trollworld when I read the rules in my softcover copy, figuring if I ran it I'd homebrew a setting . . . but this map has me rethinking that.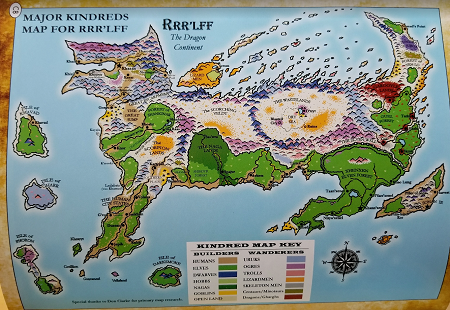 Rrr'lff is Trollworld's main continent, and it was created by an egomaniacal dragon-wizard in his own likeness before the Wizard War.
Other fantasy settings are all like, "We've carefully considered geography and ecosystems and crafted a realistic world with trade routes for every potato farm, and we've named it [Generic Fantasy Name]."
Tunnels & Trolls chugs a beer and says, "Let's play on a dragon-shaped continent created by some douchebag wizard! And let's call it Rrr'lff, the sound you make when you barf!"
Trollworld is rad.
Out now: The Unlucky IslesThe Unlucky Isles
[
affiliate link
], the first system-neutral guidebook for my Godsbarrow fantasy campaign setting, is now on DriveThruRPG.