I've been chipping away at some stuff, recovering from my sprint to wrap up my Killa Kan by the end of 2020.
Remember when I said version 3.0 of my Warlord, Moonkrumpa, was his final form? I was wrong!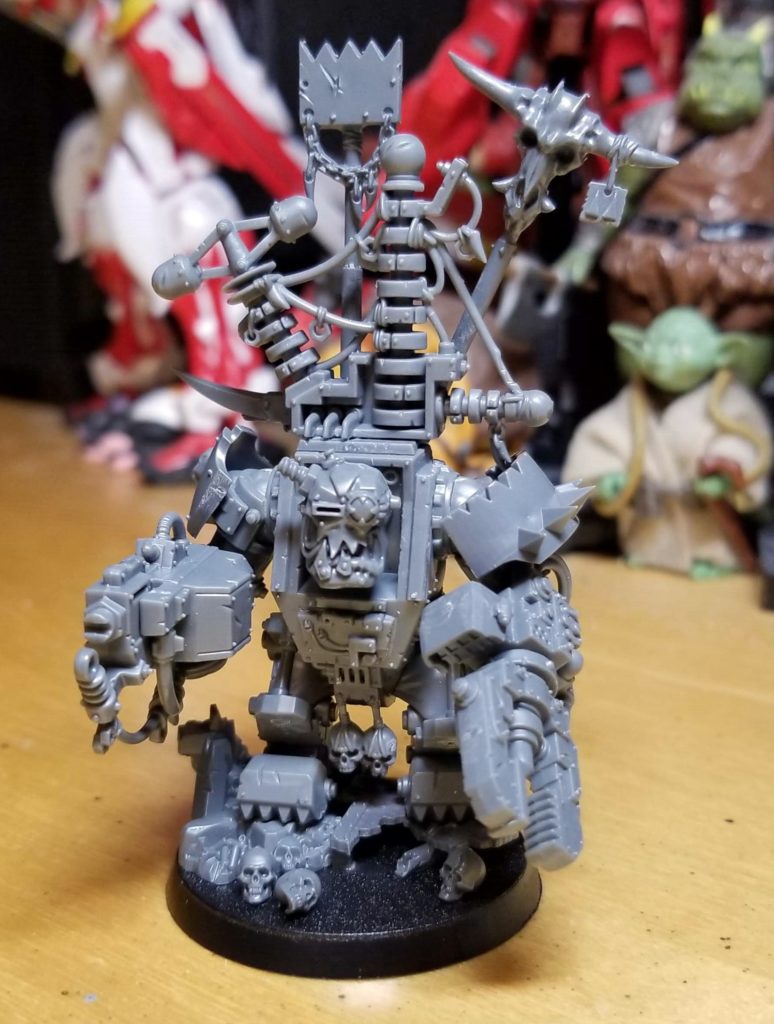 I realized how off it felt to have the leader of an army of Orks with expressive, fun-to-paint faces be wearing a mask. Since I had a second Meganobz kit on hand (if you build a Big Mek, the two remaining Meganobz don't comprise a valid 40k unit…), I popped his head off and replaced it with the unmasked version. This might actually be the end of the road, since I primed him shortly after taking that photo.
I've also been building the biggest 40k thing I've ever built, the Sanctum Administratus.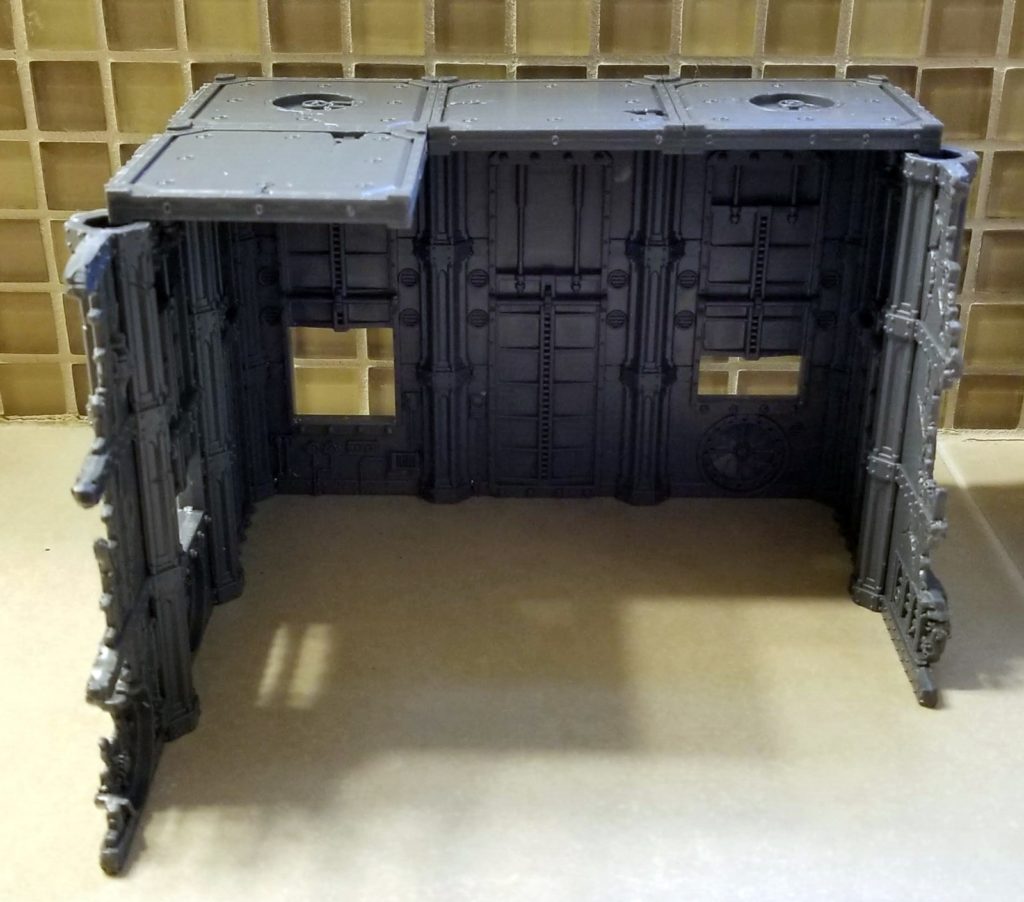 This thing is massive. The bottom level is something like 8″x8″, and it'll be around a foot tall when I have the next two levels on there. The multipart walls are a bit fussy, but I thought about it and decided to build the whole level in a rush so I'd theoretically have time to adjust before it all dried. That worked pretty well, although I did leave run of the floor/ceiling about 1mm too high.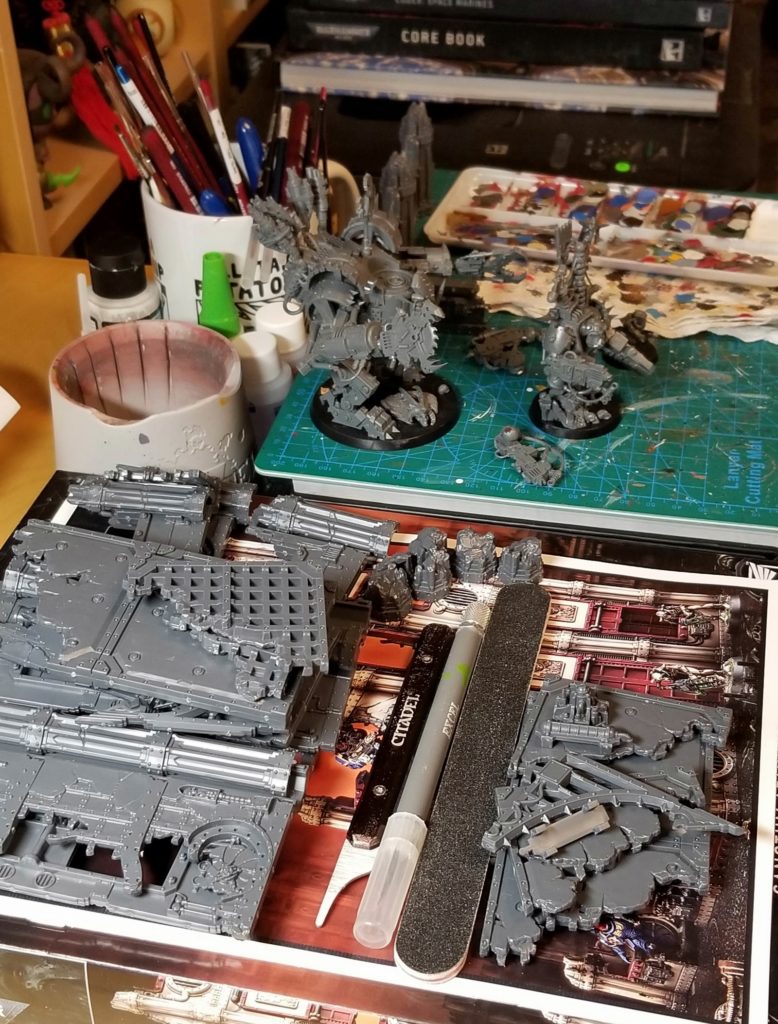 Working on this piece prompted me to think about how much more terrain I might need, so I did some digging. After reading (and re-reading) lots of contradictory advice, some of it based on previous editions, it hit me that I could just read the rules and see what they said about terrain. As it turns out, what they say is that I already have almost enough terrain for a 44″x60″ Strike Force board.
All that puzzling-things-out resulted in a major update to my 40k terrain page, which now links to finished scenery and lists all of my pieces in ways that should be helpful when deciding how to lay them out for play. I think I really just need one more large terrain piece, ideally one that ties the Manufactorum and Mechanicus elements I already have together, to have a pretty solid Strike Force set (less the additional boards, which I still need to buy).
Speaking of terrain, I stumbled across a post by GW terrain designer Ray Dranfield on Twitter in which he suggested not gluing the second story of your buildings because the Sector Imperialis pieces are designed to be swappable, and I had a thought: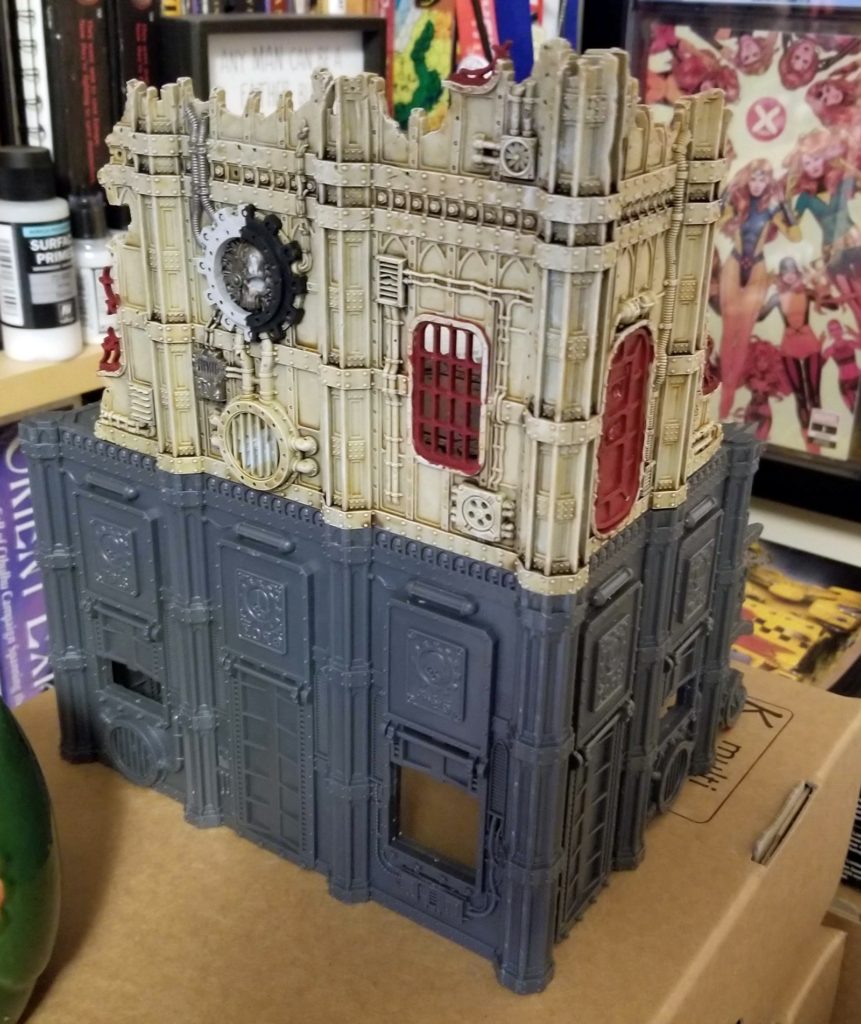 I'll be damned! Fits like a glove. The interior floors look totally different, but the column spacing is identical and the Imperialis column tops and Manufactorum column bottoms are grooved to mate perfectly. This particular pairing doesn't make a lot of sense (there's a door to nowhere on the second floor…), but I've got some other Manufactorum pieces that would look right at home up there.
Of course, the second thing I thought of was dropping in a few magnets for added stability…
Digging Yore? Check out my book!The Unlucky Isles
[
affiliate link
], the first system-neutral guidebook for my Godsbarrow fantasy campaign setting, is available in print and PDF.