After assembling, priming/base-coating, and doing the initial wash on my Manufactorum terrain pieces, I tucked into the next steps — and realized it was time for a guide to those steps, and the colors I'm using, so that Future Martin can replicate it all on the next batch.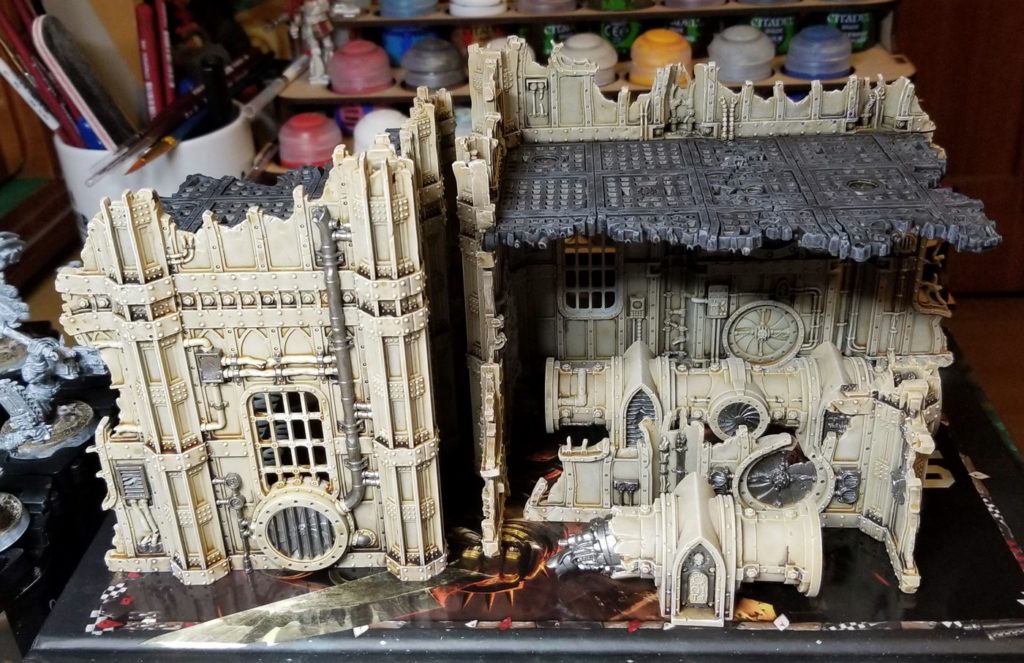 Warhammer TV reference videos
My primary guide is an excellent video on painting this exact terrain. I'm mixing in some of what Duncan does in this video about Imperialis terrain, too. For weathering, Duncan covers rust (second half) and Nihilakh Oxide in two other videos.
These videos are a tremendous resource and I love that GW makes them available. There's no way I could approach the finished quality I want in my terrain without them.
Painting steps
Terrain is a different animal, so it requires different steps in a different order. This looks like a million steps, but it's really quite a relaxing painting process; I've just broken it down, for my own benefit, because the process is different than the one I've spent the last nine months employing on my Blood Angels.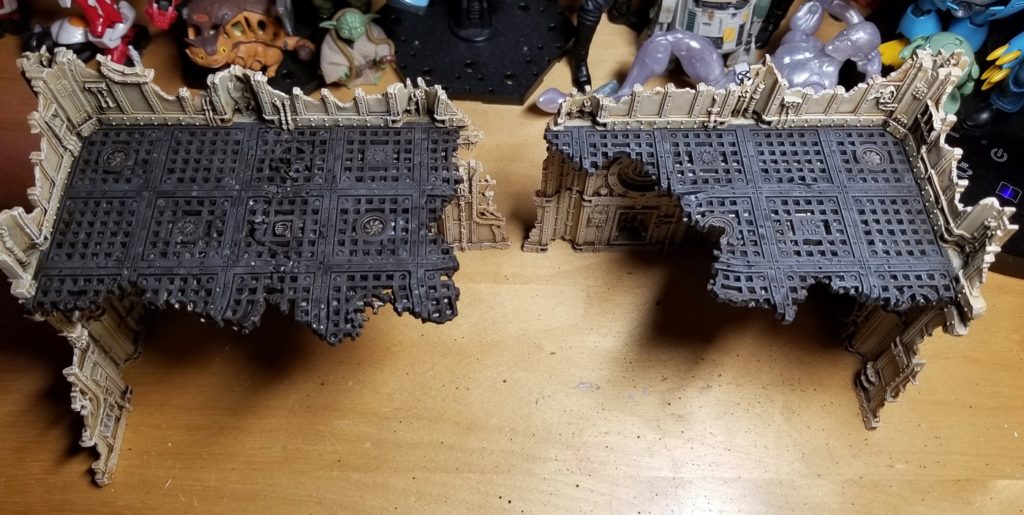 Step 1 basically takes the bulk of the terrain piece — the stone elements — to completion, which is done to avoid messily washing and drybrushing other stuff the wrong colors. Step 2 does the same for the floors, and so on. The final step, number 7, involves weathering that goes back over many of the areas completed in 1-6 — and apart from varnish, it's genuinely the last step.
"Don't overdo it" is my mantra for most of the steps. It's easy to want the whole building to look super-grimy at the shading stage — and forget that there's grime and character still to come, at later stages.
Walls:

Wraithbone spray, primer and base coat in one
Seraphim Sepia wash almost everywhere; err on the side of "everywhere," not "almost"
Agrax Earthshade pin wash along the "bands" of the pillars, plus randomly anywhere else that would have gotten especially dirty while these buildings were in use (or weathered after they became ruins), notably under doors and junction boxes, as well as along conduits — and throw in some random spots, too
Drybrush all Wraithbone areas with Tyrant Skull, in a circular motion; this is designed to go everywhere
Then a lighter Praxeti White drybrush over that, in circular motions, pressing lightly and just hitting the high points

Floors:

Bung Leadbelcher into the holes in the floor (which hits the pipes and suggests that the floors are metal gratings with a coat of paint over them) > Mechanicus Standard Grey on the flat parts of the floor and the entire underside > Agrax Earthshade > Dawnstone drybrush the flat sections of the floor in circular motions, top and bottom
Paint hazard stripes along the centerline of the floor with Averland Sunset (using 3mm Tamiya hobby tape for masking)
Light drybrush with Celestra Grey on the top and edges, including the hazard stripes (skip the bottom)

Bare metal: Leadbelcher > Agrax Earthshade > Ironbreaker drybrush > Necron Compound drybrush
Red metal (doors, windows, tanks, accents): Khorne Red > Nuln Oil > Wazdakka Red drybrush > very light Squig Orange drybrush
Red pipes: Khorne Red > Nuln Oil > Wazdakka Red drybrush
Bronze: Warplock Bronze > Agrax Earthshade > Brass Scorpion drybrush
Cog Mechanicum:

White: Corax White > Apothecary White contrast paint > Praxeti White drybrush
Black: Corvus Black > Basilicum Grey contrast paint > Eshin Grey drybrush > light Dawnstone drybrush
Eye: Corax White > Khorne Red > Evil Sunz Scarlet

Other little details (wires, etc.): Base coat in a single color (Averland Sunset, Macragge Blue, etc.) and vary these choices across the buildings (especially duplicates!); it sounds like heresy, but these truly don't need any follow-up coats/layers/etc.
Weathering:

Chipping and damage: Sponge on Rhinox Hide, focusing on the blasted edges and torn-away elements, but also randomly putting it everywhere that feels right
Rust: Thinned-down Skrag Brown > thinned-down Fire Dragon Bright
Verdigris: Nihilakh Oxide in the crevices on bronze elements
This guide is written for the walls, but it applies to the pipes, sacred radiators, and whatnot as well. The only real changes are obvious stuff, like applying the Agrax Earthshade pin wash to different parts of the pipes.