Last night I finished my first minis since May 20, 2021: one Hive Fleet Balaur Fire Team for Kill Team, a unit of Genestealers. These guys were a ton of fun to paint, and given that I started them on April 8, went on a short vacation, and worked on my Warriors during the 16 days it took me to finish them, I feel pretty much back on track with painting.
Hive Fleet Blue Steel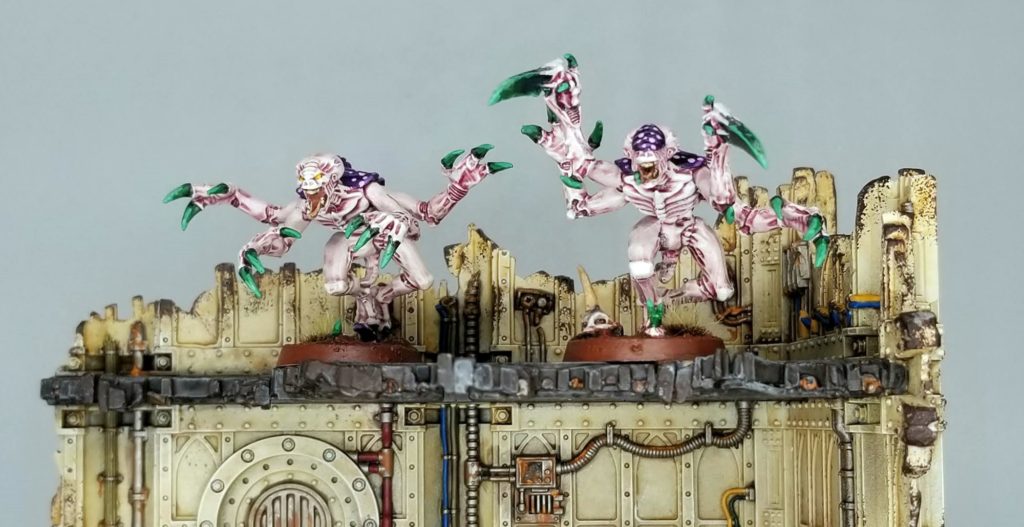 I figured I'd shoot one with some terrain, too.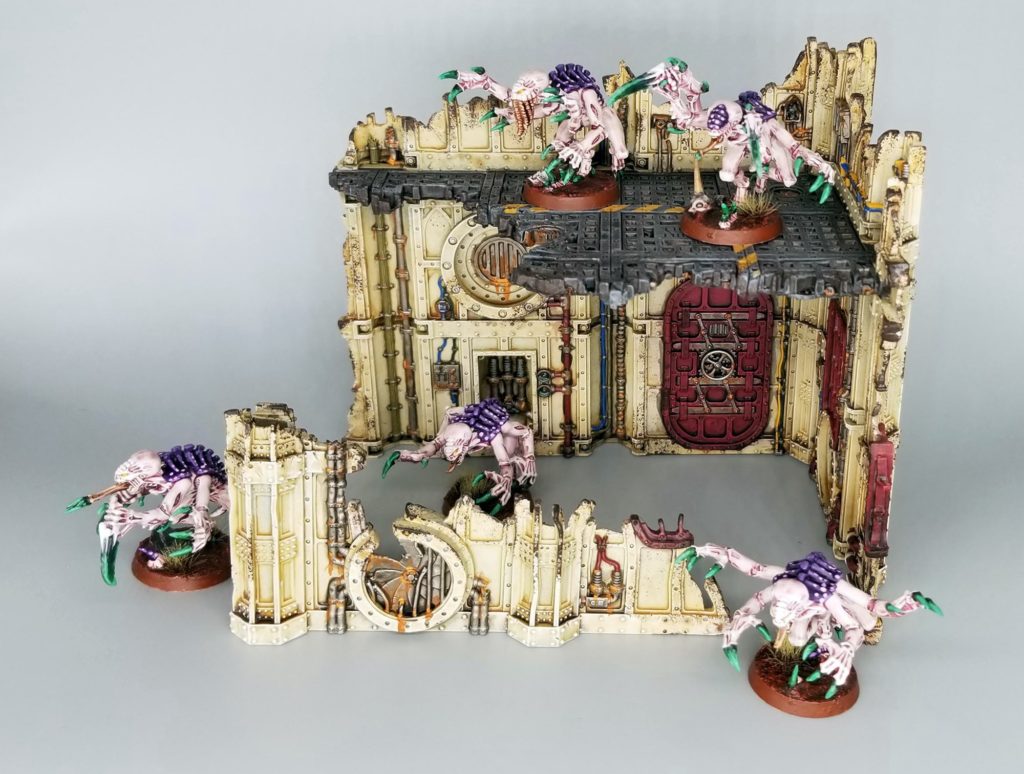 And why not take advantage of the rare opportunity to do a before/after? I painted the blue/pink Genestealers (from Space Hulk) in 2012. It's not quite "10 years later," though, because I didn't paint anything from 2012 to 2020, when I got back into painting and starting both taking it seriously and actually enjoying it. So it's really more of a "two years of progress" before/after, since this is how I was painting in 2020.
Nid thoughts
This was my second time glazing, and the first time I haven't painted over my efforts and gone with a different technique. (I tried glazing a Custodes sword several times, but just couldn't get it right.) My glazing isn't great, but these first four Scything Blades taught me quite a bit; I'm hoping to improve my technique as I work on my Warriors.
I've also never used dotting tools before. Still room for improvement there as well, but there's just not that much surface to work with on Genestealers and I didn't want to overwhelm their shading. The Warriors' carapaces are a larger canvas, so I'm looking to step up my game on them.
As a splinter fleet of Hive Fleet Leviathan, I like how my twist on Leviathan's color scheme turned out. There are at least two official Leviathan color guides out there (one in White Dwarf and one on Warhammer TV), but the main differences between Leviathan and Balaur are the toxic green claws and spotted carapaces.
My goal for these Genestealers was to evoke brightly-colored bugs and poison dart frogs, and to combine that with a "snake's underbelly" body color for an unsettling — maybe even unpleasant — look that befits the terrifying nature of Tyranids.
Out now: The Unlucky IslesThe Unlucky Isles
[
affiliate link
], the first system-neutral guidebook for my Godsbarrow fantasy campaign setting, is now on DriveThruRPG.